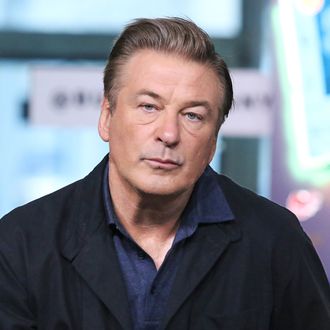 Alec Baldwin.
Photo: Jim Spellman/Getty Images
Nearly a year and a half since the shooting on the set of Alec Baldwin's film Rust killed cinematographer Halyna Hutchins, producers say it's time for the show to go on. Production on the embattled western will resume this spring, per The Hollywood Reporter. The news comes after a particularly difficult month for the prolific Hollywood star. While Baldwin reportedly prepares for his return to acting and executive-producing duties on the Joel Souza–directed film, he must also prepare for a myriad of legal battles. New Mexico prosecutors charged the actor with two counts of involuntary manslaughter on January 31. Prosecutors initially attached a firearm enhancement to the charges, meaning Baldwin would face a five-year minimum jail sentence if convicted. However, lawyers successfully disputed the firearm enhancement, arguing that it is an "unconstitutional and elementary legal error." Though prosecutors dropped the gun charge on February 20, he still faces up to 18 months in prison if convicted. Hannah Gutierrez-Reed, the film's on-set armorer at the time, faces similar charges. Days later, on February 9, the family of Hutchins filed a new lawsuit against Baldwin and Rust Productions in the Los Angeles Superior Court, alleging battery, intentional infliction of emotional distress, negligence, and loss of consortium, or the damages recovered for the rupture of relationships that are mutually dependent. Where does Rust go from here? Everything we know, below.
Where will Rust resume filming?
Filming will resume at the Yellowstone Film Ranch in Montana, producers confirmed on February 22. The Rust team previously said they would not return to New Mexico to complete the film, which was halfway through filming when Hutchins was killed. The new set opened in June 2020 and hosted Murder at Yellowstone City, The Old Way, and other productions.
Who is involved from the original Rust production?
Both old and new crewmembers will return to production, according to The Hollywood Reporter. Bianca Cline steps in as director of photography in Hutchins's stead with widow Matthew Hutchins's "blessing and support." The cinematographer, known for her work in Marcel the Shell With Shoes On and American Horror Story, will reportedly donate her salary from the movie to charity. Baldwin, for his part, still has scenes left to film. Despite being embroiled in legal woes, Baldwin may still play the lead role, according to a Variety report.
Noticeably absent is Gutierrez-Reed, the on-set armorer who, together with Baldwin, faces criminal charges for her role in the shooting. Also absent is former assistant director Dave Halls, who signed a plea deal in the criminal case over the charge of negligent use of a deadly weapon. In fact, producers have not yet named an armorer, props master, and assistant director for the upcoming filming. As for an ammunition supplier, there will be no such role. The shoot will no longer use working weapons, making that job unnecessary. Enhanced safety protocols will be enforced, per THR.
Other key members have signed on to complete the film, however. Director and writer Joel Souza, who was injured in the shooting, will return to set. "Though bittersweet, I am grateful that a brilliant and dedicated new production team joining former cast and crew are committed to completing what Halyna and I started," Souza said in a statement. "My every effort on this film will be devoted to honoring Halyna's legacy and making her proud. It is a privilege to see this through on her behalf." All of the original producers will resume their roles.
A lawyer for Rust Movie Productions says the scene that was being rehearsed when Hutchins was fatally shot has been rewritten, though she did not comment on the changes. Vulture has reached out to the production company for comment.
What does Halyna Hutchins's family have to say about Rust resuming filming?
Hutchins's husband, Matthew, supports the production resuming. Following the settlement of a wrongful death lawsuit over the shooting last October, the deal agreed to continue filming with Hutchins's blessing. Under the deal, he also serves as an executive producer on the film. The late cinematographer's mother, father, and sister are not involved in the project and have an active lawsuit that names the production company, Baldwin, Gutierrez-Reed, and more.
When is Rust out?
Rust does not have a release date at this point. While filming is set to resume this spring, it is unclear if or how the pending lawsuits will affect the schedule.
This is a developing story.