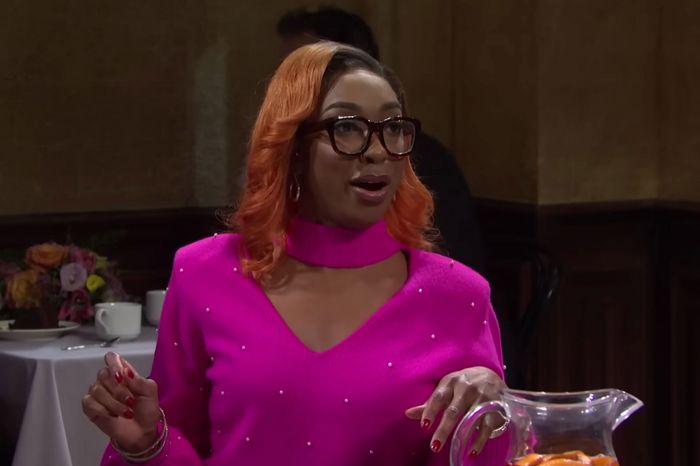 Ego Nwodim as Lisa from Temecula.
Photo: NBC
Ego Nwodim has been very good throughout her four and half seasons on Saturday Night Live, but for those of us who followed her work outside the show, there was longing for her to get an opportunity to do something really stupid. If you've listened to any of the 37 appearances she's made on the podcast Comedy Bang! Bang!, you know she has an impressive ability to wring the most out of the absolute dumbest characters. The depth of her silliness is on full display in personas such as Entrée PeeE Neur (an entrepreneur who comes up with ideas for products that already exist) and Pastor Pasta (a pastor who likes pasta).
On this week's SNL, she finally got to play a CBB-esque character. Enter Lisa from Temecula:
Written by Alex English with Gary Richardson and Michael Che, Lisa showcases one of Nwodim's greatest strengths: wholly committing to a character who has the dumbest, smallest game (the comedic idea that the sketch explores and heightens) possible. "Lisa from Temecula" feels like what "Close Encounter" was for Kate McKinnon — but whereas that character had a big hook (she was abducted by aliens), Lisa just likes extra-extra-well-done steaks and is weird. Throughout the escalation of the sketch, Nwodim remains perfectly understated even as the table hops and flops, which is somehow an even sillier choice. When she stands up to get leverage on the steak, she plays it as if she were the only normal person in the place.
Everyone in the sketch breaks watching Nwodim fully inhabit this person as glasses topple and a pitcher of sangria hops around perilously; I've replayed the sketch multiple times just to see the face Bowen Yang makes when Lisa says, "Oh, 'cause we Black!" It really is such a stupid character. I know that using words like dumb and stupid and silly might read as pejoratives, but trust it is the highest compliment that can be given to this sketch. Coming out of an era when the show received a lot of attention from people who were hoping it would bring down a presidential administration, it's nice to see the kids just have some fun. This is the dumbest thing SNL has done in a while. They could stand to do things like it more often.