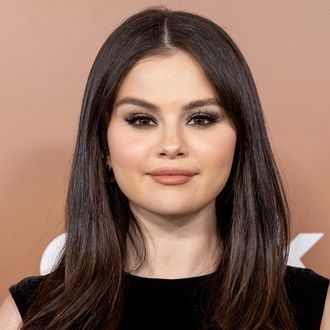 Photo: Emma McIntyre/FilmMagic
Looks like Selena Gomez's FYP is getting a little too dramatic for her liking. "I'm gonna be taking a second from social media, because this is a little silly," Gomez announced during a TikTok Live on Thursday. "And I'm 30, I'm too old for this, so. But I love you guys so much! And I will see you guys sooner than later, I just … I'm just gonna just take a break from everything." Her decision comes after fans recently theorized that Gomez has been shaded online by both Hailey Bieber (who is married to Gomez's ex, Justin Bieber) and Kylie Jenner (whom Gomez just passed to become the most-followed woman on Instagram). In case your TikTok algorithm hasn't been keeping you up to date, here's a quick timeline of the recent videos, comments, and eyebrow-raising interpretations.
January 7, 2023: TikTok account @riristea shares a recording of a TikTok that Hailey Bieber posted, but quickly deleted. In the video, Bieber, Kendall Jenner, and Justine Skye are lip-syncing to a viral audio that says, "I'm not saying she deserves it, but God's timing is always right."
@riristea wonders if the video might be a subtle message to someone, but Bieber herself appears in the comments section to deny this. "I never comment on this type of thing but we were just having a girls night and did a random tik tok sound for fun. It's not directed at anyone ✨🤍," she writes.
January 9, 2023: Some people have begun claiming that Bieber's lip-sync was a dig at Gomez getting body-shamed after recently wearing a bikini on vacation. TikTok user @ellenacuario posts a video reacting to this theory, and asks, "Isn't Hailey the one that, like, begged Selena to tell off her fans for bullying her?" Her video caption references Bieber's maiden name and reads, "That whole BALDWIN clan needs to go." Gomez replies in the comments section, "It's ok! I don't let these things get me down! Be nice to everyone! x."
February 22, 2023: TikTok user @devotedly.yours posts a video claiming that Bieber and Kylie Jenner made fun of a recent video of Gomez saying that she "accidentally laminated her brows too much." @devotedly.yours points to screenshots of Instagram Stories that Jenner posted hours after Gomez's video. One is a selfie of Jenner captioned, "this was an accident???" The other is a screenshot of a FaceTime call with Bieber, where both women have moved their faces — and thus their eyebrows — close to the camera.
"this is reaching. no shade towards selena ever and i didn't see her eyebrow posts!" Jenner comments. "u guys are making something out of nothing. this is silly." Shortly after, Gomez replies, "Agreed @kyliejennier It's all unnecessary. I'm a fan of Kylie!"
February 23, 2023: Gomez defends her friend Taylor Swift in the comments section of a TikTok video that appears to show Bieber pretending to gag after hearing Swift's name. The footage is from Drop the Mic, which aired from 2017 to 2019. Bieber's co-host, Method Man, introduces a rap battle as having "some of the meanest lyrics about a celebrity since Taylor Swift's last album," which prompts Bieber's reaction. The video is overlaid with text that claims Bieber is a "mean girl" and a "bully." The caption also includes snake and rat emojis. "So sorry, my best friend is and continues to be one of the best in the game," Gomez comments.
Later that day, Gomez goes live on TikTok. She assures fans that she's happy ("I'm big, I'm not, I don't care. I love who I am"), but says that she will be stepping away from social media. The 30-year-old explains that she is "too old" for all this drama. She then deactivates her TikTok, but the move is temporary — as of publication time, her account has been restored.