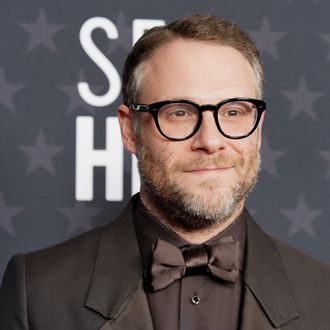 Photo: Presley Ann/Getty Images for SeeHer
Seth Rogen has a message to anyone thinking about trying to reboot or revive Freaks and Geeks: GET A JOB. STAY AWAY FROM HER. "I know enough now not to fuck with that, to just let it be good and not try to go revisit it," he told People. "And just let it exist." Created by Mr. Suits himself, Paul Feig, and EP'd by Judd Apatow, Freaks and Geeks was the cocoon from which 2000s comedy emerged. Especially the bro-y man-child-with-a-heart-of-gold style put forward by Apatow & Co. Despite being a one-season wonder, the show went on to great critical acclaim and cult status. It helped launch the careers of not only Feig, Apatow, and Rogen, but Linda Cardellini, Busy Philipps, Martin Starr, John Francis Daley, Jason Segel, Samm Levine, and (sigh) James Franco. It also gave America some quality time with Joe Flaherty, always good.
For what it's worth, Rogen also doesn't think anyone from Team Apatow is itchin' to pull the reboot trigger. "I don't think anyone would do it," he said. "It's so rare that you do something in your career that is actually just viewed as good." Okay, but what about Undeclared?