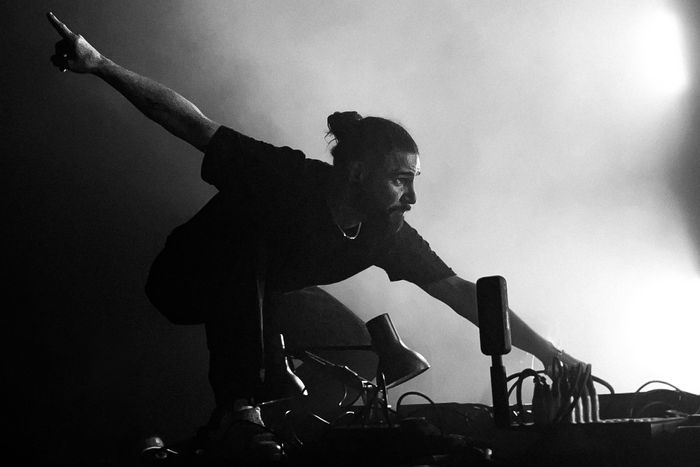 The last time Skrillex released a studio album, it was as an unintentional 26-year-old pop-culture lightning rod, a god in the eyes of revelers at big-tent EDM festivals where the Californian producer born Sonny Moore served maximalist speaker knockers that took cues from the shrieking electro-rock of Daft Punk, the jittery programming of Aphex Twin records, and the unrelenting volume and tempos of U.K. bass music. Dubstep had trickled out, as anything cool often does, from darkened rooms and basements as a chilly music of council-flat decay, and this smiley, one-time American screamo singer was now the face of it, marching across the planet seeding an abrasive mutant variant of the original. But to many of the architects and aficionados of dub, jungle, and garage, he was a usurper, another case of the soul-sucking carelessness of American capitalism.
"All Is Fair in Love and Brostep," the first track on his 2014 debut album Recess, acknowledged the put-down used to categorize the noisy heirs of the trippy, fussy tunes of dubstep madmen like Joker and Rusko, along with their enthusiastic fans. Skrillex was trying to keep a sense of humor about the rage against his army of drops and wubs, but Recess didn't do enough to challenge the allegations that he was a one-trick pony. It pulled from disparate sources yet pushed those sounds in the same direction, walking the straight line from loud to louder. (It also felt late to its own party, possibly because Sonny had lost a previous pass at a debut LP when his hard drives were stolen in 2011.) But what made it a rough listen primed it for tour, where the artist bombarded crowds with sheets of noise inside a makeshift spaceship, pitched somewhere between a mecha anime and Daft Punk's bright and breathtaking Alive 2007 stage.
Savvy pop stars took note: When Justin Bieber's 2013 R&B experiment Journals undersold, he dove into the current of attention around Skrillex, earning a hit in "Where Are Ü Now," off 2015's collaborative project Skrillex and Diplo Present Jack Ü. The same year, Skrillex co-produced a chunk of Purpose, Bieber's game-changing fourth album and an eye-opener for pop singers angling for an EDM makeover. That speedy journey from scorn to shine gave proof both to people who saw Skrillex as a white artist imitating Black art all the way to the bank and to those who grasp that what kept Sonny in the picture, which was a willingness to make somewhat unusual plays. Pairing his beats with Rick Ross raps on 2016's Suicide Squad soundtrack seemed like another one of that film's terrible ideas on paper, but "Purple Lamborghini" slams. Skrillex teaming up with Japanese American singer-songwriter Hikaru Utada on a track for Kingdom Hearts III seemed like more of the left-field peanut-butter-and-jelly shit we've come to expect from that series, but 2019's "Face My Fears" is an emotional powerhouse and a flawless single.
Vibes shift, and Skrillex endures. But returning to producer-showcase albums nine years after the critically reviled Recess means seeking out fresher pet sounds. This month's tandem release of Quest for Fire and Don't Get Too Close, Skrillex's second and third studio albums, suggests that the core of his art has always been the tug of war between playfulness and precision and not just the influence of all the "Croydon dub guys" he forgot to mention by name w hen he accepted his first Grammy in 2016 for remixing Benny Benassi's "Cinema." Quest focuses on the artist's laser-like attention to detail, stacking alternatingly comforting and jarring grooves from odd building blocks and bouncing ideas off a list of electronic-music luminaries including Joker, indie veteran Four Tet, routine EDM festival headliner Porter Robinson, and Brian Eno protégé Fred Again.. It's by turns a survey of global developments in future bass, an inspired blend of related U.S. and U.K. sounds, and a concerted effort at sharing the spotlight and creating space for other artists rather than wheeling them all around dizzying productions like riders on a carousel.
During a particularly impressive middle-album streak, "Inhale Exhale" reunites Skrillex and Aluna Francis of AlunaGeorge, who guested on Jack Ü's "To Ü," as it mixes pop vocals, trap drums, and chunky dubstep bass; "A Street I Know" invites percussionist Eli Keszler to mirror the frenetic hi hat patterns of garage tracks on live drums underneath a diced-up vocal that conveys mournful emotion in spite of the listener's inability to make out more words than those in the title; and "Xena" and "TOO BIZARRE (Juked)" call in Palestinian singer and flutist Nai Barghouti and Swae Lee from Rae Sremmurd, entrusting two unique voices to one of our most gifted vocal manipulators. It is a compelling corridor in Skrillex's catalogue, a meeting of sky-high ambition and technical prowess.
While Quest for Fire finds him embarking on a world tour balancing forlorn pop, Midwest footwork, southern trap, brusque U.K. grime, sultry American R&B, and hyperpop, Don't Get Too Close documents the producer's enduring magnetism as a tastemaker and a patron of emo rap. It's stuffed with inspired if unexpected personnel pairings like "Bad for Me," where cloud-rap fixture Corbin trades lines with Chief Keef, whose Finally Rich bonus cut "Citgo" excited that crowd in 2012; "Way Back," PinkPantheress and Trippie Redd's emo/drum-and-bass jam; and "3am," where 16-year-old Mississippi singer-songwriter Prentiss, 40-year-old Circa Survive, and Sound of Animals Fighting frontman Anthony Green soar over shimmering guitars sliced to ribbons. You notice Skrillex's sonic signatures a little less amid Don't Get Too Close's more traditional compositions, but you still feel him in the gleeful, puckish seating of emo, hip-hop, and EDM in such close quarters. Nothing is as jarringly immediate on the second album as Swae Lee's flaying vocals on Quest, or the same project's one-two punch of "Good Space" and "Supersonic (My Existence)," where the wub man quits flailing and delivers all of the wailing, clipping overdrive the album feels somewhat designed to gently avoid. But if Close loses a sense of lawless Skrillex-ness to tracking current chart trends with Bobby Raps, Keef, Kid Cudi, Bieber, and Swedish rappers Yung Lean and Bladee, it also shows how coolly he plays the outfield in support of a great voice.
Quest for Fire and Don't Get Too Close scan as halves of a unified statement, with the first side being devoted to his wildest feats of programming and another to mannered song-based fare. This meeting of Skrillex's forebears, peers, and potential successors feels like a studious attempt at wrapping its head around the many places he has been while pondering his next destination. There are nods to the early years — like Quest's bit of 2005 Warped Tour interview audio, the blending of clean/unclean vocals in "Bizarre," or Close's title track, which heralds the return of the pop-punk vocal affectations Sonny favored as the singer of From First to Last — and careful expeditions into the old sound, like the downcast but uptempo Joker collab "Tears." There are tracks that feel like world-beating remixes — "RATATA" bounces between new vocals from Missy Elliott and a refrain from her 2002 smash "Work It," giving the listener the cartoon-like sensation of being fooled by the mirror reflections in a fun house — and emotional moments like "A Street I Know," "Don't Get Too Close," and "Still Here (With the Ones I Came With)" that sift through intense feelings, celebrating the freeing, fleeting release the dance floor offers.
Sonny doesn't do much to spell out his motives anymore, but in a Twitter thread posted on his 35th birthday this month, he spoke about spiraling after the death of his mother, and battles with unhealthy drinking and imbalanced work priorities that complicated the trek to his return as an album artist as much as any revolutions in taste. In the wounded gratefulness of "Still Here" and the wealth of dance-music pioneers and gifted Black and brown auteurs like Bibi Bourelly, Starrah, and BEAM, Skrillex shows how much he's grown as an artist and a steward of a fandom that might not know all of their history. "Yes he once made that thing you hate, but name another producer who got Four Tet onto the Madison Square Garden stage," this entire rollout seems to say in earnest. He hasn't reinvented the wheel, but he has done a respectable job of reinventing himself.