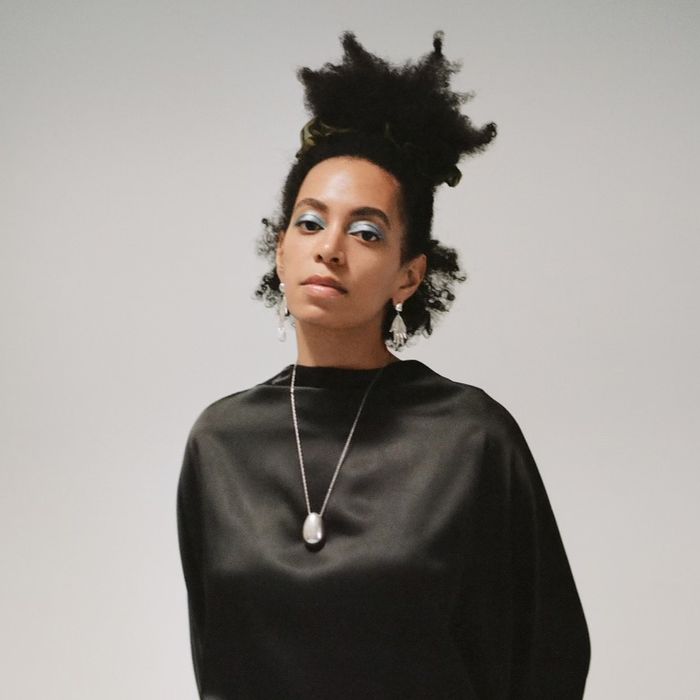 This article was featured in One Great Story, New York's reading recommendation newsletter. Sign up here to get it nightly.
Solange is a bridge builder, a nexus connecting creative mediums. Old traditions blend into new ones in her catalogue. Her 2016 studio album, A Seat at the Table, home to the yearning and ephemeral Grammy winner "Cranes in the Sky," served limber soul music played by personnel with backgrounds in indie rock, hip-hop, and electronic music: The simmering "Mad" brought Lil Wayne, R&B trailblazer Raphael Saadiq, and Dirty Projectors front man Dave Longstreth together. 2019's kaleidoscopic synth odyssey When I Get Home featured both Gucci Mane and Animal Collective's Panda Bear. Performance pieces like "Witness!" and "Bridge-s" juxtaposed ballet, jazz, R&B, and the stark, imposing architecture of museums. Her craft is studious, and her art offers just as much subtle, careful historiography as plush, sticky melodies. You can dance to it, or you can pry apart the threads she's weaving and trace them back to the wise progenitors of the arts she studied in her youth.
This year, Solange, the interdisciplinary studio and creative agency Saint Heron, and the Brooklyn Academy of Music will host Eldorado Ballroom. Named in honor of the venerable performance space in Houston, the music series will feature and honor Solange's predecessors and peers across genres, platforms, and generations. The first night, March 30, unites R&B polymaths Res, KeiyaA, and Kelela in celebration of Res's 2001 debut, How I Do, and Kelela's watery, immersive Raven. (That same evening, Houston community group Project Row Houses will host the grand reopening of the real Eldorado Ballroom following a $9.7 million renovation effort.) In April, there's "Glory to Glory (A Revival for Devotional Art)," a gospel night featuring the titanic talents of the Clark Sisters and the seminal choral and piano works of underappreciated pianist and composer Mary Lou Williams, and "The Cry of My People," a free jazz show starring boundary-breaking saxophonist Archie Shepp, New York Times best-selling poet Claudia Rankine, and jazz vocal giant Linda Sharrock in her first Stateside gig since the '70s. The program also includes "On Dissonance," a celebration of the classical works of vocalist and jazz pianist Patrice Rushen and composer Julia Perry; a new installment of Standing on the Corner figurehead Gio Escobar's film series "Unseen Nuyorican Pictures"; "Type of Guest," an evening of installations and performance-art presentations from multidisciplinary artists Autumn Knight and Maren Hassinger; and "Coeval Dance Films," an appreciation of the gifts of pioneering Black dancers including Matt Turney and Carmen de Lavallade.
I spoke to Solange over the phone this week about her inspirations for Eldorado Ballroom, her passion for shining a light on impactful Black women innovating in creative fields, and the experiences in her Texas upbringing that have prepared her for an undertaking like this.
Something that I appreciated about the visual component of When I Get Home was the lens, the way that it observed Black style and inner-city luxury as we do fine art. On the tour for A Seat at the Table, you set a sort of second line on a stage that resembled a museum. It feels like you're communicating that our art should be viewed in venerable spaces the way pieces in the Met and the Louvre are. I'm curious about your mission as a curator and whether it differs from what you're trying to do as an artist.
Well, I feel like the work that I'm trying to do right now with Saint Heron is really just an extension of the work that I've always done, which is basically preserving the stories of Black innovation and practitioners. Whether that's through visual work or performance or even creating printed matter through books and zines, the idea is just to centralize and build a really strong archive that in 20 years or 30 years can be accessible by future generations to be a guiding light in the same way that so many of my blueprints guided me.
I approach my work as an artist and my reentering the curatorial space through Saint Heron as someone who wants to make historical moments and experiences. I'm trying to build an experience from top to bottom, to build a world, to build our own institutions and celebrate our own. That's what Saint Heron is and what it really strives to do. I feel like this series gave me an opportunity to celebrate the true spiritual act of performance, which is something that I hold really sacred, to really just be able to create a powerful archive of these moments from these incredible artists and performers. It's going to be really special.
The Brooklyn Academy of Music lineup is incredible, covering opera, jazz, R&B, electronic music, gospel, and so much more. What I see as a through-line is versatility of the Black voice. Talk about your hopes for Eldorado Ballroom and how studying the arts in Houston shaped your work and this undertaking.
Thank you. It means a lot that you dig it. The Black voice is a sacred vessel. Being able to have an opportunity to honor it through all of these different conventions is just a dream job. This is such fulfilling work. And I feel like bringing it back to Houston, bringing it back to my childhood. The Eldorado Ballroom was a historic music venue in Third Ward, and that's where my love for performance really started. As a child growing up in a neighborhood so rich with Black history and Black artistic history, I was immersed in that. I got to live, eat, and breathe that through the ways that my parents really nurtured my interest for arts. So I feel like each night of the series is building off an offering that has informed my own practices, whether that's through an R&B night or an artist like Autumn Knight, who's from Houston, who's challenging the lines between audience and artist through performance art. I love being able to celebrate my love for Black contemporary dance through that. The whole series is just about honoring voices that I think should be taking up more space in the conversation, specifically about Black women in music. I've been thinking about Mary Lou Williams and how she was this genius pianist and composer who mentored Miles Davis and Charlie Parker and Thelonious Monk, but she's not mentioned in those conversations.
I was excited to see Linda Sharrock on the bill. As you were saying about Mary Lou Williams, I feel like there's not enough scholarship and literature about her out there. She could do soul singing, and she could handle really experimental noise. I feel like your last album was something of an attempt to get free from singing straight through from verse to chorus and being straightforward about the feelings a song is expressing.
Yeah. I saw this video of Linda performing with Wolfgang Puschnig some years ago, and I was just stopped dead in my tracks. Like, I want to be like this woman. Whoever this is, she embodies the spirit of what it is that I want to embody. She's just electric and majestic, and she's just bad. She's so poppin'. I feel like there's a lot that I've yet to lean into with my voice just as an instrument, and she just makes me want to go off. There's times that she reminds me a lot of Jeanne Lee in the experimentation that they're able to create using their voice as an instrument. I love how she's had different lives in her artistry throughout the decades. She makes me feel like I have time to express all these different facets of myself. She has such a unique trajectory in her career. That's why Saint Heron exists. That's our mission, to just create that kind of studying surrounding artists like her, because I feel like we should all be studying her musical trajectory. This is actually her first performance in New York since the '70s. So we have to make it really special for her. To have her, Archie Shepp, and Claudia Rankine on the same lineup is a dream.
What was your jazz education?
When I was 17 and I was a junior in high school, I recorded a jazz project. I had Jamire Williams on the drums. He has a project called ERIMAJ, and he does a lot of experimental stuff with minimalism in percussion. I had Burniss Earl Travis on bass, who went on to play with D'Angelo and has really taken up an interesting space as a bass player. It's interesting to me in the way that it returned to me. I'll always hold a special and close place for the way that jazz created expansiveness in my process and how I approach making music and improv. I feel really grateful for how it's really pushed me as an artist.
You're also hosting a Clark Sisters concert, and I am happy to feel them in everything now and to see them getting a biopic and filtering into hip-hop via samples. But my favorite Clark Sisters album, Sincerely, is, I believe, out of print. The classic records can be hard to find. What do we do about that?
That's the work that I feel called to do through Saint Heron. That's something that over the next five years you're going to be seeing more and more of from us, the rerelease of records that have not been present in the conversation enough. I want to make sure that there is more access to these records and that we can play a part in it. Gospel right now … nothing makes me feel more triumphant and safe. It's something that I've leaned into a lot over the last couple of years. So that night is really special, because it's centered around artists who've all in their own way dedicated their brilliance to unique musical conventions and to their devotion to God and Christ. I'm not sure if you're familiar with Angélla Christie, but she is a gospel saxophone player. She plays with such excellence and power. I watched all these YouTube videos of her, and I'm just so fascinated by how she uses that instrument as sort of a call to glory. I was actually reading this article about how the saxophone was blacklisted in the Catholic Church in the 1900s. They basically banned all wind instruments. They called the saxophone a distant relative of the serpent. The saxophone, for me, is a Black instrument.
We're also going to be playing the music of Mary Lou Williams, specifically the work she made after she took this hiatus from music for four years and came back a devout Catholic. She began to make these Masses. There's two pieces we're going to be performing that night. One is called "St. Martin de Porres" and the other is "Lamb of God." They're choral works, but they sound like symphonies. They're so full and rich and cinematic and majestic. They're phenomenal. And they're my two most played songs for the past two years. I looked on Tidal to see what my end-of-the-year list was, and they got me two years in a row. She arranged the voice and the fullness and the texture incredibly. So we're going to have a choir singing those works conducted by Malcolm Merriweather, the choral director at New York Philharmonic. There's a pianist named Artina McCain who's going to be performing the spiritual works of her piano pieces. One is called "A Fungus Amungus." I love that name so much. Obviously Twinkie Clark is a legend. That's what I'm trying to achieve: the range and magic of Twinkie Clark's chords. What she does with the organ is just out of this world. She has these two songs on an album called Praise Belongs to God. One is "Oh Taste and See," and the other is "God, You Get the Glory." They're like disco records, but they're gospel.
You have an R&B night featuring KeiyaA and Kelela, two incredible artists. What would you like the people who attend to understand about the past, present, future of the genre?
I feel like this moment in R&B is going to leave such a lasting and powerful mark. I'm in awe of all of these ladies and what they've accomplished sonically. Res will be there too. It's going to be a monumental night. She was sort of a blueprint for what we are trying to create with R&B now, her own way of being a Black woman and leaning into that to create a sonic story. She's going to be performing songs off How I Do. I looked on Instagram, and I saw that both Kelela and KeiyaA followed her, and I was like, Okay, so we're having similar conversations about women who were blueprints for us.
Me and Kels go way back. She was actually on the first Saint Heron compilation. That'll be ten years ago this year. That moment in music was a really powerful shift in the R&B conversation. Kelela was a huge part of that. I feel honored that Saint Heron has gotten to be a place for her in her journey. I saw her Fallon performance. Her vocals were literal perfection, so to hear her perform this album live is going to be such an amazing moment.
KeiyaA is such a phenomenal producer. I appreciate her putting a spotlight on Black women as producers and what we really have all been capable of. I feel like she brings a lot of that technicality to her live show. All of these women have brought so much innovation to the genre, and it's going to be real cool to create a timestamp of that through these performances.
I'm sure people will be fighting to get in that one. You've had a unique career journey from young R&B star to curator, composer, producer, all the many hats you wear. You haven't done anything predictable in forever. Are you ever unsure of your path?
Definitely!
You hide it well.
I mean, I feel like I've been living my life very similarly to my childhood, which is from the ages of 5 to 15. I was a dancer. I studied ballet. I was writing songs for Destiny's Child. I was a part of this theater in Houston in Third Ward called the Ensemble Theater. I was writing monologues and studying stage production. I feel like all of these mediums have been a part of me for so long that I literally can't imagine life without them. The work I do now is sort of an extension of that yearning, I guess, to express parts of myself that I physically or spiritually can't emote through the other. But there are doubts for sure. I think mainly about time. Have I devoted enough time to this one expression? Have I taken enough time to master this one thing? I feel like that's why I take so much time between projects. I'm developing a tempo now. I also feel like there's a guiding light, like something is always leading me to the next phase of what I seek to achieve. So doubts for sure, but I feel called, I guess, to do these things as an extension of my younger self. This is a dream job and one that I feel really honored and humbled by.