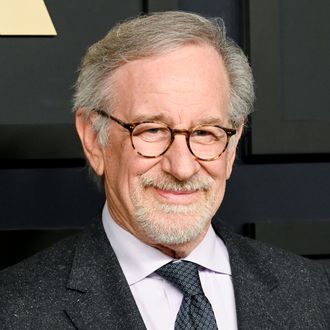 Steven Spielberg.
Photo: Gilbert Flores/Variety via Getty Images
With The Fabelmans in the rearview mirror, Steven Spielberg is turning to new projects. Well … he's actually turning to an old project: Napoleon, a television adaptation of Stanley Kubrick's unfinished biopic about the short emperor that Spielberg has been trying to reanimate for nearly a decade, per Variety. The last news about the series came in 2016, when Cary Fukunaga may have signed on to direct the limited series for HBO. And now, Spielberg has confirmed that he hasn't let the project go. "With the cooperation of Christiane Kubrick and Jan Harlan, we're mounting a large production for HBO based on Stanley's original script Napoleon," he said at the Berlin Film Festival on February 21. "We are working on Napoleon as a seven-part limited series." Otherwise, he's pretty undecided on everything else after he's "been on a bullet train making film after film after film for so many decades. I don't know what I'm going to do next," he said. "I have no idea."
"And it's kind of a nice feeling, and it's also a horrible feeling," he explained. "It's nice that I can actually have control of my life again and make my own choices. But I need to work and I love to work. That's the biggest question I'm going to have for the rest of the year, trying to figure this out." Now, he has some time to dredge Napoleon from the dead.