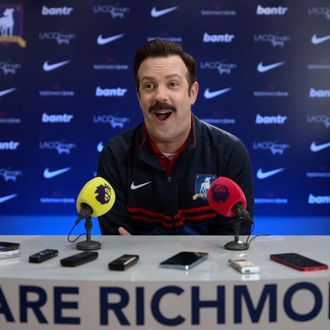 Harper from White Lotus may not watch Ted Lasso, but that doesn't mean you have to avoid it. The third season of the Emmy-winning soccer comedy is en route to come out spring 2023, starting with the official trailer. The first two seasons have continually shot and scored and scored at the Emmy Awards, with the show winning back-to-back awards for Outstanding Comedy Series, and stars Jason Sudeikis and Brett Goldstein also winning double Emmys for their roles on the Apple TV+ show.
There isn't teasing of the plot in the February 27 trailer — or even much dialogue — but we do get those warm fuzzy feelings back. Set to "You Can't Always Get What You Want," by the Rolling Stones, the trailer intercuts soccer football with wordless character moments, including a very lonely Nate (good riddance). "I love you guys so very much," Toheeb Jimoh's Sam says to his teammates at the end of the trailer, and both the audience and the Emmys share his sentiment. For more of that fuzzy feeling, tune into season three of Ted Lasso on Apple TV+ on March 15. It's gonna be sweet.
This post has been updated.