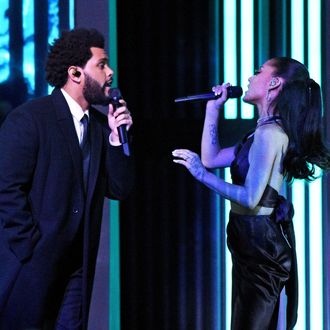 No rest for the Weeknd.
Photo: Kevin Mazur/Getty Images
All hail TikTok, that mighty beast. Its power is such that it can revive any song. Gaga, Stevie, and Kate all got glory moments from the little dancing app, and now TikTok is officially backing a new pop girlie: the Weeknd. Abel Tesfaye's 2016 song "Die For You," from Starboy, has gone viral on the app (or at least a sped-up version has, as is typical) and is back on the charts, currently sitting at No. 7. To support that run, the Weeknd has called up his old friend and collaborator Ariana Grande for the remix, which was released February 24. Grande has been hard at work filming the first of two Wicked movies (she's playing Galinda) over in London-town, but she noted on social media that she "wrote and recorded a verse for my friend after a 14 hour day on set," which sounds stressful. "This certain exception had to be made," she added. That caption accompanied a video of Grande working in Pro Tools to stack her vocals to the high heavens. As the Weekend himself once said, "i've seen Ariana work in real time. That woman is a BEAST on pro tools."
This is actually the second remix of "Die for You" to be out and about in the world. Although it was never officially released, the Weeknd played a version of the song with a SZA remix on it on his Apple Music show, Memento Mori, and in November the two teased SZA potentially rerecording her verse. With this Arianka remix officially out, it looks like that SZA version may not be making its way to streaming services anytime soon, but we're always down for a remix of a remix over here.