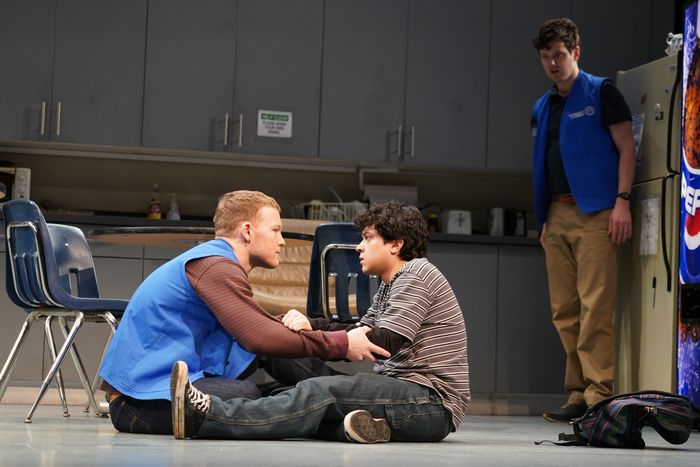 From
A Bright New Boise
at Signature Theatre
Photo: Joan Marcus
The break room at an Idaho Hobby Lobby is as good a place as any to wish for the end of the world. That's especially true of the one designed by Wilson Chin for A Bright New Boise at Signature Theatre — a meticulously ominous space with a kitchen counter along the rear wall, a smattering of workplace-safety and -harassment posters, and a claustrophobic number of drawers. This is realism pitched to an unsettling extreme, a mundanity that starts to overwhelm us even before the play gets going.
If you know Samuel D. Hunter's work, overwhelming realism is what you'd expect. He has made a career of writing dramas primarily set in his home state with characters in situations that vary from dead-end to desperate with bleak humor and often more than a touch of mysticism. You'll see it all in this play — a relatively early work that premiered at the Wild Project in 2010. (Back then, Scott Brown called it a "simple, superb little heartland heartbreaker.") The action begins as Will (Peter Mark Kendall) applies for a job at Hobby Lobby, dodging manager Pauline's (Eva Kaminsky) questions about his previous employment as a church accountant. At first, Will seems like an everyman, and Kendall gives him an approachable reticence in the face of Kaminsky's effectively broader portrayal of a small-time big-box tyrant. But soon, he starts to act in his own strange ways. He approaches a teenage employee named Alex (Ignacio Diaz-Silverio) and announces that he's his biological father. He reveals to Anna (Anna Baryshnikov honing a winsome ditziness), who hides out in the store after dark to read, that he is working on a novelesque blog. We eventually learn that the work is about the coming apocalypse.
Watching Will is a little like observing the proverbial frog in a pot of boiling water. You're with him against the dreary slog of checking receipts and microwaving soup, but bit by bit, the hellfire behind his eyes reveals itself. The church where he used to work — as Alex's artist brother, Leroy (Angus O'Brien), soon prods him to admit — was recently in the news for being an end-times cult, and Will hasn't given up on its teachings. Oliver Butler's direction keeps things briskly ordinary and shot through with dread. The break-room interactions, part of Pauline's beloved retail ecosystem, are nearly in the sitcom realm of Superstore — if David Lynch had stepped in to direct an episode or two. A television at the back of the room that usually shows "Hobby Lobby TV" of two talking heads droning on about craft supplies sometimes gets the wrong signal and starts playing footage of surgeries. In scenes that take place outside of the building, Jennifer Schriever's lighting isolates characters in inky blackness in front of bright bands of neon. Will's extremism is maybe a reasonable outgrowth from circumstances such as these. Hunter wants you on the fence — with rapture on one side and boring old wage labor on the other.
We're at a time of potentially peak Samuel D. Hunter. His residency at the Signature kicked off in May with the lovely new two-hander A Case for the Existence of God. He wrote the screenplay for the film version of The Whale (directed by Darren Aronofsky and featuring Brendan Fraser's Oscar-nominated comeback role as an obese professor in the throes of self-destruction) just before Boise and staged it Off Broadway in 2012. In The Whale, you can observe all of Hunter's typical fascinations — there's even a missionary from New Life, the same end-times congregation Will attended in Boise — though the film seems to exaggerate and misunderstand them. Aronofsky cranks the tone up from everyday horror to gothic, lingering on shots of Fraser's prosthetic bloat and deploying a sepulchral, string-heavy score. What humor there is in The Whale's script seems sucked out of the movie — save in Hong Chau's performance as Fraser's friend and makeshift nurse. (Maybe, as an Off Broadway veteran, she was the only one who knew what tone to strike.) There's a fundamental discomfort in the way The Whale ogles its main character's weight that I'm not sure any approach could obviate (though I haven't seen a stage production myself), but Aronofsky and Hunter's adaptation feels particularly wrongheaded. What works well in stagings of Hunter's writing — as Boise and Existence of God exemplify well — is that the stress falls on the mundane with the extraordinary emerging like an exhalation. But the film tries to put the metaphor first, so there's no space for the characters to breathe.
Speaking of which, in A Bright New Boise, Alex has panic attacks that stop his breathing, which only Leroy seems to know how to alleviate, and Will has a mantra — repeating "now … now … now" between breaths — that he recites in the first scene. Later, we see the world from Will's perspective, and there's a horror in the mantra that feels akin to that of Alex's panic attacks. The world is closing in, choking them both. "I get panic attacks over nothing," Alex says at one point. "Absolutely nothing. I'll be at work or at home or at school, and suddenly, I'll start shaking and I won't be able to breathe." That the panic comes on from the crushing nothing of it all is what links father to son. They both can't bear the now. Who can? Spend enough time in a break room, and you'll want it to be consumed by flames too.
A Bright New Boise is at Signature Theatre through March 12.