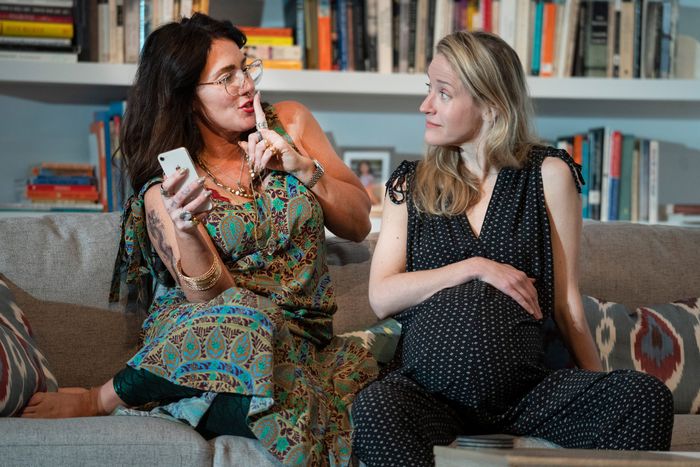 Lucy opens with an interview between a mother-to-be and her nanny-that-could-be, both of whom are posturing. Mary (Brooke Bloom) is a tightly wound radiologist who goes around fluffing up the pillows on her couch before the interview in a futile effort to seem composed. Ashling (Lynn Collins) wears a long, flowy outfit, lounges on the couch with her legs up and knees sprawled, and says she prefers to think of her work as "co-parenting" because, after all, she is spending nearly as much time with the child as the actual parent. In any other circumstance, these women would not be interacting. But Ashling comes with nearly impeccable references, and Mary already has a daughter and needs help with the son on the way. She's overwhelmed and she's willing to pay, though not quite at the level Ashling wants.
The tense, unspoken judgment that flows between the two women is the best aspect of Erica Schmidt's dark comedy, which she also directs. The play sends up the absurd expectations of motherhood and child care, especially in the fishbowl of Manhattan, where moms have been known to treat one another with all the love and support of attacking betta fish. (The women of Fleishman Is in Trouble would sympathize.) Mary has strict expectations for the nanny, especially around the management of her impertinent 6-year-old, Lucy, for whom Mary has developed an elaborate set of rules about exercise and diet. Once she takes the job and moves in, Ashling coddles the new baby, Max, as if he were her own and starts to get territorial over what she sees as his mother's incursions into her life. When Mary asks her to watch Max on a Friday night so she can attend moms' night at Lucy's school, Ashling insists that she can't … because she's going to moms' night herself. Collins delivers that revelation, and others, with a particularly unsettling jangle of the many bracelets on her wrist.
With so much groundwork laid, it ends up being frustrating when Schmidt can't quite choose how she wants the play to accelerate, and the shift into top gear (into all-out horror or bonkers comedy or even bleak drama) never comes. As Ashling grows more demanding and Mary more suspicious, Lucy introduces a number of possibilities: that Mary is justified because Ashling is really up to no good; that the increasingly sleep-deprived Mary is deluding herself; or that something supernatural is afoot, potentially emanating from Lucy herself. Without getting too far into the details of the increasingly clipped later scenes, let's just say a hazy feeling starts to prevail. Part of that feels thematically intentional in trying to capture the way exhaustion makes the brain vague, but I left the theater wondering about too many small details left unresolved: What of Lucy setting up a dangerous pile of mats on the floor? What was that ominous mention of Max's vomit?
Collins and Bloom are at their best when their characters get most fed up with each other, firing off jabs that are both petty and visceral ("You went to moms' night! You made chicken soup!" Mary shouts). But Schmidt holds back from letting all hell break loose, which this experience deserves. As when a little kid gets to run herself ragged to make her sleep better, there's value in working the energy out.
The dynamics of a relationship between the head of the house and the help come up in a very different form and accent in Samuel Beckett's Endgame, revived at the Irish Rep with John Douglas Thompson as the imperious Hamm and Bill Irwin as his browbeaten servant, Clov. Hamm sits in the center of the stage, blind and confined to a chair, issuing orders to Clov with occasional interruptions from his parents (Joe Grifasi and Patrice Johnson Chevannes), who live in garbage bins to the side of the stage.
Director Ciarán O'Reilly takes a straightforward approach to the play. The raggedy Beckett garb (the costumes are by Orla Long) and the realistically crumbling walls of Hamm's room (the set is by Charlie Corcoran) are comfortingly familiar. At times, O'Reilly juices the drama with a musical cue under some of Hamm's laments that seems to lack a little trust in the text, but Thompson and Irwin together derive so much delight from the whorls of dialogue that they enliven the production on their own. A frequent Beckett interpreter, Irwin is right at home contorting his body like a jumbled Slinky, while Thompson adopts a bellowing cadence as he orders Irwin around their empty room.
In the midst of an alternatively balmy and frosty February, it feels like the right moment to think about the end of the world. Beckett doesn't specify the terms of the end in Endgame, which was first performed in 1957, so you're free to graft on whatever apocalypse seems nearest. (The repeated mention of gray skies does bring the climate to mind.) The play makes the grim assertion that, even in the worst of times, people remain stuck on their own hamster wheels of nostalgia and resentment. Hamm's mother loves to talk about one day she spent on Lake Como and then, possibly, she dies. Hamm insists on retaining his authority though he has very little over which to rule. It's a bleak assessment of our self-delusions, but it's also, crucially, very funny and possibly comforting. If we can't break the patterns that send us hurtling toward an unlivable future, at least we can laugh at them.
Lucy is at the Minetta Lane Theatre through February 25. Endgame is at the Irish Repertory Theatre through March 12.