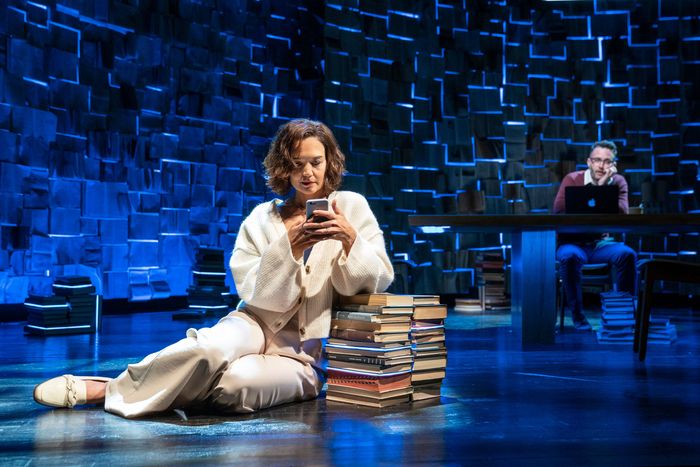 Katie Holmes and Eddie Kaye Thomas in
The Wanderers,
at the Laura Pels.
Photo: Joan Marcus
It's hard to say too much about the premise of Anna Ziegler's The Wanderers without spoiling the primary enjoyment you get from it, which is learning how exactly Ziegler has entwined her characters, her plot unfolding like a kid's paper fortune teller. The frustration in the Roundabout's staging is that it doesn't keep up with the script. The director, Barry Edelstein, takes a steady, dutiful approach to something that is trying to reach toward more abstract reckoning, and by the end, the staging starts to do it a disservice.
But first, let's get to the roughest sense of the premise. The Wanderers introduces two couples, their lives separated by about 40 years. There's a very 2010s gentrified Brooklyn pairing of secular Jewish writers: the neurotic, highly successful Abe (Eddie Kaye Thomas), and his biracial wife, Sophie (Sarah Cooper), who has had less success. At the top of the show, Sophie delivers a monologue explaining that she and Abe have been together since high school, but that she was almost 40 when she realized she would leave him. Then, in alternating scenes with the modern couple, we travel back to the Williamsburg of the 1970s and see a Hasidic Jewish couple, Esther (Lucy Freyer), who gives off intimations of rebellion, and her rule-following husband, Schmuli (Dave Klasko).
At first, it seems as if Ziegler is working through a comparison between the varying emotional terrains of a conservative arranged marriage and a modern one, territory that isn't exactly new. But there's more at play — specifically Katie Holmes as an actress named Julia Cheever, who visits one of Abe's readings and then strikes up an email correspondence with him. Holmes plays a star with a variation of her own public image — the glamorous yet melancholy girl next door — who's so struck by Abe's insights that she just had to write to him. Abe, so thrilled by this brush with celebrity, can't help but push the conversation further and further, to the point where it starts to become an emotional affair and alienates his wife.
Logistically, Ziegler has written a lot to manage onstage. Abe and Sophie's scenes have to suddenly make way for Esther and Schmuli's (or Abe and Julia's), so Edelstein works through a lot of quick entrances and exits and blackouts, so much so that the actors sometimes feel as if they're on a nonexistent revolve. You long for a staging that's a bit more graceful and less literal, a way to delineate the story lines visually without so much foot traffic. There is something unfortunately a bit goofy about watching Katie Holmes pop onstage and off in different cardigans and shawls like a human push notification. Ziegler breaks up her script into chapters and subheadings, as in "CHAPTER ONE (or, Marriage)" and "CHAPTER SEVEN (or, The Visit)," and Joey Moro's projections of those titles appear on the back of the stage at each break. Like the blocking, that stalls the pace. As Ziegler's story lines start to reveal their connections, I wanted more of a quickening heartbeat, not an andante.
It's a testament to the script itself, however, that the story does come together. Each step toward revealing how exactly Abe and Sophie and Esther and Schmuli (and yes, even Julia) relate comes as not quite a surprise (you may predict some developments on your own) but a firm and inevitable development story-structure-wise, bolts anchored into the foundations of a bridge. She builds away from a compare-and-contrast toward more existential observations about the patterns people get trapped in repeating and why.
It's an impressive construction, but we see the scaffolding a little too clearly, hinting at missed opportunity. With a production like this, the rough spots in the writing, such as when a character name-checks the title of the play or when Abe and Sophie discuss her book and she has to say, "Well, that's not what Michiko Kakutani thought," stand out instead of being smoothed over. The performances tend to be presentational, too, not quite rising above the exposition that Ziegler needs each character to deliver. Freyer and Thomas tend to the fare the best, as they have the roles with the most internal conflict and variety, whereas Cooper (making her stage debut, after going viral for lip-syncing Trump) and Holmes are both playing characters who are mostly concepts (the fed-up wife, the wistful superstar) and not much more. (Once we do know more about Sophie later on, it's hard to trace what we learn within the limited sketch we have of her.) In a story so much about reading and writing, with a set covered in books, you get the feeling this may have all read a little clearer on the page.
The Wanderers is at the Roundabout Theatre Company's Laura Pels Theatre through April 2.