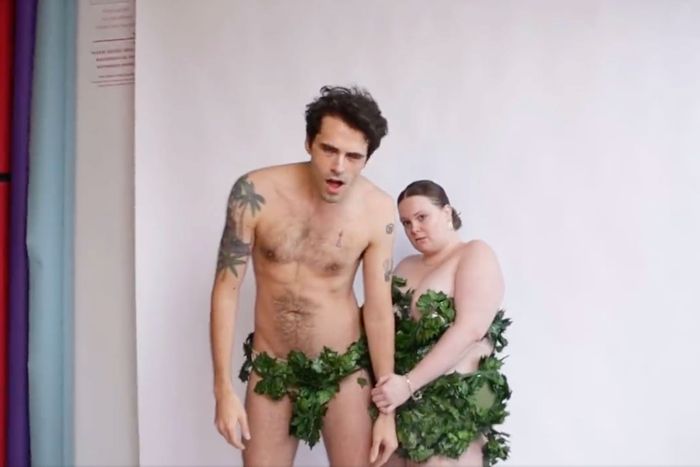 Photo: Grace Kuhlenschmidt & Joe Castle Baker
The comedy-podcast universe is ever expanding, not unlike the universe universe. We're here to make it a bit smaller, a bit more manageable. There are a lot of great shows, and each one has a lot of great episodes, so we want to highlight the exceptional and the noteworthy. Each month, our crack team of podcast enthusiasts and specialists and especially enthusiastic people will pick its favorites. We hope to have your ears permanently plugged with the best in aural comedy. You can also keep up with all our comedy-podcast recommendations in Vulture's newsletter 1.5x Speed, and be sure to check out Vulture's new podcast Into It, hosted by Sam Sanders.
Finally, "Neutering"
The podcast to end all podcasts has Finally arrived. After suffering the indignities of pretending to like their less funny friends' shows, Grace Kuhlenschmidt and Joe Castle Baker decided to put their talents where their mouths are or whatever and destroy podcasts forever by hosting their own. Ostensibly, Finally is intended to solve hot-button issues (Will someone really cut your hand off for a Cartier bracelet? Does every president have to own a cardigan?) once and for all. That exercise is far less cynical than it sounds, though: As this premiere episode from February 6 reveals, it's primarily an opportunity for both comics to share their inner dumbasses — the complementary goofy, faux-naif personas they've cultivated across stand-up, social media, and television — with the audiophile world. As a result, Kuhlenschmidt and Castle Baker's discussion about the value of neutering animals (with the former dropping actual Wiki facts, while the latter operates from a "more of a vibe" position) is less debate than distraction, lasting barely 15 minutes in a chaotic 45-minute conversation. But with a duo this funny and in form, this is hardly a problem. Finally, a good-ass podcast. —Sean Malin
Listen: Anchor | Apple | Google
Who? Weekly, "Apple Martin, Rhian Sugden & Nadia Ferreira?"
And now, a hearty salute to a show that has lasted and continues to thrill. Who? Weekly, a podcast about "Everything you need to know about the celebrities you don't," has been running since early 2016, and it remains a weekly showcase for the funniest, smartest, and stupidest content around. The Whos of the world keep needing press, so hosts Lindsey Weber and Bobby Finger continue to track their every move — the more ridiculous the better. A show with this level of consistency is easy to take for granted, but Lindsey and Bobby remain remarkably engaging hosts who manage to spin the silliest tabloid stories of the week into off-the-cuff treatises on the nature of celebrity without pretension or (too much) condescension toward their subjects. In this episode, they debut a "Beckham Watch" segment in order to keep tabs on the exploits of various Beckhams, though to Who? Weekly, the actually famous David and Victoria are far less interesting than the failsons they've spawned. Their weekly focus on Rita Ora's continually unsuccessful attempts to become a Them somehow never gets old because the hosts are, by now, truly rooting for the Queen of the Whos to get something right. Equal parts informative and inane, Who? Weekly continues to enchant seven years into its run. —Jason P. Frank
Listen: Spotify | Apple | Website
What a Time to Be Alive, "Shabbat Shalerm w/ Gareth Reynolds"
A rare opportunity for an in-studio recording with all three What a Time hosts takes an already relentlessly silly conceit and bounces it off the walls. Despite a less-than-stellar audio quality that's since been denounced by hosts Patrick Monahan, Kath Barbadoro, and Eli Yudin, the energy in the room zooms through some of this weird news show's bread and butter, including doing silly voices like the ancient golem working the door at Ellis Island and saying silly names like Québécois weatherhog Fred la marmotte, may he rest in peace. The Dollop's Gareth Reynolds fits right in as a guest, leading the group through riffs including the highlight dissection of the pharmacist's role at CVS as a seemingly higher-status employee who gets guaranteed and publicly broadcasted lunch breaks and doesn't have to ring up your almonds. The Apple Watch feature that accidentally calls 911 when you bomb a ski hill and science's harebrained quest to reverse climate change by bringing the wooly mammoth back to Dallas, Texas, round out a modern classic. —Noah Jacobs
Listen: Spotify | Apple | Website
Podcast: The Ride, "Super Nintendo World"
It's been a banner month for the Good Boys. For the first time since 2019's double whammy of Avengers Campus and Star Wars: Rise of the Resistance, Podcast: The Ride is covering two brand-new e-ticket attractions back-to-back. Over five years and three separate podcast streams (including two paid-tier Patreons), Mike Carlson, Scott Gairdner, and Jason Sheridan have often had to pad out their discussions of popular attractions and entire defunct theme parks with minutiae about queues and arcana about old promotional videos. Of course, it's that obsessive approach to the tiniest, least consequential stuff — their inability to see the artificial forest for the animatronic trees — that makes P:TR so special and so beloved. That's why it's such a delight that with two major new attractions to dive into, they still manage to get caught up on the little things. In the Mickey & Minnie's Runaway Railway episode, Gairdner goes on a huge rant about a new patch of grass in Toontown, only to end up saying he liked the patch of grass after all. And in the Super Nintendo World episode, Carlson gets immensely stressed about the non-disposable silverware in Toad's Toadstool Café, leading him to have a little Smuggler's Run mission to get the food he paid for out of the restaurant. The episode peaks with a riff about Jon Taffer doing a Bar Rescue on poor, overworked Chef Toad. —Rebecca Alter
Listen: Spotify | Apple | Website
Really? No, Really?, "Bathrooms, Privacy, and Seinfeld" 
In the latest episode of Seinfeld — sorry, I mean the debut installment of the Really? No, Really? podcast — hosts Jason Alexander (a.k.a. George Costanza) and writer–radio host Peter Tilden take on the pressing issue of bathroom privacy. Jerry Seinfeld may have famously joked about the lack of privacy in public restrooms, but these guys take it seriously — well, semi-seriously — and they're on a mission to get to the bottom of it. As they plumb the depths of bathroom design, the guys interview a public-restroom expert who reveals the real reason stall doors aren't longer. They also speak with a hacker (not the black-hat kind) to learn about the end of passwords and the challenges of online privacy. Who knew a podcast could make you feel so exposed? They balance out the doom and gloom with some much-needed advice from an etiquette expert, because let's face it: Nobody wants to be caught in a social faux pas in the loo. So if you have an interest in the minutiae of modern life served up with a big helping of wisecracking, this show's a little bit silly, a little bit serious, and a whole lot of entertaining. Yada, yada, yada. —Marc Hershon
Listen: Spotify | Apple | iHeart
Got a comedy podcast recommendation? Drop us a line at comedypodcasts@vulture.com.