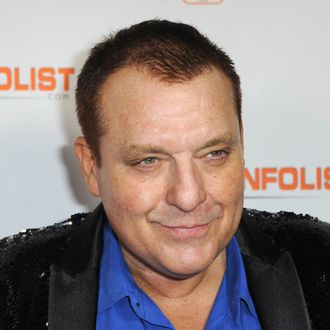 Photo: Albert L. Ortega Images/Getty
Tom Sizemore, the actor who played Sgt. Mike Horvath in Saving Private Ryan, is reportedly in critical condition at a Los Angeles hospital after suffering a brain aneurysm. Afteris manager, Charles Lago, said to Variety that Sizemore's family is currently "deciding end of life matters." "Doctors informed his family that there is no further hope and have recommended end of life decision," the statement said. Sizemore's family will issue another statement on Wednesday, March 1.
Sizemore's manager confirmed the news to CNN on Sunday morning, noting that the 61-year-old actor is currently in intensive care in a "wait and see situation." "His family is aware and waiting for updates. There is no further update at this time," Lago said in a statement. According to Deadline, Sizemore was hospitalized after being discovered at his home at around 2 a.m. The actor rose to fame in the '90s and 2000s for starring in action films such as Witness Protection, Heat, Pearl Harbor, Black Hawk Down, and Natural Born Killers. His career was also marked by several personal scandals, including a domestic violence conviction and drug abuse. More recently, he has appeared in episodes of shows including Shooter, Cobra Kai, and Twin Peaks.
This is a developing story.