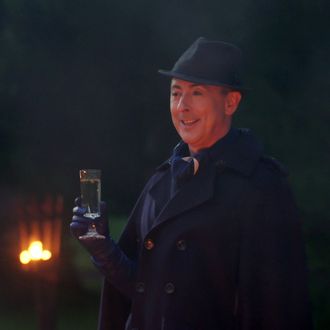 Alan Cumming in Peacock's
The
Traitors
.
Photo: Peacock
Get ready for more lies, more backstabbing, more bugs, and more Alan Cumming: Peacock has ordered a second season of The Traitors, Vulture has learned. What's more, it's also getting the season-one cast back together for an Andy Cohen–hosted reunion special later this month, so Brandi Glanville should feel right at home. The unscripted competition has been a buzzy breakout for the streamer, quickly becoming the young platform's most-watched reality series to date since bowing last month, meaning Kate Chastain got her money's worth on outfit expenditures.
Based on a Dutch format distributed by Studio Lambert, The Traitors follows a group of 20 contestants temporarily residing at a Scottish castle as they try to figure out the identity of three double-crossers within their midst. Peacock execs tweaked the original formula for the show, however, by making half of the contestants U.S. reality-TV stars. "We wanted to lean into what makes us unique," Susan Rovner, NBCUniversal's Chairman of entertainment content, told Vulture. "With Bravo and E!, we have the greatest unscripted ecosystem of any place, period, on the planet. … So the goal was to lean into our stars — people that we know would play the game great like Kate Chastain — and then also bring in some other reality stars to help broaden the audiences coming to Peacock." Rovner also credits her content execs for recruiting Cumming to host the U.S. edition. "He is perfection and his outfits are perfection," she said. "It just came together as one of those things that all the elements fell into place."
While Peacock hasn't released specific viewing data beyond characterizing The Traitors as its biggest reality hit, the U.K. edition was a big success for the BBC over the Christmas holiday season. The British equivalent of Nielsen said the show's finale reached more than 20 percent of all U.K. viewers watching TV live the night it aired (3.2 million viewers), while the BBC said the series generated more that 28 million views on the broadcaster's streaming platform, iPlayer. The response was so positive BBC licensed the Peacock version of The Traitors for both streaming and its broadcast networks, airing the show just after its U.S. premiere. Rovner says Peacock will be returning the favor by adding the U.K. version of The Traitors later this year. After all, if there's anything that could make the tearful confessions of The Traitors more compelling, it's a Liverpool accent.
In the meantime, Bravo reality czar Cohen will be gathering the cast of the U.S. Traitors for the aforementioned reunion special. Whether or not that means he can get Cirie or Andie to throw fists is yet to be seen, but it does bode well for those among us who are fans of mess. It is set to stream February 28 on Peacock.
Jason Frank contributed to this story.