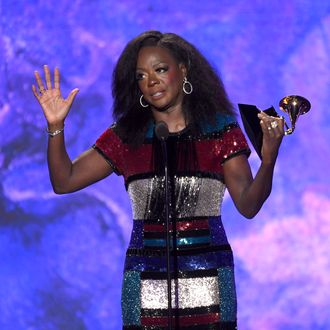 Photo: Kevork Djansezian/Getty Images for The Recording Academy
"I just EGOT!" Viola Davis shouted from the podium at the Grammys telecast on Sunday evening. Hey, she's right! (Every EGOT winner should be required to do this onstage from now on.) The acclaimed actress joined the small but illustrious group of creatives to snag an Emmy, Grammy, Oscar, and Tony after winning a gramophone for Best Audio Book, Narration, and Storytelling Recording for her 2022 memoir, Finding Me.
"I wrote this book to honor the 6-year-old Viola," Davis said in her acceptance speech. "To honor her life, her joy, her trauma, everything, and it has been such a journey." Next up for Davis: the, uh, KMAT? That would be a combo Kennedy Center Honor, MTV Movie Award, American Music Award, and Teen Choice Award.