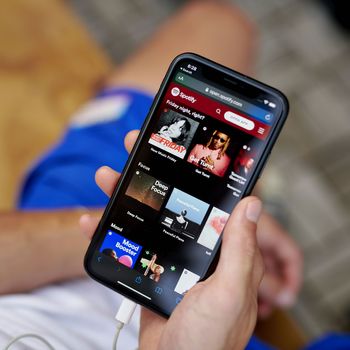 Photo: Gabby Jones/Bloomberg via Getty Images
Welcome to a truly head-spinning time for the podcast business, one far removed from its so-called boom period.
Last week's news that Spotify is cutting 6 percent of its workforce shouldn't come as much of a surprise given the kinda-maybe recessionary turbulence that has been hitting tech and media lately (Vox Media, which owns New York Magazine, included). But the downsizing was attached to an associated development that was indeed surprising: Dawn Ostroff, Spotify's chief content officer, is heading out the door too.
Since joining the company in 2018 after stints as president of the CW Network and Condé Nast Entertainment, Ostroff has been firmly positioned as the face of Spotify's efforts to evolve beyond the pesky economic constraints of the music streaming business. She flanked CEO Daniel Ek on the cover of The Hollywood Reporter in 2019, which talked up Spotify's ambitions to become "the World's No. 1 Audio Platform" and a meaningful creative studio. Ostroff seemed to be playing the role as recently as December when she gave a broad interview to Variety on the state of the company's content business. According to the official word, the exit was Ostroff's decision, and in hindsight, it's not hard to spot a link with last summer's publicized restructuring that saw Parcast founder Max Cutler and former Paramount+ exec Julie McNamara elevated to top creative roles. They will now report to Alex Norström, Spotify's chief freemium business officer (a.k.a. subscriptions head). That realignment should be telling.
Ostroff's departure has sparked a wave of public rethinking about the state of the Swedish platform. Over the weekend, Bloomberg and The Hollywood Reporter both published stories framing the exit and the cuts as signaling a "pivot" away from, at the very least, the splashy way Spotify had been going about its podcast business in the past few years.
Call it a pivot, call it a withdrawal, call it something in between. Whatever the nomenclature, the financial realities of Spotify needing its big podcast bets to pay off have been true for some time now. In early 2022, the company shuttered its founding podcast studio, known internally as Studio 4, with the affected employees either laid off or reassigned. In the fall, Spotify canceled some of its original programming for the first time, cutting 11 shows and letting go another 5 percent of its podcast-specific staff, who were also either laid off or reassigned.
What to make of the Ostroff era? As several insiders noted when asked, Spotify has certainly accomplished its mission under her watch. The company declared an intent to become the global name in podcasting, and that's more or less what it has done over the past four years. Through sheer force of will and capital, Spotify wrested control over the podcast hype, bulldozing its way into the center of the narrative by plowing over a billion dollars' worth of investments into the category via major acquisitions and content deals. The platform is now widely thought to command significantly more American podcast listenership than longtime incumbent Apple — though, as many point out, that also has to do with Apple's not putting up much of a fight in the first place. Outside of the United States, Spotify is often synonymous with the category.
Yet Spotify's massive podcast investments haven't been terribly efficient, and the gloss on the company's podcasting adventures is certainly long gone, at least here in the States. To begin with, there is the Joe Rogan of it all, but more broadly, you'd be hard-pressed to find many creatives in the podcast community who would speak well of the Swedes these days. Even among creators who acknowledge the realpolitik of needing to keep amicable relations with one of the industry's few dependable financing spigots, there's a general understanding that Spotify isn't a good first choice as a partner for anything other than money. "If you are going to take all of my IP, at least don't also insert your inexperienced clowns into the production process and make everything worse," said one studio head when asked about their experience working with Spotify.
As the Ostroff era comes to a close, the picture of podcasting at Spotify looks a lot less interesting than what was promised at the outset of its ambitions. Today, there is one major content pillar that clearly works for the platform: big-ticket, personality-driven talk programming like The Joe Rogan Experience, Call Her Daddy, Armchair Expert, and, most recently, Anything Goes With Emma Chamberlain. All of which, by the way, are shows featuring talent who first bubbled up elsewhere and came in by way of spendy exclusive deals. It's a content model that looks remarkably similar to competitor SiriusXM, the satellite-radio company.
Everything else has been far less solid. Spotify hasn't appeared particularly capable of cultivating new stars or developing successful projects internally; as it turns out, making hit podcasts often requires more than just throwing money at the problem. Gimlet Media, Spotify's marquee acquisition announcing its arrival into the podcast category, is now a shell of its former self. The company has spent the past year trying to hype its various fiction releases, including Quiet Part Loud, produced with Jordan Peele's Monkeypaw Productions, and Batman Unburied, through its partnership with Warner Bros. DC. But as much as they hype global listening numbers — which are impossible to independently verify — it's hard to say those projects have made much of a crossover impact.
Few other Spotify originals feel present in any meaningful way. There are some exceptions, of course. Archetypes certainly drove a conversation, but does anybody believe that's replicable? And is it weird to think The Ringer is now somewhat underrated in the Spotify context? In any case, I'm compelled to point out that, again with some exceptions, many of The Ringer's more popular shows — The Bill Simmons Podcast, The Watch, The Big Picture, etc. — had existed prior to the division being acquired in 2020.
So it goes that Spotify is now pivoting away from leaning hard on original programming and is back to reasserting itself as a platform-first business. In that case, the stat that was given in Ostroff's outgoing memo published in The Hollywood Reporter should raise a few eyebrows: "I'm really proud of what we have built with our original and exclusive shows — despite being just .05% of the number of shows on the platform, they account for ~20% of consumption," she wrote. One has to imagine Rogan and Call Her Daddy play an outsize role in that 20 percent, and given the newly reclaimed platform centrism, this is probably more of a damning stat in terms of Spotify's ability to help third-party content find an audience.
It's hard to make out what Spotify is going to look like in the post-Ostroff era. This seems to be true even within the company itself. "They don't have an actual strategy for their podcasts yet," an employee affected by the cuts told Hot Pod last week. Not helping is the fact that Spotify has developed a habit of rambling through a series of new formats it consistently hypes as its Next Big Thing: live social audio (remember Clubhouse?), audiobooks (never mind Audible), and nowadays, video (never mind YouTube). On one hand, it's innovation. On the other, it suggests a lack of focus.
It should be noted that everything happening with Spotify isn't taking place in a vacuum. The layoffs were a response to economic uncertainties around the wider media landscape. The podcast business was already expecting a rough year; in some corners, that turbulence is already here. Advertisers are still spending money, or so I continue to hear, but everybody's waiting to see what happens if a full-fledged recession kicks in. New-show creation is plummeting, according to a podcast search-engine company called Listen Notes, but as Nieman Lab's Joshua Benton observed, this should probably be viewed as a correction from the pandemic era's "I have loads of time, I should start a podcast!" boom as well as a mark of maturation, a thing that happens to just about every other media category that has ever existed.
Mega content deals, a hallmark phenomenon of the podcast boom, are probably going to be less prevalent going forward, though practically no one thinks they're going away. They may be smarter, a little smaller, and perhaps more refined, but at the end of day, Spotify needs to keep its core podcast business of highly paid personalities intact. But it will find itself pressed on that front, given that there are now several capable competitors that would theoretically be interested in stealing that business. (After those competitors finish with their own layoffs, of course.)
As with just about everything else related to the media and show business, nobody knows anything and nobody quite knows how things will look on the other side of this market cycle. One thing's for sure, though: Spotify has already changed so much about the podcast world, and yesterday, as it pulled back from the category, the company became the first music streaming service to cross 200 million paid subscribers.
Meanwhile …
➽ For those who tuned in to Gilbert King and Kelsey Decker's Bone Valley, a coda: The New York Times published a story over the weekend about a Florida judge, Scott Cupp, who's stepping down to take on Leo Schofield's case as his attorney. Enjoyed this bit in particular:
"Mr. Orr" — Jacob S. Orr, chief assistant state attorney for Florida's Tenth Judicial Circuit — "attached a two-page document of detailed talking points." "It seems this is an attempt to promote a podcast," reads one sentence.
That's a line Judge Cupp has heard before:
"I hope to God somebody says that in my presence," he said during the interview, talking about the upcoming parole hearing. "Yeah, we're just rolling in dough here."
Got a real chuckle out of that one.
➽ Speaking of Bone Valley, the show's publisher, Lava for Good, has a new project out now: The War on Drugs, about President Richard Nixon's extensive — and destructive and futile — campaign waged in the early '70s. It features a classic hosting construction that pairs an attorney, Greg Glod, with the comedian Clayton English.
➽ Also debuting last week: the second season of Rococo Punch's The Turning. The first was a reexamination of Mother Teresa's closed order, Missionaries of Charity, and the latest shifts its attention to another kind of closed order. Erika Lantz dips into the hermetically sealed world of elite ballet, which was primarily defined in the American context by the choreographer George Balanchine. As with any totalizing world rooted in a singular figure, power is the concern: Subtitled Room of Mirrors, the show's second season takes the form of interviews and conversations with the many women who were once players in Balanchine's universe.
➽ I might've spent the main column groaning about Spotify, but that shouldn't take away from the many fine producers still shepherding projects out the door. I expressed my fondness for a few of its narrative projects a while back — namely, How to Build a Metaverse and Bad Bets, both falling from its partnership with The Wall Street Journal — and I've been meaning to pick up the latest season of Conviction. It covers the story of Max B, a Harlem rapper on the verge of breaking through who was ultimately wrapped up in a robbery gone wrong. A good companion piece to NPR's Louder Than a Riot, which I think is coming back soon as well.
➽ Also on my radar … Unreformed, hosted by the criminal-justice reporter Josie Duffy Rice. (Good timing, too. I had just finished watching a documentary she led for Al Jazeera's Fault Lines, "51 Years.") In Unreformed, Duffy Rice goes over the history of the "Alabama Industrial School for Negro Children" — a century-old institution located outside Montgomery and colloquially regarded as Mt. Meigs — which started out as a "reform school" for Black youth that eventually devolved into something approximating a modern-day slave plantation. This story picks up in 1968 when five Black girls escaped the institution. One of them, Mary Stephens, would finally get the word out.
➽ If you're still looking for another doc to sink your teeth into, NPR's White Lies also has a new season out, subtitled The Men on the Roof, which will take listeners back to the 1991 prison uprising at the Federal Correctional Institution in Talladega, Alabama, where around 120 Cuban detainees commandeered the place for over a week. Chip Brantley and Andrew Beck Grace return as hosts.
➽ Another return: WNYC and Futuro Studios' expansive love letter to Puerto Rico, La Brega, is back with what one may call a mixtape season. The new entry celebrates the island's musical history — guiding listeners through its eras, aesthetics, and politics — by dedicating each episode to a different iconic Puerto Rican tune. Alana Casanova-Burgess returns as host.
➽ Shout-out to the guys at Eye of the Duck, an indie-film podcast that's been in my rotation for a bit, who just got picked by the Morbid network.
➽ While we're on the subject of film podcasts: I love the fact that Blake Howard's One Heat Minute project is now dabbling in audio essays! The inaugural effort features the Boston-based film critic Ethan Warren going long on The Fabelmans. I'm probably prone to liking this stuff, seeing as how I'm the sort of person who's fairly into the video essay as a mode of longform criticism, and it's a kick to hear an effort to transpose that aesthetic onto the podcast. A quick aside: Not that anybody's asking, but I happen to think that plenty of interesting, valuable criticism — on film, television, books, and, perhaps especially, newer forms like video games — can be found all across the podcast universe, albeit often in the conversational or discussion format.