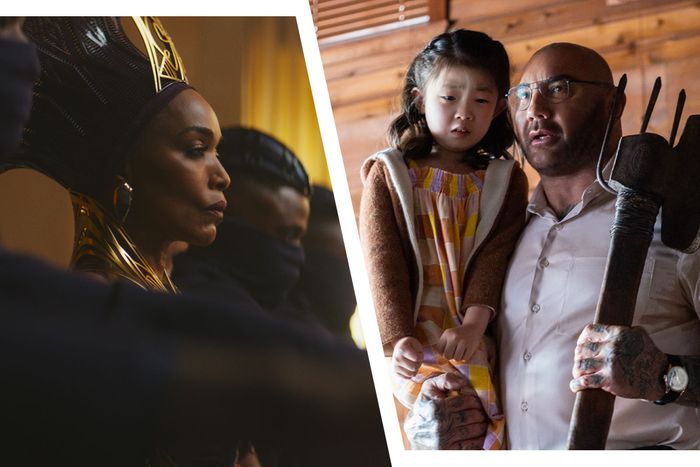 Black Panther: Wakanda Forever
;
Knock at the Cabin.
Photo-Illustration: Vulture. Photos: Marvel; Universal
If you and your family have rented a charming cabin in the woods for a weekend getaway, you probably won't have much need for streaming recommendations this weekend. Just keep in mind that Drax the Destroyer and Ron Weasley may knock at your door and force you to kill a family member to prevent the end of the world. That's the plot of M. Night Shyamalan's new film in theaters, yes, but it could happen. So maybe you're better off staying home and watching what's good. Here are the best new movies and TV shows to watch this weekend. No twist, promise. — James Grebey
Knock at the Cabin
M. Night Shyamalan's latest thriller, about a gay couple and their young daughter besieged by four weirdos who claim only they can stop the apocalypse, with an alternately creepy and tender performance from Dave Bautista, might be the director's best film since The Village. — Bilge Ebiri
Black Panther: Wakanda Forever
The movie that earned the MCU its first acting nomination at the Academy Awards is now streaming on Disney+, though we'll have to wait until March to see if Angela Bassett wins the Oscar for her stirring performance as Queen Ramonda. Bassett is perhaps the brightest spot in the highly anticipated sequel, one that has other moments of glory but is largely bogged down by the need to both set up spinoffs and mourn Chadwick Boseman's passing. — J.G.
The 65th Grammy Awards
Trevor Noah hosts this celebration of music, an event where Beyoncé, the artist with the most nominations this year, often does not receive the accolades she deserves. Perhaps things will be different for her this year; if not, as noted on her Grammy-contending Renaissance, America has a problem. — Jen Chaney
Dear Edward
Yes, this is a drama about what happens in the wake of a plane crash, but don't expect to see cannibalism à la Yellowjackets. This emotional series, based on Ann Napolitano's novel, follows a 12-year-old boy, the sole survivor, and others who lost loved ones as they cope with their grief. — J.C.
Gunther's Millions
Netflix made Tiger King and Bad Vegan, so really it's only natural that the streamer has turned its attention to the story of Gunther III, a dog who inherited almost half a million dollars from a wealthy countess … or did he? The four-part documentary series tells the story of an absurd fraud and a very good boy. — J.G.
The Ark
SYFY's new, uh, sci-fi series is set in the far future aboard a massive spacecraft that's out on a mission to save the human race when a disaster leaves the remaining crew and surviving passengers struggling to survive. The good news? The show's executive producer is Dean Devlin (Independence Day). The bad news? The show's executive producer is Dean Devlin (Independence Day: Resurgence). — J.G.
Read our streaming recommendations from the weekend of January 27. Vulture's next list of weekend-streaming picks goes online Friday, February 10.