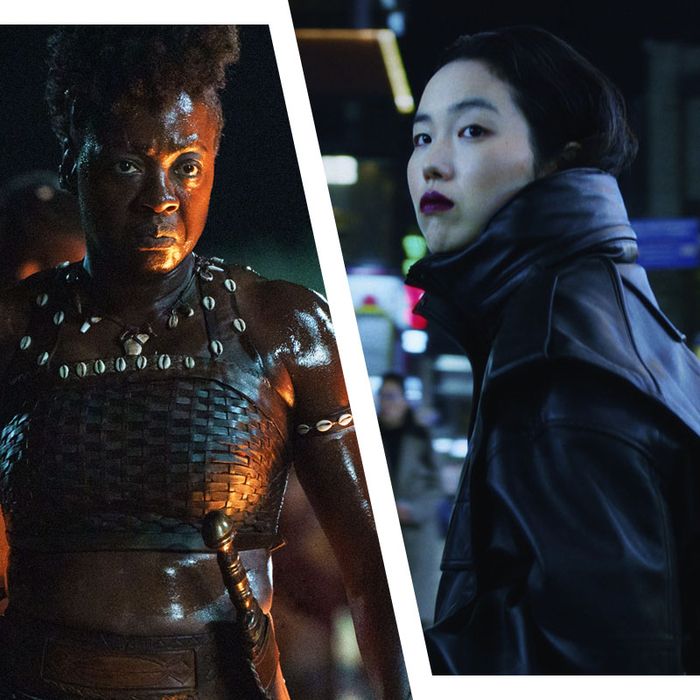 The Woman King
;
Return to Seoul
.
Photo-Illustration: Vulture. Photos: Sony Pictures; Aurora Films
Whenever there's a three-day weekend, I think of the scene in Roman Holiday where Gregory Peck tells Audrey Hepburn to "live dangerously, take the whole day!" because there's truly nothing better than taking a little holiday for yourself. And a day to yourself can entail plenty of activities, but if you choose to head to a theater or sit on the couch, this weekend has some good options, especially with blockbusters both in theaters and on streaming platforms (looks at already underrated The Woman King). Now, here's the rest of Vulture's picks for movies and TV to watch over Presidents' Day weekend:
Ant-Man and the Wasp: Quantumania
If you thought Phase Four of Marvel's master plan was whack, buckle up, my friends, because Ant-Man and the Wasp: Quantumania is quite the film. It's a big departure from the street-level crime Scott Lang (Paul Rudd) dealt with in the previous two films as he, Cassie, and the Pyms are sucked down to the Quantum Realm. That's where the table setting of the multiverse saga begins as the bunch meet the infamous Kang the Conqueror (honestly played deliciously by Jonathan Majors). If you're not a Marvel fan, I wouldn't recommend, but if you are and decide to watch, watch high, preferably.
Marlowe
A new Neil Jordan film is always to be celebrated, and his latest — a period crime drama set in Hollywood, starring Liam Neeson as the iconic Philip Marlowe, and based on John Banville's novel The Black-Eyed Blonde — seems like a perfect match for a director whose films are often filled with atmosphere and rueful portraits of broken masculinity. —Bilge Ebiri
Return to Seoul
First-timer Park Ji-min may not have gotten an Oscar nomination, but she definitely gives one of 2022's best performances in Davy Chou's film. She stars as a mercurial adoptee who travels to Korea with the aim of finding, if not her roots, a sense of self; her journey's moody, dryly funny, and always surprising. —Alison Willmore
Sharper
After a short stint in theaters, director Benjamin Caron's neo-noir is hitting streaming. Starring Julianne Moore, Sharper prides itself on its twists and turns as it focuses on a family of millionaires and heirs conning each other. A normal day for them, I'd guess.
The Woman King
The Woman King, a big historical action-epic, is exactly the type of movie that would've killed at the Academy Awards as recently as a decade ago. However, the Gina Prince-Bythewood–directed movie was shut out at the Oscars. Viola Davis didn't even get a nomination for her starring role as the battle-hardened leader of the Agojie, a real-life, all-female group of warriors who fought for the African Kingdom of Dahomey. The good news, at least, is that The Woman King is exactly the type of movie that will kill on Netflix, and it's available to stream after several months of availability only as paid Video on Demand. Vaguely historical action movies are a dime a dozen on Netflix, and The Woman King is better than most of them. If it couldn't get any love from the Academy, at least it will probably be crowned as one of Netflix's Top Ten. —James Grebey
Full Swing
Netflix has teed up another reality-show-esque sports-documentary series in the style of Drive to Survive and Break Point, though the action on Full Swing takes place on greens rather than tracks or tennis courts. The eight-episode series, a Vox Media Studios production made with the PGA Tour, goes behind-the-scenes with Rory Mcllroy, Rickie Fowler, and other pro golfers for a look at what goes into these high-stakes tournaments. —J.G.
Star Trek: Picard season 3
Of all the attempts to extend the Star Trek franchise into the streaming world, Picard has been the most frustrating. Its first two seasons were misguided at best. But its third and final season is a startling improvement, a move the show pulls off largely by becoming what it should've been all along: a space-romping fan-service reunion of the TNG cast. —Kathryn VanArendonk
Perfect Match
Perfect Match is Netflix's multiverse of madness. It's a show where they invite conventionally hot people from their slew of reality shows, from The Mole (which has nothing to do with finding love!) to Sexy Beasts, Love is Blind, Too Hot to Handle, and The Circle as they compete to find their perfect match. It's a hot mess you can't take your eyes off of.
Arrested Development
"It's five seasons of Arrested Development, Michael, what could it possibly cost to keep on a streaming service? Ten dollars?" Whatever the cost is, it seems that Netflix isn't paying it. The beloved sitcom about a (formerly) rich family's squabbles was not appreciated in its time and was canceled in the mid-aughts after just three seasons. Netflix made two more seasons in 2013 and 2018, but news broke this week that all five seasons will be leaving Netflix as of March 15. Chances are this won't be the end for Arrested Development — it will almost certainly be available to stream somehow, somewhere — but if you're a Netflix subscriber, you've got about a month to enjoy perhaps the greatest show for recurring jokes of all time. —J.G.
The Last Black Man in San Francisco
Jonathan Majors makes his debut as Kang the Conqueror (not to be confused with his turn as He Who Remains in Loki) in Quantumania this weekend, but how about you rewind it back to one of Majors's breakout roles in Joe Talbot's directorial debut. Co-starring Jimmie Fails — whom the story is loosely based on — Majors plays Fails's best friend, a soft-spoken playwright, as the duo attempt to restore the house Fails's grandfather once owned. It's a gorgeous film and apparently was the first time Majors appeared on Kevin Feige's radar.
Read our streaming recommendations from the weekend of February 10. Vulture's next list of weekend-streaming picks goes online Friday, February 24.
We should mention, by the way, that Vulture and New York Magazine are also part of Vox Media.