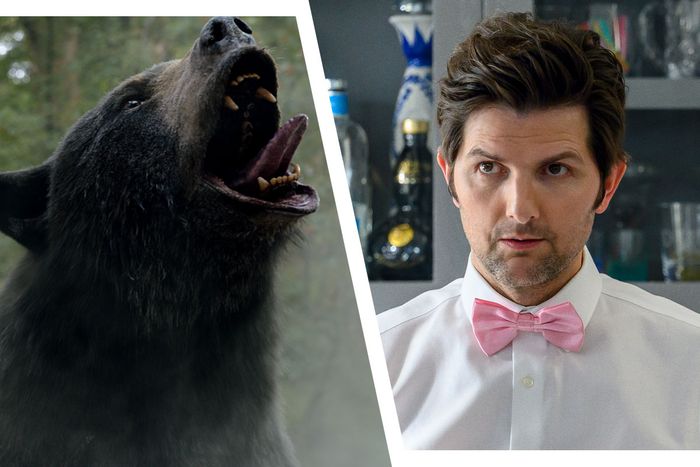 Photo-Illustration: Vulture. Universal; Starz
If there's a loose theme to this weekend's new releases and streaming arrivals, it's "party drugs." The biggest theatrical release of the weekend is Cocaine Bear, a movie that absolutely lives up to its name. On the TV side you've got the highly anticipated revival of the cult-classic comedy series Party Down, about a group of cater waiters who have been known to partake. And finally, Damien Chazelle's beautiful disasterpiece Babylon is available to stream at home. So if partying, abusing substances, or getting mauled by a bear aren't on your real-life agenda this weekend, there's plenty to watch instead. Here are our movie and TV picks for the weekend of February 24. —James Grebey
Cocaine Bear
Sometimes, when a title is too good, you have to wonder if the actual movie is going to be a letdown. Luckily, Cocaine Bear is no Snakes on a Plane, as the new movie delivers the dumb, well-executed, and fittingly gory fun you'd hope for. Starring Keri Russesl, O'Shea Jackson Jr., Alden Ehrenreich, and more, the Elizabeth Banks–directed thriller-comedy takes a real-life event (a bear ate 75 pounds of cocaine that had been dumped in the Georgia woods and promptly died) and tweaks it just a little. Now, instead, the bear goes on a rampage and brutally mauls a bunch of people. Say no to drugs but say yes to Cocaine Bear. —J.G.
Party Down Season 3
It's taken 13 years for the catering crew from Party Down to reconvene for a third season. The good news about the return, which features almost all of the original cast members, including Adam Scott, Ken Marino, Jane Lynch and Martin Starr: The show is as funny as ever. —Jen Chaney
Outer Banks Season 3
A bunch of teens on a deserted island, truly what could go wrong? In season three of Outer Banks, our group of Pogues (including Glass Onion's Madelyn Cline) has washed up on what they deem Poguelandia. It's all fun and games until a trio of revenge-hungry dudes forces the Pogues to get back into the treasure-hunting business. If that does not make a lick of sense to you, it's teen television, so thankfully it's not really supposed to make sense, but sometimes a bunch of nonsense is absolutely what you need. —Savannah Salazar
The Consultant
Since twice winning the Oscar for Best Supporting Actor, Christoph Waltz has made difficult-to-predict, appreciably odd choices in projects. That trend continues with The Consultant, in which Waltz plays the titular character brought in to improve a gaming-app company. In the trailer, his Regus Patoff clips his nose hair at work, smells his team, and is possibly involved in some kind of heist-and-hostage scenario. Employees played by Nat Wolff and Brittany O'Grady have their work cut out for them. —Roxana Hadadi
The 29th Annual SAG Awards
The Oscars are still a couple weeks away, but if you can't get enough of actors giving speeches (or if you're dying to see what the awards mean for your Vulture Movies Fantasy League team), you can watch the Screen Actors Guild's annual awards ceremony. There's no host but there will be plenty of movie stars. And, unlike the Oscars, the SAG Awards recognize stunt performers. The show will be streaming on Netflix's YouTube channel on Sunday, February 26, starting at 8 p.m. Eastern. (Starting next year, the show will be on Netflix proper.) —J.G.
Babylon
Damien Chazelle's Hollywood epic wasn't exactly a box-office winner, but who cares?! Babylon, now streaming on Paramount+, is a coked-up fever-dream picture that takes us through the transition from silent films to talkies. Diego Calva and Margot Robbie star as two effervescent newbies looking to break into the mangled business while Brad Pitt is the silent-film star at his peak. Whether you end up hating or loving it, it's worth watching for the craft of it alone. Justin Hurwitz, we would personally hand you that Oscar if we could. —S.S.
Emily
Frances O'Connor's directorial debut imagines the inspiration for Emily Brontë's acclaimed, and only novel, Wuthering Heights. Sex Education star Emma Mackey wonderfully plays the author as she forms a tryst with clergyman William Weightman (Oliver Jackson-Cohen). How Fleabag of her. —S.S.
M3gan (Unrated Edition)
If there's one complaint to be had about M3gan, it's that while she slayed (slang), her slaying (killing) wasn't quite violent enough. Luckily the unrated version of the movie — which stars Allison Williams and a fashion-conscious robot doll who does TikTok dances before murdering her victims — is now streaming on Peacock along with the original theatrical release. Even if it's just a few measly minutes of M3gan doing her thing, we'll take it. —J.G.
Read our streaming recommendations from the weekend of February 17. Vulture's next list of weekend-streaming picks goes online Friday, March 3.