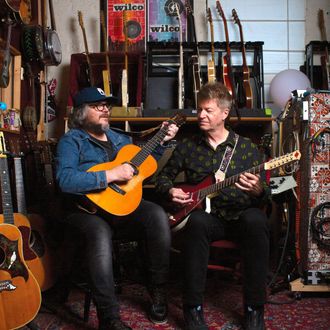 Jeff Tweedy and Nels Cline of Wilco.
Photo: Zoran Orlic/Future Publishing via Getty Images
Wilco has given fans a lot over the years: 12 albums, a near-constant stream of concerts, multiple documentaries, and an array of solo projects. Now, it's onto their gear itself. Unfortunately for your wallet, they're not giving it away for free — the band is selling a handful of instruments and amps from their famed Chicago studio, the Loft, as chronicled on Reverb. "If you love something, set it free, right?" said Mark Greenberg, the studio's manager. Most notably, they'll be saying good-bye to a pump organ that's more than 100 years old (and still in prime condition, judging by photos). There are also some rare guitars, including a mid-1960s Standel Custom Electric Guitar, a 1963 Gibson Everly Bros acoustic guitar, and a 1933 Martin 0-18K acoustic guitar. Rounding out the sale are two of front man Jeff Tweedy's acoustic guitar preamps and an amp that guitarist Nels Cline took on a few solo tours. No heavy-metal drum kit, though. The items go live on Reverb on February 22.