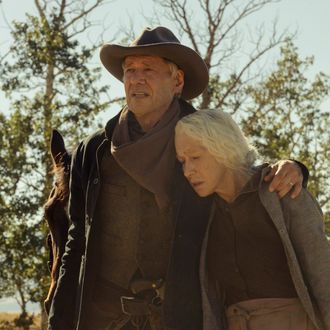 The pre-Dutton Duttons.
Photo: Emerson Miller/Paramount+
The Taylor Sheridan Televisual Universe (TSTU) continues to plow ahead. 1923, a prequel series to Sheridan's ever-popular Yellowstone, was renewed on February 3. The show stars Harrison Ford and Helen Mirren as ancestors of the current-day Dutton family as they navigate pandemics, drought, and the end of Prohibition. The series has been setting popularity milestones since its premiere, which was the most-watched cable premiere of all 2022, and on Paramount+, where it now lives, it was the network's most-watched U.S. premiere ever with 7.4 million viewers. "It was a delight. I mean, it's almost as if we've been married for 40 years," Ford told Today of his fictional homestead. "Helen is just a delight to work with. And she doesn't take herself terribly seriously." The series also stars Brandon Sklenar, Darren Mann, Michelle Randolph, James Badge Dale, Marley Shelton, Brian Geraghty, Aminah Nieves, Jerome Flynn, and Julia Schlaepfer. So hop on, because the Sheridan train slows down for no man.