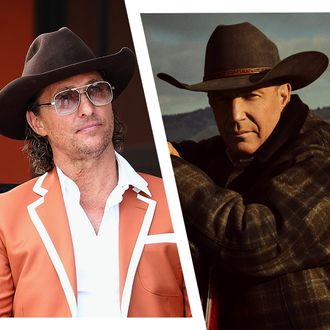 Fungible.
Photo-Illustration: Vulture; Photos: Getty Images; Paramount
You know things are bad in the world of TV when even the most-watched scripted series, Yellowstone — which I've been told has an average viewership of approximately 1 trillion billion households per episode — is in peril. Deadline reports that showrunner Taylor Sheridan and Paramount Network are looking to send the beloved series to the glue factory. Sources say this may be due to its star, Kevin Costner, all but refusing to film the second half of the current season. However, Sheridan & Co. are reportedly planning a "potential franchise extension" starring Matthew McConaughey.
Allegedly, Costner "only wanted to spend a week shooting" the remaining six hour-ish-long episodes of season five. Of course, this is a functionally impossible demand. It probably takes a week just to get the right footage of the horses (such divas!). Costner's reluctance to film has apparently been "causing morale programs for the other stars of the show," but a spokesperson for Paramount tells Deadline that, as of now, they "have no news to report. Kevin Costner is a big part of Yellowstone and we hope that's the case for a long time to come."
Paramount Network has reportedly "declined Costner's most recent proposal and made the decision to move on to the other show," referring to an in-the-works spinoff series starring McConaughey. Such a show would be yet another star-studded entry in the budding YTU (Yellowstone Televisual Universe), which is home to spinoffs 1883, starring Tim McGraw and Faith Hill, and 1923, starring Helen Mirren and Harrison Ford. Despite Costner's best efforts, Yellowstone is like the Hydra of boomer entertainment: Cut the head off and three more sprout up in its place. Yeehaw to that!