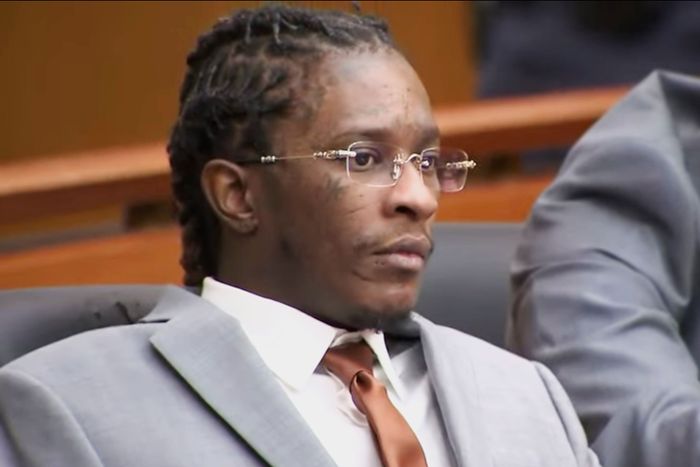 Photo: Fulton Superior Court
When Young Thug's Georgia racketeering trial began with jury selection on January 4, it was already poised to be a lengthy process. The rapper, whose legal name is Jeffery Lamar Williams, is among several dozen facing state charges in relation to allegedly founding a street gang called Young Slime Life. Officials have summoned more than 600 potential jurors for the trial, which could span from at least six to nine months when proceedings start in earnest. As of February 22, "not a single person has been seated" on the jury.
Meanwhile, the trial has been rife with drama. The judge in this case, Ural Glanville, punished one potential juror with a 30-page homework assignment when she didn't show for jury duty, and held another in contempt after they sent a message to a reporter from the Atlanta Journal-Constitution asking for information about the slow-moving selection process. Then there was the alleged courtroom drug deal, with prosecutors claiming Kahlieff Adams, one of Williams's co-defendants, passed the rapper a Percocet while he was seated alongside his lawyer in court. The moment was captured on video and further delayed the proceedings. (Williams's lawyer denied the allegations, saying his client "barely" knew Adams, didn't know he was going to be given a pill, and handed the pill to the authorities immediately.) Adding to all the confusion: The prosecution is requesting two of Williams's co-defendants be tried separately because their defense lawyers are pregnant, and earlier this week, an interrogation video depicting a YSL associate speaking with police leaked online, prompting one attorney to request a mistrial.
While some observers have wondered why is this is all taking so long — and whether the slowness of the proceedings, as well as the surprising antics surrounding the case, are normal — veteran attorneys who spoke with Vulture say it's not surprising that a lengthy racketeering trial, with more than one dozen defendants, would feature a long jury selection — especially one with a famous person in the mix. But the courtroom theatrics involving drugs and leaks are.
"There's a few reasons, kind of normal issues, that make things weird: One is that he's a celebrity and two is that it's a RICO trial. They're estimating it's going to take a year," Rachel Fiset, a criminal defense attorney and managing partner of Los Angeles–based Zweiback, Fiset & Zalduendo LLP, told Vulture. "So you have to find people that can give up a year of their life and sit on that jury — and that's really hard to do."
"The part that's abnormal is the amount of defendants and the various shenanigans that are going on in court," added Fiset. The alleged passing of drugs, "that's not normal." These types of antics delay cases because officials "have to deal with these behaviors in court."
Like Fiset, Neama Rahmani, president of West Coast Trial Lawyers and a former assistant U.S. Attorney, pointed to the difficulties in selecting a jury for this trial. "Normally, you can't get out of jury duty, but if it's a long-cause trial like this that's going to last months, the judge has to let you out if you say you can't serve that long," Rahmani said. "So they're gonna have to go through hundreds and hundreds of jurors before they find 12 that really have nothing better to do than sit around for months."
Rahmani also pointed to the complicated nature of this case as a reason why things might drag out. "You have so many defendants, and you have so many potential witnesses, and you have a judge and a prosecution trying to kind of put all these together," he said, adding that there are dozens of likely prosecution witnesses in this case and every defendant has a right to cross-examine them. And that's before you throw in drug-dealing allegations, prosecution's complaints about pregnant attorneys, and the ongoing filing of legal paperwork. "It's just going to be very, very slow."
Several attorneys on the case voiced various views about the delays. Teombre Calland, who represents Kahlieff Adams (he's one of the two co-defendants prosecutors want tried separately due to Calland's pregnancy), said, "I believe that the prosecutors are the cause of the delays we're experiencing." Calland notes that Adams and co-defendant Tenquarius Mender had asked for separate trials last year — and prosecutors fought them on it. The requests were eventually denied. (Both Adams and Mender want their attorneys to keep representing them.)
Brian Steel, who represents Williams, is not upset by the amount of time the case is taking. "This case is so important to me and Mr. Williams and everyone involved' and it's got to be done right," Steel said. "And the honorable court is going through the proper procedures with efficiency to ensure that a fair trial will be had by all."
"Trials are not judged by the amount of time, they're judged by the fact that it's a fair trial," Steel continued. "And I believe that right now, no matter how long or short this trial will last, so long as the verdicts speak the truth of not guilty, it is fine with me."