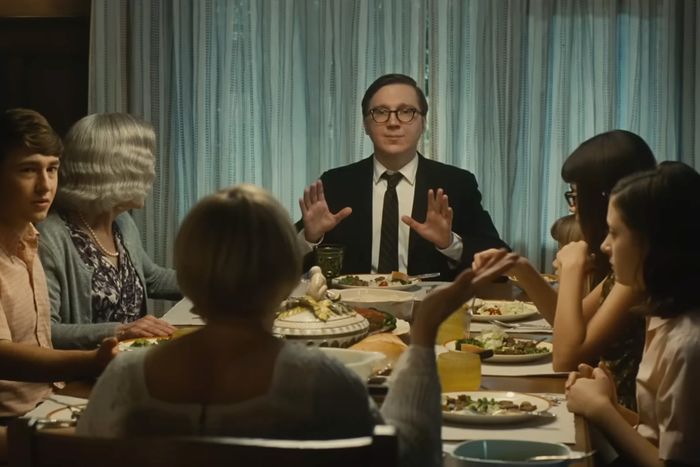 Even (or especially) if you haven't watched any of the movies.
Photo: Universal Pictures
With the 2023 Academy Awards bearing down on us, it's finally time to let this year's film debates boil over. Is Everything Everywhere All at Once the zeitgeist movie of the year, or overstuffed multiverse nonsense? Did Steven Spielberg deliver on his career-capping memoir? What do we really owe Brendan Fraser? Is Lydia Tár real? Is Andrea Riseborough? If you're finding it difficult to answer these questions yet yearn to be a part of the annual ritual anyway, here's a helpful guide to talking about the 2023 Oscars, even (or especially) if you haven't watched any of the movies.
1.

That Irish dark comedy isn't that Irish.
The Banshees of Inisherin premiered at the Venice Film Festival in the fall of 2022 with a low rumble of anticipation due to the reunion of director Martin McDonagh and his In Bruges stars Colin Farrell and Brendan Gleeson. Critics and audiences were big fans, and it entered the Oscar race as an unlikely crowd-pleaser, considering it's a small story about a longtime friendship gone so suddenly sour that one half of the pair cuts off his own fingers to avoid ever talking to the other again. That is, until McDonagh — whose parents are Irish but who himself grew up in London — got called out for fumbling Irish tropes, reminding us that this is the same man who fumbled American tropes in Three Billboards Outside Ebbing, Missouri.
2.

The multiverse is boring, except when A24 does it.
Nothing as ubiquitous as the MCU can ever be truly cool, which put the concept of the multiverse on shaky footing in 2022. Leave it to the Daniels (directors Kwan and Scheinert, whose previous film starred Daniel Radcliffe as a poseable corpse) and the studio that scored Academy love for Moonlight, Lady Bird, and Minari to not only make the multiverse stylish but also prestigious enough to earn 11 Oscar nominations. The movie had its share of naysayers when it premiered in limited theatrical release back in March of 2022 — Peter Bradshaw at The Guardian called it "nothing nowhere over a long period of time." But for every single weary detractor, there is a chorus of admirers eager to take a fanny pack to the skull from Ke Huy Quan or Michelle Yeoh.
3.

Spielberg can't stop losing.
Steven Spielberg has directed more Best Picture nominees than almost any filmmaker in history (he is tied with William Wyler at 13), but he's only ever won the top prize once, for 1993's Schindler's List. What was it going to take to get Spielberg a second Best Picture Oscar? The answer, many thought, would be his most autobiographical film to date, the story of aspiring auteur Sammy Fabelman. But a treacly trailer, nagging discussions over whether the film's cast was sufficiently Jewish, and a growing perception that prestige directors making movies about their own mythologized childhoods was becoming a trope managed to dampen things. And so here we are, with Spielberg's sixth Best Picture nomination in 12 years, with a movie that drills to the core of his deepest family secrets and the motivations that have driven him as a filmmaker over his career … and he's probably going to lose again.
4.

Top Gun saved movie theaters, but it's not Best Picture.
No one cares about the theatrical moviegoing experience more than Tom Cruise. He made as much clear when he braved pandemic conditions to see Tenet in August of 2020, and when he flipped out on the crew making Mission: Impossible 7 for breaking COVID protocols, and when he took time away from jumping out of airplanes to thank fans for making Top Gun: Maverick the massive $1.5 billion hit it's become. "You saved Hollywood's ass," Spielberg himself admitted. And now Top Gun: Maverick is a Best Picture nominee. It's is the kind of anxiety-free, mythology-light, endorphin-rush that has everyone tossing their hands triumphantly in the air and making a silent pact to not think too hard about it. Which is probably why gripes about the movie being pro-military propaganda fell by the wayside over the summer while Lady Gaga closed every one of her tour dates with her Oscar-nominated anthem "Hold My Hand."
5.

Brendan Fraser is back — with a fatphobic disaster.
The Oscars love a comeback — especially when it makes Hollywood seem more penitent than it really is — and Fraser's could be seen coming from a mile away when he was cast in Darren Aronofsky's The Whale, playing an obese gay man on the verge of eating himself to death. When the movie premiered at the Venice Film Festival, Fraser received a warm standing ovation that moved him to tears, but reviews for the film itself seemed to get worse and worse from there. Critics called The Whale "overwrought," "garrishly grim," and "ghastly" and slammed it for displaying its main character as a brutalized cautionary tale, and awards observers began to question the necessity of a Brendan Fraser Oscar triumph. How much must we give the actor who gave us George of the Jungle and Dudley Do Right?
6.

Andrea Riseborough is great. Her nomination, not so much.
Every few years, the Oscars deliver a procedural scandal that helps fuel industry gossip and burnish the legend of the Academy Awards as top-notch political theater. This year, that "honor" went to Andrea Riseborough, whose surprise Best Actress nomination for the little-seen indie film To Leslie was so shocking that it led to an internal Academy investigation. Riseborough is talented, but was it kosher for Mary McCormack, wife of To Leslie director Michael Morris, to phone-tree half of the acting branch in order to secure Riseborough's nomination? Did such a campaign unfairly disadvantage Viola Davis and Danielle Deadwyler, the two Black actresses who were predicted for nominations and then snubbed? Riseborough was quickly cast into the role of usurper. Which is too bad, because in the film, she delivers an affecting portrayal of a woman whose alcoholism has cost her everything and who's fighting to get her way back.
7.

Avatar 2: a little fetishistic, a lot popular.
After a 13-year absence, James Cameron returned to Pandora and 2010-era debates came roaring back: Does the VFX spectacle of Avatar: The Way of Water justify the lackluster story and threadbare characterization? Like its predecessor, it was subject to boycotts and criticism for the way Cameron depicts his imaginary Indigenous tribes, though many are still celebrating him for making good on his claims that he would achieve billion-dollar box-office grandeur.
8.

Tár is real.
More often than not, movies that claim the "consensus critical-Establishment favorite" slot at the Oscars tend to inspire conversations about directorial prowess, bold cinematic vision, and weighty themes. All of that was true of Tár, Todd Field's long-awaited third feature. But then Tár became the surprise meme queen of this year's Oscars race. Mistaking Lydia Tár for a real person (or pretending to) has been this year's favorite parlor game, not to mention a tribute to Cate Blanchett's ability to flesh out her character so well it seems impossible she isn't real. Certainly debating which projects Lydia Tár won her EGOT for was far a preferable leisure time activity to the increasingly tedious debates over whether the film did or did not approve of Cancel Culture.
9.

Babylon knows something the Academy doesn't.
This time last year, one film being eyed for future Oscars success was Babylon. It's got La La Land director Damien Chazelle, Brad Pitt, Margot Robbie, and a story about 1920s Hollywood as dream factory. It's also got bodily fluids, moral depravity, and orgies — and critics recoiled. In the end, those critics might have been the only people to see Babylon because the movie was a massive flop that tolled another death knell for big artistic swings at the theater, which is what is giving Babylon a bit of a "misunderstood masterpiece" bounce back now.
10.

It's okay if you've never heard of All Quiet on the Western Front.
Netflix has produced a whopping seven Best Picture nominees over the past four years, establishing itself as a major Oscars player. Yet its 2022 slate was woefully short on real contenders. Just when it seemed the streamer would have to retreat for a year, buzz began to coalesce around director Edward Berger's All Quiet on the Western Front, a German-language adaptation of the 1929 novel about World War I. It premiered to almost zero fanfare at the Toronto International Film Festival and dropped on Netflix silently. Not until the Academy released the finalists in selected crafts categories did anybody consider that Netflix might have a contender after all.
11.

Austin Butler could win for committing to the bit; Angela Bassett could win for putting up with it.
This may be the latest case of the Academy's ongoing infatuation with actors playing real people and getting the impersonation "right": Some think Butler could win Best Actor for playing Elvis Presley so deep it seemingly broke his real-life vocal patterns. (He's trying to get rid of it!) Meanwhile, Best Supporting Actress is probably going to Bassett for her portrayal of Queen Ramonda in Black Panther: Wakanda Forever — the first performer to be nominated for a role in the Marvel Cinematic Universe. If she wins, it will be less about the MCU and more about how she's Angela Bassett, a beloved star who somehow doesn't already have an Oscar.