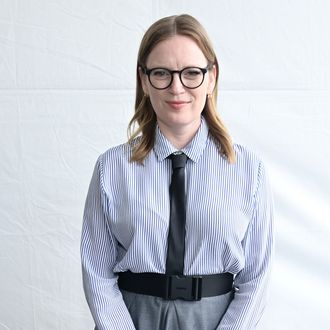 Photo: Araya Doheny/Getty Images
What is an actor without his words? An improv performer, ie: the lowest of the low. The Writers Guild of America held simultaneous bicoastal shows to celebrate the best in scripted content. Hosted by Janelle James (in LA) and Michelle Buteau (in NY), the Writers Guild celebrated film, television, radio and audio, as well as promotional writing. Sarah Polley was the first big winner, nabbing Best Adapted Screenplay for Women Talking. And the Daniels added another EEAAO trophy to their ever-increasing collection. The ceremonies went off under a looming strike cloud, as the Guild is set to begin bargaining with the AMPTP later this year. "I hope the lesson taken from all this was that the companies realize that we're serious about our demands and we have an active and engaged membership that agrees with the leadership and is prepared to do whatever is necessary," former WGA West president Patric Verrone said ahead of the ceremony.
A complete list of winners can be found below.
Screenplay
Original Screenplay
Everything Everywhere All At Once
Written by Daniel Kwan & Daniel Scheinert
Adapted Screenplay
Women Talking
Screenplay by Sarah Polley, Based upon the Book by Miriam Toews
Documentary Screenplay
Moonage Daydream
Written by Brett Morgen
Television, New Media, and News
Drama Series
Severance
Written by Chris Black, Andrew Colville, Kari Drake, Dan Erickson, Mark Friedman, Helen Leigh, Anna Moench, Amanda Overton
Comedy Series
The Bear
Written by Karen Joseph Adcock, Joanna Calo, Rene Gube, Sofya Levitsky-Weitz, Alex O'Keefe, Catherine Schetina, Christopher Storer
New Series
Severance
Written by Chris Black, Andrew Colville, Kari Drake, Dan Erickson, Mark Friedman, Helen Leigh, Anna Moench, Amanda Overton
Limited Series
The White Lotus
Written by Mike White
TV & New Media Motion Pictures
Honor Society
Written by David A. Goodman
Animation
"Rectify, Undone
Written by Elijah Aron & Patrick Metcalf
Episodic Drama
"Plan and Execution," Better Call Saul
Written by Thomas Schnauz
Episodic Comedy
"The One, The Only," Hacks
Written by Lucia Aniello & Paul W. Downs & Jen Statsky
Comedy/Variety Talk Series
Last Week Tonight with John Oliver
Senior Writers Daniel O'Brien, Owen Parsons, Charlie Redd, Joanna Rothkopf, Seena Vali Writers Johnathan Appel, Ali Barthwell, Tim Carvell, Liz Hynes, Ryan Ken, Mark Kramer, Sofia Manfredi, John Oliver, Taylor Kay Phillips, Chrissy Shackelford
Comedy/Variety Sketch Series
Inside Amy Schumer
Writers Amy Schumer, Dan Powell, Georgie Aldaco, Rosebud Baker, Jeremy Beiler, Cazzie David, Tova Diker, Rachel Feinstein, Derek Gaines, Jon Glaser, Jaye McBride, Tim Meadows, Christine Nangle, Brandon Pierce, Tami Sagher, Yamaneika Saunders, Sascha Seinfeld, Joe Strazzulo, Sydnee Washington, Ron Weiner
Comedy/Variety Specials
Jerrod Carmichael: Rothaniel
Quiz and Audience Participation
Baking It
Writers Neil Casey, Chad Carter, Jessica McKenna, Zach Reino
Daytime Drama
Days of Our Lives
Head Writer Ron Carlivati Writers Lorraine Broderick, Jazmen Darnell Brown, Joanna Cohen, Carolyn Culliton, Richard Culliton, Cheryl Davis, Kirk Doering, Christopher Dunn, Jamey Giddens, David Kreizman, Ryan Quan, Dave Ryan, Katherine D. Schock
Children's Episodic, Long Form, and Specials
"Prison or Palace," Life by Ella
Written by Hernan Barangan
Short Form New Media
Three Busy Debras
Written by Sandy Honig, Mitra Jouhari, Sarah Sherman, Alyssa Stonoha, Diana Tay, Evan Waite
Documentary Script — Current Events
"Lies, Politics and Democracy," Frontline
Written by Michael Kirk & Mike Wiser; PBS
Documentary Script — Other Than Current Events
"Episode Two: An American (1775 – 1790)," Benjamin Franklin
Written by Dayton Duncan
News Script — Regularly Scheduled, Bulletin, or Breaking Report
"The Water Crisis in Jackson, Mississippi," CBS Evening News with Norah O'Donnell
Written by James Hutton, Rob Rivielle
News Script — Analysis, Feature, or Commentary
"Targeting Americans," 60 Minutes
Written by Scott Pelley, Oriana Zill de Granados
Digital News
"How Oregon's Prison System Retaliated Against Its Most Effective Jailhouse Lawyer"
Written by Jessica Schulberg; HuffPost.com
Radio/Audio
Radio/Audio Documentary
"Like a Lion With No Teeth," Crime Show
Written by Emma Courtland & Cat Schuknecht; Gimlet Media
Radio/Audio News Script — Regularly Scheduled, Bulletin, or Breaking Report
"Hail And Farewell: Saluting 5 Who Made A Difference"
Written by Gail Lee; CBS Radio
Radio/Audio News Script — Analysis, Feature, or Commentary
"What I Wish I Knew Before I Started IVF," The Waves
Written by Cheyna Roth; Slate
Promotional Writing
On Air Promotion
"CBS Celebrates Juneteenth"
Written by Justin DiLauro