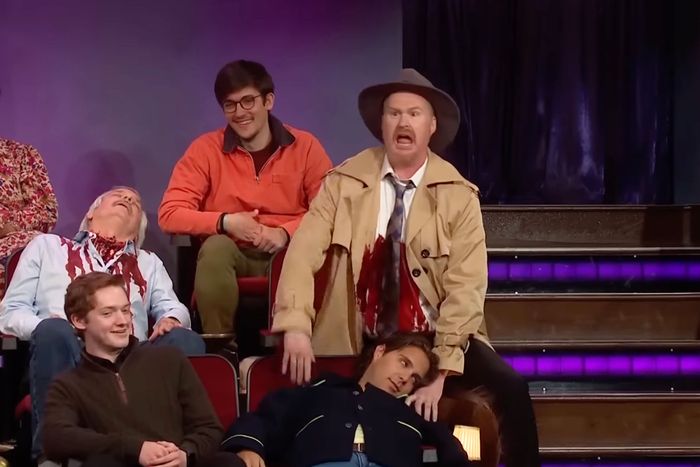 We were down one show this week because Jimmy Kimmel took the week off to prep for the Oscars. But there was a little pre-Oscars content on Kimmel's YouTube channel, in case you were desperate for some fresh Jimmy before Sunday. The YouTube release schedule for other shows was all over the place, too. The Late Show dropped snippets of Stephen Colbert's pretaped interview with Steven Spielberg throughout the week; The Tonight Show feed had lots of That's My Jam content snuck in like a late-night turducken; and Bravo took way longer than usual to upload Lisa Vanderpump's solo episode of WWHL. That was well worth it, though. We as a nation cannot get enough of people processing the #Scandoval, if my social-media feed is any judge.
Once again, it feels important to comment that the very concept of "late night" as a television format or descriptor should actually be dead. Very few people watch late night late at night, or even watch late night at all, as Amber Ruffin noted at the WGA Awards red carpet. Late night is YouTube now, and also TikTok (as long as Biden lets us keep having it). Here were the best YouTube videos of the week.
5. Not Breaking Records on The Late Late Show
Speaking of "late night is YouTube," James Corden issued a tearful YouTuber-style apology this week. The Late Late Show has tried again and again to break absurd world records. (The egg-stacking attempt was a hoot.) And earlier this week, it seemed like they'd finally done it by breaking a record for two people changing into each other's jerseys. But writer Rob Engalla's perfidious hand movements were their undoing. Corden had to address the camera and the audience, and seriously atone for what happened. Just like a real YouTuber!
4. Seth Meyers Reflects on Charlie Sheen's Pop-Culture Legacy
Again, speaking of formats other than late-night television, did you know one of Charlie Sheen's weird rants is a trending sound on TikTok right now? Someone on the Late Night staff seems to, since this week's "Back in My Day" segment made three references to Sheen and his #Winning era. Seth seemed kind of delighted that people weren't entirely onboard with his comedic triple, but it's the rule of threes. You can't do just two references to Sheen; that would be insane. Meyers is often at his best when he's reacting to his audience, what they go for, and more importantly, what they do not go for.
3. Every Stephen Every Colbert Late at Night
Everything Everywhere All at Once is so hot right now. The Late Show got in on the EEAAO action by commissioning a new opening sequence from directing duo the Daniels, the fellas behind that film and also the music video for "Turn Down for What." Daniel Kwan addressed the camera for most of the sketch, which was adorable. And the Daniels managed to make an opening credits that was unique to their style without being a rehash of their most famous work.
2. Lisa Vanderpump Rules WWHL
Lisa Vanderpump is so good at this. Not entirely sure what "this" is, but LVP is very, very good at it. A cheating scandal has erupted in Real Housewives of Beverly Hills spinoff show Vanderpump Rules, and it's got everything: secret necklace communication, restraining orders, Darrell. Vanderpump broke it all down with WWHL's Andy Cohen, and it was an absolute tour de force. She was quippy, she spilled tea (she thinks Scheana really did hit Raquel, and she's not planning on buying out Sandoval yet), and she managed to get a few digs at Lisa Rinna in for good measure.
1. A Murder at The Late Late Show
Double-dipping on Corden this week, but he'll be gone soon! Let's gather ye rosebuds while we may. Kurt Braunohler crushes in this deeply stupid sketch, in which someone (obviously Braunohler) is murdering members of the Late Late Show audience. As the jig is increasingly up for Braunohler, his desperate attempts to excuse all the bloodstains and knives on his person are a pure delight. This feels like something Comedy Central would have recorded at the Aspen Comedy Festival in 2002, and I mean that as the most sincere of compliments.