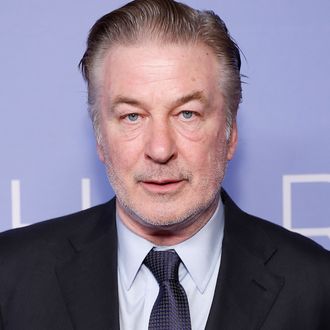 Photo: John Lamparski/Getty Images
On March 14, yet another twist unfolded in the New Mexico manslaughter case against Alec Baldwin over the Rust set shooting when special prosecutor Andrea Reeb announced she was stepping down from her role. "After much reflection, I have made the difficult decision to step down as special prosecutor in the Rust case. My priority in this case — and in every case I've prosecuted in my 25-year career — has been justice for the victim," Reeb said in a statement. "However, it has become clear that the best way I can ensure justice is served in this case is to step down so that the prosecution can focus on the evidence and the facts, which clearly show a complete disregard for basic safety protocols [that] led to the death of Halyna Hutchins." Reeb also said, "I will not allow questions about my serving as a legislator and prosecutor to cloud the real issue at hand."
Reeb's departure in the middle of a high-profile proceeding  comes amid other legal plot turns that seem in Baldwin's favor, raising questions about whether New Mexico prosecutors have enough to pursue the manslaughter case.
The tables started turning against Reeb in earnest when Baldwin's attorneys filed paperwork last month arguing that Reeb should be removed from the case because she works as a state lawmaker. (She is a member of the New Mexico House of Representatives.) Baldwin's lawyers contended that it was unconstitutional for her to serve in another branch of government, per Reuters. There was a hearing scheduled for later this month to hear arguments over whether Reeb could serve. By leaving before the hearing, a legal defeat wasn't handed down to Reeb. Still, it's a definite victory for Baldwin and his team, who now have more control over the course of this case.
"They're in full retreat mode right now, which is not what you want," said Neama Rahmani, president of West Coast Trial Lawyers and a former federal prosecutor, of the prosecution's current state. "You want to be on the offense and putting pressure on Baldwin and his lawyers. The tables are turned, and it's the other way around."
"Sometimes, the best defense is a good offense, and Baldwin's on the offense," Rahmani added.
Before Reeb announced she was stepping down, Baldwin's attorneys successfully chipped away at other aspects of her case. Last week, Baldwin attorney Alex Spiro said in court that the gun at the center of this case had been "destroyed" by the state. Prosecutors took issue with this description and insisted it had been "damaged" during FBI testing but could still be examined.
Regardless of how damaged or destroyed this firearm is, the fact remains that the literal smoking gun — a key piece of evidence for both teams — might not be usable.  This could throw a major wrench into proceedings, considering that the gun used on set that day is pretty much the case. Baldwin has said he didn't fire the gun, while the FBI has said he must have fired it.
"Everyone knows Alec Baldwin was holding the gun, there was no question," said Rachel Fiset, defense attorney and co-founder of Los Angeles–based Zweiback, Fiset & Zalduendo, LLP, but "the fact that they don't have the gun in pristine condition may make it even harder for the prosecution to prove whether he fired it or not."
Before all of this drama went down, however, Baldwin secured his biggest legal win to date. After facing a gun-enhancement charge on one of the two involuntary-manslaughter counts Reeb charged him with, Baldwin's lawyers successfully contended that he couldn't be charged with the enhancement, arguing, "The prosecutors committed a basic legal error by charging Mr. Baldwin under a version of the firearm-enhancement statute that did not exist on the date of the accident." Hutchins's death was in October 2021, but the present version of this law did not go into effect until May of last year, ABC noted. If Baldwin were to be convicted on the gun-enhancement count, he would have faced a minimum five-year jail sentence.
The New Mexico prosecutors tossed the enhancement before a judge could decide the issue. The statement that accompanied the move was pointed. "In order to avoid further litigious distractions by Mr. Baldwin and his attorneys, the District Attorney and the special prosecutor have removed the firearm enhancement to the involuntary manslaughter charges in the death of Halyna Hutchins on the Rust film set," the prosecution said. "The prosecution's priority is securing justice, not securing billable hours for big-city attorneys." With the enhancement dropped, Baldwin faces a maximum of only 18 months in lockup if convicted.
Reeb's replacement has not been revealed as of press time, and it's not exactly a plum legal gig.
When Reeb's replacement joins, they could reconsider some elements of the case. "If they're getting somebody in to replace the DA that's stepping down, that [new] DA might take a fresher look at the case and try to backpedal what's been done," Fiset explained. "Unfortunately for the prosecution, all of this legwork should have been done on the front end, but they were anxious to prosecute the case against Alec Baldin on fairly shaky grounds, so maybe they were ignoring the evidence they did and did not have."
But the real question is this: "Who wants to jump on this sinking ship?" Rahmani asked. "They'll always be known as the Marcia Clark or Christopher Darden, who lost a very high-profile case. It could be a career killer."
This story has been updated.