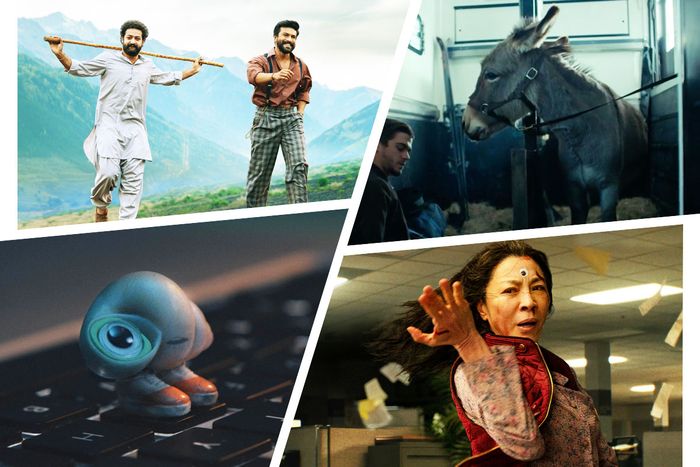 Looks like we made it.
Photo-Illustration: Vulture
And so we meet at the end of a long battle. The 2022-23 Academy Awards season is nearly at its finish line, though Oscar night is sure to provide its share of surprises. But before we get to the winners, let's slow down and appreciate the ballot in all its eccentricity. The old adage that it's an honor just to be nominated is actually true. The trophies are nice and the speeches are memorable, but the value in the Oscars comes from the full scope of its recognition. This year, 54 films were nominated for at least one Academy Award: comedies, dramas, quite a few action blockbusters, biopics, animated features, documentaries, short films of every stripe, one anthology movie, and one peek into the madness of the multiverse. While you don't get a sense of everything that was worth watching in 2022 from the Oscar ballot, it's honestly a pretty good place to start. Not all 54 movies are great films. (The Oscar voters' track record is never that good.) Instead, some are great, some are good, and a small handful are genuinely terrible. Cue the montage music; we're starting from the bottom.
54. The Whale
Directed by: Darren Aronofsky
Nominations: (3) Best Actor, Best Supporting Actress, Best Animated Short
Alarm bells were already ringing when Darren Aronofsky — a director who'd consistently treated the human body like a World War I battlefield in films like Requiem for a Dream, Black Swan, and The Wrestler — attached himself to this adaptation of Samuel Hunter's play about an obese man eating himself to death. Those fears turned out to be wholly justified. With its tasteless and frankly cruel depiction of its main character, The Whale is cartoonishly inept in everything from its characterizations to its technical choices (that abhorrent score! that wildly unearned ending!). Despite the praise its performers have received from even this film's skeptics, I don't think nominees Brendan Fraser or Hong Chau ever transcend The Whale's black hole of rubbernecking condescension.
53. Tell It Like a Woman
Directed by: Silvia Carobbio, Catherine Hardwicke, Taraji P. Henson, Mipo Oh, Lucía Puenzo, Maria Sole Tognazzi, Leena Yadav
Nominations: (1) Best Original Song
Diane Warren won an honorary Oscar last November, her first, and a deeply deserved one at that. You'd think that would have liberated Oscar voters from reaching into the obscurity pile for yet another Best Original Song nomination for the 14-times-nominated songwriter. Alas, no. Her song calls for a round of applause for the women making a difference in the world today, attached to this omnibus film that is bursting with good intentions to tell women's stories but which comes up empty more often than not when it comes to making those stories cinematic or compelling. Jennifer Hudson in a dual role as a drug-addicted parolee and her (RuPaul, forgive me) inner saboteur is a low point.
52. The Boy, the Mole, the Fox and the Horse
Directed by: Peter Baynton, Charlie Mackesy
Nominations: (1) Best Animated Short
There's a tactile, painterly loveliness to the animation in this half-hour long story of a melancholy little boy lost in the snowy woods who comes across the three other titular creatures who help him find his way home. But that very loveliness pairs terribly with a script that feels cobbled from inspirational posters and vague mantras about vulnerability being strength. Nearly every sentiment expressed in this film's increasingly arduous running time feels disconnected to the others, as if they placed four wind-up toys in the frame and set them all to "reflective but sad." J.J. Abrams is one of the producers on this Apple TV+ project, which makes it a contender to win the Oscar, but that would be an even bigger bummer than the actual movie is.
51. Blonde
Directed by: Andrew Dominik
Nominations: (1) Best Actress
I got right up to the cusp of "respect the swing" territory with this one. Andrew Dominik certainly has a vision for this, and a determination to not let it fall into anything resembling typical biopic tropes. Did he see the gauntlet thrown down by Pablo Larrain in films like Jackie and Spencer and say, "Okay, but what if less tangible and way more tasteless?" It's such a punishing movie to sit through, all for an ending that underlines, yet again, that we did not do right by Marilyn Monroe, which: got it. Truly. And while you're tempted to give Ana de Armas credit for being the one who actually had to perform the damn thing, her Marilyn is as lost to the mists of our cultural memory as she's ever been.
50. Night Ride
Directed by: Eirik Tveiten
Nominations: (1) Best Live Action Short
Ninety percent of this movie is a cute and lightly comedic tale of a dwarf woman in Norway who quasi-accidentally ends up taking control of a trolley car as it rides around picking up patrons on a snowy Christmas night. Where Eirik Tveiten's movie missteps is when it incorporates a scene of transphobic bullying in order to give the movie some stakes and arrive at a moment of outcast solidarity. There were undoubtedly noble intentions, but Night Ride ultimately doesn't quite know how to handle the inherent darkness and danger of the situation it introduces.
49. The Sea Beast
Directed by: Chris Williams
Nominations: (1) Best Animated Feature
Familiar enough in its concept and story beats that it could just as easily be called How to Train Your Underwater Dragon. Netflix Animation's less heralded entry in this year's Animated Feature race has all the pieces in place for a seafaring animated adventure, but the execution lacks sparkle. That said, of the two movies this year that reference Moby-Dick either explicitly or implicitly, this is the better one.
48. How Do You Measure a Year?
Directed by: Jay Rosenblatt
Nominations: (1) Best Documentary Short
Jay Rosenblatt is back in this category for a second consecutive year after last year's When We Were Bullies, another movie with an intriguing central question but which irritatingly centered Rosenblatt's own perspective too much. How Do You Measure a Year? has something of a similar problem. The conceit is that Rosenblatt filmed short interviews with his daughter, Ella, once a year from ages 2 to 18, asking the same questions every year. The idea is to see how a young girl's answers evolve over time, and there's a curiosity factor there. Ella seems fairly typical for a young girl aging into teenagerdom. It's fun to watch her passions move from Hannah Montana to Rent to Twilight. But the film doesn't ultimately have a ton to say about this father-daughter relationship. It makes the whole thing feel more like a vanity project, or more charitably a home movie that could have played at a birthday party.
47. An Irish Goodbye
Directed by: Tom Berkeley, Ross White
Nominations: (1) Best Live Action Short
Having a comedy in the shorts categories already bumps this one up a few slots. This one is about a pair of estranged Irish brothers who are forced to deal with each other after their mother's death. Turlough (Seamus O'Hara) doesn't want to get stuck back home, while Lorcan (James Martin), who has Down syndrome, insists that the pair complete their mother's 100-item unfinished bucket list. It's a sweet and diverting family story, even if it ultimately telegraphs its path long before it gets there.
46. To Leslie
Directed by: Michael Morris
Nominations: (1) Best Actress
Small film? You betcha. Big heart? … Allegedly. To Leslie is the kind of grungy addiction drama you've probably seen a hundred times, where the main character repulses everyone around them, tries to dig their way out, suffers a setback, and ultimately either fails or succeeds, at which point the movie is either dubbed a "devastating portrait" or lauded for its aforementioned big heart. That said, Andrea Riseborough is quite good in it, as she typically is in just about anything. She's good enough to be an Oscar nominee, even if it's still a puzzle as to why this movie was the one that got the phone-tree campaign.
45. Empire of Light
Directed by: Sam Mendes
Nominations: (1) Best Cinematography
Given the past few years of Oscar history, you'd think a Sam Mendes–Olivia Colman team-up would have yielded far better than merely one cinematography nomination. Which gives you a sense of how disappointing Empire of Light ultimately is. Everything about it is just a little bit worse than what you're hoping for, from Colman's performance as a woman trying to work her way back from a breakdown to her romance with the younger man she works with at the movie theater to the Thatcher-era racist danger that repeatedly asserts itself. This is weirdly a movie that would've worked better if it had leaned harder into the "Toby Jones explains the grandeur of the moving image" stuff a lot more.
44. The Flying Sailor
Directed by: Wendy Tilby, Amanda Forbis
Nominations: (1) Best Animated Short
This movie is eight (8) minutes long and features MUCH more animated dick than the movie called My Year of Dicks. On top of that, there isn't much story, but it's also swirlingly, chaotically beautiful to stare at (the animation, that is, not the dicks; though honestly, to each their own on that front). It's absolutely the movie most likely to have you saying "Well, then!" when it's over.
43. The Batman
Directed by: Matt Reeves
Nominations: (3) Best Sound, Best Makeup/Hairstyling, Best Visual Effects
There are good things about this, including but not limited to the way Batman's cowl accentuates Robert Pattinson's jawline and the inclusion of Nirvana needle drops into the Dark Knight mythos. But somehow, our third cinematic iteration of Batman in a decade (not counting animated or Lego versions) decided to go even darker than its predecessors. How is Sad Affleck the 21st century's cheeriest Bruce Wayne? Reeves's idea was to make a movie about how Batman is actually a detective, but why is he such a terrible detective? (There are so many shots of Pattinson and Jeffrey Wright staring dumbfounded at evidence.) Can we admit that burying Colin Farrell under two tons of makeup and prosthetics to set up a future Penguin TV series on HBO Max was perhaps a waste of Colin Farrell's talents?
42. Argentina, 1985
Directed by: Santiago Mitre
Nominations: (1) Best International Film
The Trial of the Juntas after the Argentine military dictatorship of the early '80s is given a process-heavy dramatic interpretation, an approach that hits a little bit more than it misses. Mitre's film gives weight to the testimony of the people who suffered under the government's reign of terror, but the workmanlike cinematic approach sometimes drains the film of its blood and passion.
41. An Ostrich Told Me the World Is Fake, and I Think I Believe It
Directed by: Lachlan Pendragon
Nominations: (1) Best Animated Short
This Australian stop-motion short borrows from the Ardman aesthetics of Wallace and Gromit and Shaun the Sheep, albeit rougher around the edges. That kind of unrefined look lends itself well to the film's fourth-wall breaking, as the main character suddenly becomes aware that he exists inside a stop-motion animation. Attempting to be a "Duck Amuck" for stop-motion animation is some steep ambition, but even if this short doesn't quite get there, it's an admirable swing.
40. Ivalu
Directed by: Anders Walter
Nominations: (1) Best Live Action Short
This Danish movie, set in Greenland, stands out from its competition for being the most beautifully shot and dreamily composed. Those appealing aesthetics end up luring the audience into an unsettling and dark story about child runaways and sexual abuse. The Oscar shorts will get you, every time.
39. Stranger at the Gate
Directed by: Joshua Seftel
Nominations: (1) Best Documentary Short
Richard "Mac" McKinney came home from the wars in Iraq and Afghanistan as a trained killer with a pathological hatred for Muslims. How he went from a man who was prepared to plant a bomb at the mosque in his Indiana hometown to a Muslim convert is the compelling story at the heart of Stranger at the Gate. Whether or not you want to raise a skeptical eyebrow at the universal applicability of the "overcoming violent hatred with love and acceptance" message, this particular story is a remarkable tale told with honesty and humility.
38. The Red Suitcase
Directed by: Cyrus Neshvad
Nominations: (1) Best Live Action Short
A teenage Iranian girl arrives at the Luxembourg airport where she's supposed to meet the husband into whose care her father has committed her. What follows is a tense and empathetic low-key thriller as the girl tries to evade this man's attention and make the hard decision to break from her old life forever. Iranian expat Cyrus Nashvad knows when to keep the audience guessing and when to raise the stakes as the film unfolds in real time.
37. Puss in Boots: The Last Wish
Directed by: Joel Crawford
Nominations: (1) Best Animated Feature
Apologies in advance to the Shrek-heads, but the more distance Puss in Boots: The Last Wish puts between itself and the franchise that birthed it, the better it becomes. The decision to evolve the film's animation style (inspired by Into the Spider-Verse!) to something closer to storybook illustrations gives the film a thrilling new identity. Antonio Banderas, Salma Hayek, and Harvey Guillen bring a ton of personality to the film's central story, which is about … a wish? A map? Honestly, plot is not this film's strong suit. Side characters and antagonists like John Mulaney's Little Jack Horner and a Florence Pugh–voiced Goldilocks are Shrek-ier than is necessary at this stage, but it's a fun movie, all in all.
36. Black Panther: Wakanda Forever
Directed by: Ryan Coogler
Nominations: 5 (Best Supporting Actress, Best Original Song, Best Makeup/Hairstyling, Best Costume Design, Best Visual Effects)
You'd have to willfully ignore some pretty significant extenuating circumstances in order to get on Wakanda Forever's case for falling short of the standard set by the original Black Panther. Chadwick Boseman's death left a hole at the center of this film, one which Ryan Coogler tries to fill with Letitia Wright's Shuri in ways that are often fascinating (the film becomes an incredibly unforced female-centric superhero story) but more often limiting. This was never built to be Shuri's story, and Wright ends up getting overshadowed first by Angela Bassett, then Tenoch Huerta's Namor, and finally an undead Killmonger. Namor did make for a fun and sexy villain, though, even if the action-setpiece climax was one of the MCU's uglier affairs.
35. A House Made of Splinters
Directed by: Simon Lereng Wilmont
Nominations: (1) Best Documentary Feature
This year's Ukrainian-set documentary isn't actually about the war at all, but about the day-to-day at a temporary child-care facility for kids of substance-addicted parents who can't (or won't) care for them. Here's your most devastating documentary on the Oscar ballot, armed with the delicate devastation of these kids coming to the realization that their parents aren't going to be there for them. Add to that the specter of geopolitical peril that everybody in this part of the world is in and you get a movie that's hard to watch but deeply affecting as you do.
34. Top Gun: Maverick
Directed by: Joseph Kosinski
Nominations: (6) Best Picture, Best Adapted Screenplay, Best Original Song, Best Sound, Best Film Editing, Best Visual Effects
Hey, we got a Lady Gaga power ballad to close out shows on her summer tour out of this whole thing. (We also got over a billion dollars in box office in a financial windfall that Steven Spielberg credits with saving the film industry.) Tom Cruise's psychological battle against the concept of aging rolled into its third decade with this rousing, dumb, indifferently plotted, pro-military nostalgia play, and boy did it ever work. Pete "Maverick" Mitchell was barely a character the first time around so much as a collection of smirks and rule-breaking; he doesn't exactly benefit from 35 years of plot-mandated regret. Jennifer Connelly looked stunning, though; can we please let her out from behind that bar?
33. Turning Red
Directed by: Domee Shi
Nominations: (1) Best Animated Feature
There's no telling how broadly Turning Red might have appealed with a proper theatrical release rather than being released into the wilds of Disney+, and whether its Oscar chances might have fared better with a more robust reception. As it stands, Turning Red is a solid and satisfyingly specific tale of a young aughts girl in Toronto who loves her friends and her favorite boy band (perhaps not in that order) and who has inherited from her controlling mother the curse of turning into a red panda. It's cute and fun and maybe not a ton more than that, but there's an energy there that deserved to be experienced as communally as possible.
32. The Elephant Whisperers
Directed by: Kartiki Gonsalves
Nominations: (1) Best Documentary Short
Yes, there's seemingly one Oscar-nominated documentary every year about a kindly person somewhere in the world who just loves animals, and it's how they have chosen to cope in an uncertain and often geopolitically cruel world. This year, it's The Elephant Whisperers, and honestly that's more than fine. An Indigenous Indian man and his wife adopt baby elephants and take care of them inside a national park! It is a balm for your poor battered psyche!
31. The Martha Mitchell Effect
Directed by: Anne Alvergue, Debra McClutchy
Nominations: (1) Best Documentary Short
By far the most traditional documentary among this year's nominees, The Martha Mitchell Effect is also something of an oasis: an entertaining and informative deep dive into an event not too distant in the past that's rich with context and personality. The personality comes from the titular Mrs. Mitchell, who repeatedly and with a press-friendly Southern flair called out the Nixon administration from within its inner circles during her marriage to Tricky Dick's attorney general. It's almost certainly not artsy enough to win, but it's a user-friendly entry amid a field of films that are much harder to endure.
30. The Quiet Girl
Directed by: Colm Bairéad
Nominations: (1) Best International Feature
Ireland's big year at the Oscars included their first-ever nomination in the Best International Feature for this mostly Gaelic-language movie about a young girl who's sent away from her neglectful parents to live with her sad — yet loving — childless relatives. This one is a real slow starter, but the girl's relationship with these initially reluctant parental figures builds into something that's quite affecting by the end. I want this girl and the Petite Maman girl to have a quiet but meaningful conversation.
29. Bardo, False Chronicle of a Handful of Truths
Directed by: Alejandro Gonzalez Iñarritu
Nominations: (1) Best Cinematography
For a filmmaker who's been so frequently self-indulgent as Alejandro Gonzalez Iñarritu has over the course of his career, a movie like Bardo gives him the opportunity to be incredibly self-referential and obnoxious. And there are plenty of times across Bardo's 159 minutes where the director takes that opportunity and runs with it. The story of a documentary filmmaker returning to Mexico uneasy with how his extravagantly lauded career is regarded in his native country leads to more than a few scenes of Iñarritu writing himself into an argument with his own critics (something he'd already been accused of doing on Birdman). But that self-indulgence also gives way to some breathtakingly captivating sequences, as he wrestles with his country's history and what he feels he owes to it, all captured by Darius Khondji's nominated cinematography. It works about half the time, but when it does, it can make all the obnoxiousness feel worth it.
28. All Quiet on the Western Front
Directed by: Edward Berger
Nominations: (9) Best Picture, Best Adapted Screenplay, Best International Feature, Best Original Score, Best Sound, Best Production Design, Best Cinematography, Best Makeup and Hairstyling, Best Visual Effects
Between Sam Mendes's 1917 and this latest adaptation of Erich Maria Remarque's 1928 novel, I fear we're entering "World War I is so hot right now" territory. Does this mean we're due for a new extravagantly bloody portrait of the ravages of trench warfare in the Best Picture race every few years. If Edward Berger's All Quiet is any indicator … I hope not? It's a well-made film, one which is especially winning when it allows those moments of quiet and reprieve to breathe and underline the fierceness with which these German soldiers cling to vestiges of peacetime. But the battle scenes feel punishing and impressed with their own unrelenting brutality, skirting the line between unvarnished realism and indulgent misery.
27. Causeway
Directed by: Lila Neugebauer
Nominations: (1) Best Supporting Actor
There's an irony in the fact that streaming television, which has so helped to hasten the demise of independent theatrical film distribution, is now the only place to get a movie like Apple+'s Causeway. Jennifer Lawrence and Brian Tyree Henry are both pretty fantastic in this movie about friendship and maybe-but-probably-not romance between two broken people. We used to get so many movies where two charismatic and talented movie stars played out a possible romance between two broken people. Henry's nomination — a long time coming after brilliant work in Widows and If Beale Street Could Talk — should probably be more loudly celebrated as a bold choice for a movie that could otherwise have been overlooked.
26. RRR
Directed by: S.S. Rajamouli
Nominations: (1) Best Original Song
In a year where Best Picture could have been synonymous for Most Picture for movies like Everything Everywhere All At Once, Elvis, Avatar, and Top Gun, it's a bit surprising that RRR couldn't find its way to that top lineup. The Telugu-language maximalist action-drama was a surprise sensation this year, and it's easy to understand why. The answers include fire, friendship, tigers, choreography, friendship, surprise reveals, less-surprising reveals, aerial stunts, friendship, defiance of colonial authority, and motherfucking friendship. It absolutely wears thin as it rounds into its third hour, but it's a damn blast while that momentum lasts.
25. Guillermo del Toro's Pinocchio
Directed by: Guillermo Del Toro
Nominations: (1) Best Animated Feature
When the director of Pan's Labyrinth and The Shape of Water gears up to direct the roughly 7,000th adaptation of Pinocchio, you're already expecting something weird, and yet still this is a strikingly weird movie, right down to Cate Blanchett voicing a monkey. Del Toro sets his story in fascist Italy, makes Mussolini a character on the periphery, and refashions Ewan McGregor's cricket character as anything but a melodious Disney sage. It's a visual feast, a dark and moody fable, and pretty much exactly what you want out of a Guillermo del Toro–animated fairy tale.
24. All That Breathes
Directed by: Shaunak Sen
Nominations: (1) Best Documentary Feature
Similar to The Elephant Whisperer, this is another film set in India where a pair of loved ones channel their anxiety over a deteriorating world into helping rescue animals. In this case, it's a pair of brothers who work to rescue the birds of prey whose populations are under threat of the polluted conditions in the politically volatile New Delhi. There's real insight in the way that Shaunak Sen pulls back to present the interconnectedness of the political, environmental, and interpersonal worlds that manage to intrude upon and impact each other, then pushes back in on the brothers again. In a particularly strong Best Documentary Feature field, this one is the gem I hope more people discover.
23. Ice Merchants
Directed by: João Gonzalez
Nominations: (1) Best Animated Short
Every year, the Best Animated Short category offers a thrilling variety in animated styles, and Ice Merchants, the first-ever Portuguese Oscar nominee, is a dazzling entry. With a style borrowed from Japanese illustration, the film is about a father and son harvesting ice from a precarious cliffside perch and then parachuting down to safety below. The images are striking and the heights feel genuinely terrifying, making this the best-looking animated film in any category this year.
22. Avatar: The Way of Water
Directed by: James Cameron
Nominations: (4) Best Picture, Best Production Design, Best Sound, Best Visual Effects
Does ranking Avatar: The Way of Water this low count as betting against James Cameron? As a relative agnostic of the Pandoran way of life and cinema, I feel removed enough from a poptimist need to throw Cameron's financial successes in the haters' faces, while at the same time being able to nod in the direction of Cameron's evident technical mastery. Whether that's all in service of a story I give a damn about is the same conundrum raised by the 2009 original, though I will say that I much prefer The Way of Water when it's a movie about dumb, blue teens getting into trouble than when it's wrestling with the Jake Sully savior template. There's gorgeously realized action here, along with deep silliness, and I'm also given to understand that many viewers grew attached to the sad space whale, which is a fun thing to have done, I'm sure. I'm still of the mind that the true testament to Cameron's flawless big-screen prowess is currently in theaters in the form of the stunning Titanic 3-D re-release. Certainly that's the movie where Kate Winslet learning to hold her breath underwater served a narrative purpose.
21. Living
Directed by: Oliver Hermanus
Nominations: (2) Best Actor, Best Adapted Screenplay
While the rest of you are pointing to the scoreboard in defense of James Cameron, I'll be pointing to the quietly devastating scene where Bill Nighy sings "The Rowan Tree" in a pub while dressed in an impeccable gray suit. Two and a half billion dollars couldn't buy that kind of movie magic. From the moment Nighy broke through with American audiences as the bombastic Billy Flynn in Love, Actually, his best performances (About Time; Pride) have gotten quieter and more reflective. It's only right that his first Oscar nomination should come for the quietest and most reflective of them all.
20. Le pupille
Directed by: Alice Rohrwacher
Nominations: (1) Best Live Action Short
A hoot! Two-time Best Director winner Alfonso Cuaron is the producing muscle behind this buoyant and cheeky comedy about a girls' boarding school run by nuns during World War II. The story bops along, involving a Christmas nativity pageant and some cake, but the plot here is far less pertinent than the perfectly calibrated light comedy of the execution, which is effervescent without ever feeling cloying, a not insignificant danger when dealing with children and nuns. Director Alice Rohrwacher, the Cannes-honored filmmaker behind The Wonders and Happy As Lazzaro, really shows off her dexterity on this one, delivering one of the most purely entertaining films on the Oscar ballot.
19. Mrs. Harris Goes to Paris
Directed by: Anthony Fabian
Nominations: (1) Best Costume Design
In addition to being one of the year's most meme-able titles, Mrs. Harris Goes to Paris gets the truth-in-advertising award for delivering on every inch of its promise. Mrs. Harris sure as hell goes to Paris in this one. The film is a fun and unfussy showcase for the great Lesley Manville, as well as Jenny Beavan's enviable costume designs. It's also screaming for a double feature with last year's House of Gucci as films where a working-class woman develops a taste for the finer things and then turns a legendary fashion house upside down, ultimately leaving it in the hands of a capable twink, and also at some point it becomes time to take out the trash.
18. Fire of Love
Directed by: Sara Dosa
Nominations: (1) Best Documentary Feature
Husband and wife volcanologists live together, work together, wear matching Jacques Cousteau (or, honestly, Steve Zissou)  getups, and then ultimately, tragically, die together in the 1991 eruption of Mount Unzen in Japan. Katia and Maurice Krafft's passion for studying volcanoes comes across in the archival footage that Dosa has gathered, but she doesn't present it an an obsession — as I think many filmmakers would — but as a dedication born out of respect for nature's beauty and a responsibility to warn others of her danger.
17. Elvis
Directed by: Baz Luhrmann
Nominations: (8) Best Picture, Best Actor, Best Cinematography, Best Production Design, Best Sound, Best Makeup/Hairstyling, Best Costume Design, Best Film Editing
Probably the best first 25 minutes of any film this year, wherein Baz Luhrmann succinctly and spectacularly presents a bulletproof case for the hysterical popularity of a young Elvis Presley, and indeed for the enduring need and enthusiasm for pop stardom as a phenomenon. If there was any movie this year that proved that we were fools to bet against a filmmaker, it was this one, which connects the dots of Luhrmann's career obsessions with pop music, beauty, masculinity, and money. Austin Butler holds the center so well, while Tom Hanks lurks around the periphery like a corpulent Rumplestiltskin (complimentary).
16. Close
Directed by: Lukas Dhont
Nominations: (1) Best International Feature
The tragedy at the heart of Close's narrative was a bridge too far for some, and it's hard to take issue with that. But I found Lukas Dhont's film to be sensitive and urgently insightful about the policing of emotional expression and social bonding among adolescent boys. There's more at play here than a manipulative gut-punch or even a buzzy "issues" drama. His camera's tight focus on the two young protagonists emphasizes their bond as a tactile, unashamed kinship, and later that same tight focus matches the schoolyard's gawking incredulity at their closeness, an intrusion that ultimately breaks these two boys in irreversible ways.
15. EO
Directed by: Jerzy Skolimowski
Nominations: (1) Best International Feature
The Year of the Cinematic Donkey wouldn't have been complete without this donkey's-eye journey around the Eastern European countryside. Viewers who were sold on that premise have been occasionally put off by the spurts of danger and even violence that Jerzy Skolimowski's throws into the mix. And Lord knows why Isabelle Huppert suddenly shows up for a scene to seduce her stepson before we return to EO's latest travels. But it's a unique and captivating movie, telling a story more human than most this year.
14. Haulout
Directed by: Maxim Arbugaev, Evgenia Arbugaeva
Nominations: (1) Best Documentary Short
A "haulout" is a term associated with creatures like walruses or seals, who come up onto the shore for periods during migratory stages. If I had known that, I'd have been prepared for the massive number of walruses in this movie, which centers on a Russian marine biologist who sets up in a shack on a remote Russian island near the Arctic Ocean to observe the walruses. The message of the movie is a climate change warning, and we're witness to the terrible consequences of the overcrowding of these now more limited places for walruses to go. But the real attraction here is the legitimately breathtaking footage of the walruses. It's worth preserving the moment for anybody who seeks out this movie, so I won't over-explain, but one particular shot of a door opening elicited genuine gasps. By braving the elements and embedding with the walruses, the filmmakers have created a documentary with real impact and an urgent message.
13. My Year of Dicks
Directed by: Sara Gunnarsdóttir
Nominations: (1) Best Animated Short
Full disclosure: My Year of Dicks writer and co-creator Pamela Ribon is a close friend. That said, I am telling you the God's honest truth when I say this was the best animated short of the year, bringing humor and refreshing irreverence into the category. One teenage girl's quest to lose her virginity in 1990s Houston gets told through a variety of rotoscoped animation styles with sharp wit and insight into the frenzied teenage mind. Jokes! Sex stuff! A cautionary tale about Nazis! A sex talk from Dad that will strip the paint off your walls! It's a total package.
12. Marcel the Shell With Shoes On
Directed by: Dean Fleischer Camp
Nominations: (1) Best Animated Feature
Would die for this shell. Jenny Slate's comedy can so deftly weave between the absurd and the endearingly sweet, making Marcel in many ways her ideal creative contribution. The way Slate and Dean Fleischer Camp play off of each other is such loose, breezy fun, and the introduction of Isabella Rossellini as the voice of Marcel's loving, intrepid grandmother is the kind of genius that ought to earn the film an Oscar all on its own. The film resists over-plotting at every turn while at the same time keeping the necessary structure to hold it all together and ultimately end up at an emotional climax that took a lot of audience members by surprise. Not me, though. I always knew that shell would wreck me.
11. Navalny
Directed by: Daniel Roher
Nominations: (1) Best Documentary Feature
The challenge of the urgent political documentary is to keep it all from feeling like a special news report. Navalny more than clears that hurdle in telling the story of Alexei Navalny, Russian dissident, political candidate, and the chief rival to Vladmimir Putin's autocratic chokehold, to the point where Putin (allegedly? is there much point in being so cautious?) tried to fatally poison him. Roher works admirably to press Navalny and keep the film from dipping into hagiography — and indeed Navalny seems thrown by the interrogations into his uncomfortable associations with far-right groups. But there is no denying the kinetic pleasure at watching Navalny and a pair of German journalists sleuth out the thugs who carried out Navalny's poisoning, to the point of scamming a confession out of one of them. It's a thrilling movie while also being an urgent political call to action.
10. All the Beauty and the Bloodshed
Directed by: Laura Poitras
Nominations: (1) Best Documentary Feature
Laura Poitras's previous Oscar-winning film, Citizenfour, was an activist thriller, while All the Beauty and the Bloodshed is an activist biography, working in conjunction with artist Nan Goldin to tell her story through the lens of her present-day efforts to get the Sackler name removed from the world's great art galleries and institutions for their crimes against the American people in pushing oxycontin on an unsuspecting public. Goldin's history as a queer and outsider artist who worked hard for decades to be recognized by the art Establishment and is now using her status to push that same establishment from the inside is a tremendous story, and Poitras knows enough to let Goldin be the one to tell it.
9. Triangle of Sadness
Directed by: Ruben Östlund
Nominations: (3) Best Picture, Best Director, Best Original Screenplay
Ruben Östlund clearly did not think subtlety was a virtue as he was sending up the privileged and entitled class of revelers on the luxury cruise in his breakthrough Best Picture nominee. That's ultimately not a problem for me in a film that's as dedicated as this one is to being entertaining. The film's characterizations are as rigidly determined as its three-part structure, but there's purpose in that, as Östlund explores issues of vanity, complicity, hubris, and the opportunistic nature of power. It's at turns unbearably uncomfortable, appallingly gross, and shamefully fun.
8. Babylon
Directed by: Damien Chazelle
Nominations: (3) Best Original Score, Best Production Design, Best Costume Design
Speaking of appallingly gross and shamefully fun! To borrow an overused phrase, Damien Chazelle's Hollywood history did not need to go that hard. Was all the elephant poop, piss play, and chunky vomit strictly necessary to get to the parts of Babylon that are transcendent? Probably not. But I'm not sure you get one without the others, wrapped up as they are in Chazelle's grand unified theory of Hollywood as dream factory and shit dispenser. There are at least two extended sequences in Babylon that tower above anything else put on screen this year, one a race against the setting sun thrillingly intercut with a cry-on-cue actressing stunt; the other a rage-fueled soundstage nightmare comedy that ends in a dead body. In both of them, Chazelle whips things into a series of breakneck thrills that those Top Gun jets only wish they had. And that's not even getting into Jean Smart going full James Earl Jones in Field of Dreams on the subject of cinematic immortality. If the rest of the film were merely a mess of debauchery and overreach, that's Hollywood, baby, though I think that's also selling short some great performances — Margot Robbie and Brad Pitt especially — and a true banger of a Justin Hurwitz score.
7. Women Talking
Directed by: Sarah Polley
Nominations: (2) Best Picture, Best Adapted Screenplay
Zero acting nominations for an ensemble that is humming along at this particular frequency is either an indictment of the Academy or a testament to how well these women worked as a cohesive unit that you couldn't get enough people to single out any one in particular. (An understandable conundrum, but come on, people: It's Judith Ivey). Polley delivers a typically thoughtful adaptation of Mirian Toews's novel about a community of Mennonite women gathered to discuss whether they should en masse leave the community where they've suffered repeated violent sexual abuse. People complained about the film's washed-out color grading, which may have distracted them from the film's skill in making a story that's definitionally conversational feel urgent and passionate.
6. Glass Onion: A Knives Out Mystery
Directed by: Rian Johnson
Nominations: (1) Best Adapted Screenplay
Rian Johnson's Benoit Blanc mysteries are two-for-two when it comes to landing screenplay nominations. For his sequel, Johnson went heavy on contemporary references — the pandemic lockdown, the scourge of social media celebrity, Edward Norton as a laughable Elon Musk figure — and opted for a completely different structure than the Knives Out mystery. Among other things, the double-back reveal in Glass Onion puts Janelle Monae's nimble performance in the spotlight. No nomination for it, which is a shame. The same could be said for some of the other highlight performances — Norton, Daniel Craig, and Kate Hudson are all on fire — the costumes, the set design. Comedy doesn't get the respect it deserves, and Glass Onion deserves a ton of it.
5. The Fabelmans
Directed by: Steven Spielberg
Nominations: (7) Best Picture, Best Director, Best Actress, Best Supporting Actor, Best Original Screenplay, Best Original Score, Best Production Design
Steven Spielberg's long-untold family biography is as much a story about a young kid coming to grips with the ultimate unknowability of his parents as it is the origin story of the boy who'd grow up to make Jaws and Close Encounters of the Third Kind. The Spielberg–Tony Kushner screenplay hits from both angles, as young Sammy Fabelman (a brilliant Gabriel LaBelle) nurtures a passion for filmmaking that will end up being a battleground for himself all his life. Michelle Williams and Paul Dano are enigmatic wonders as the parental Fabelmans, and Judd Hirsch even got to Beatrice Straight his way to an Oscar nomination for blowing into town like a herald, bestowing the gift and curse of artistic purpose and then blowing right back out again. The film is a thornier, more winding thing than it's been given credit for and feels destined to be one of Spielberg's most rewardingly rewatchable films.
4. Tár
Directed by: Todd Field
Nominations: (6) Best Picture, Best Director, Best Actress, Best Original Screenplay, Best Cinematography, Best Film Editing
Todd Field's looooooong-awaited third directorial feature was worth the wait, landing with such a surprising degree of hoopla within the culture than I'm now wondering how meme-able Little Children and In the Bedroom would have been had they existed in the Twitter era. Certainly, Sissy Spacek's dishes-smashing moment would be far wider appreciated as a reaction gif. Field and Blanchett in concert (sorry) with each other is bliss, and watching them dance (… the mask, sorry!) around notions of artistic hubris, megalomania, and power dynamics in the arts all in the same movie were we get the baseline pleasures of Cate Blanchett playing the accordion and threatening grade-school children. All art-house movies should be this fun.
3. The Banshees of Inisherin
Directed by: Martin McDonagh
Nominations: (9) Best Picture, Best Director, Best Actor, Best Supporting Actor (x2), Best Supporting Actress, Best Original Screenplay, Best Original Score, Best Film Editing
All movies about spiteful self-mutilation should be this fun! Okay, is The Banshees of Inisherin actually fun, or does the act of hearing Colin Farrell, Brendan Gleeson, and Kerry Condon say "feckin'" so many times in their native accents just sound more pleasurable than it is? In its bones, this is a sad tale of a friendship ended for seemingly inexplicable reasons and the resentments that arise from realizing the limitations of your one little life. It's also secretly a movie about Twitter, in that at some point one can no longer stand sitting around talking about dumb bullshit all day. And yet donkeys. And Barry Keoghan's sweet little face wondering if you might fall in love with him. Once again, the McDonagh/Farrell/Gleeson trio has done it.
2. Everything Everywhere All at Once
Directed by: Daniel Scheinert, Daniel Kwan
Nominations: (11) Best Picture, Best Director, Best Actress, Best Supporting Actor, Best Supporting Actress (x2), Best Original Screenplay, Best Original Score, Best Original Song, Best Costume Design, Best Film Editing
The improbable nature of this movie's remarkable run through awards season makes it feel like a unicorn, and for many reasons it actually is. For a movie about the multiverse exploding open and revealing its infinite possibilities to have given us '80s child actor Ke Huy Quan as a probable Academy Award winner feels deeply fitting. It's also in keeping with the high-wire balancing act that writer/directors Scheinert and Kwan pull off, which is extreme weirdness combined with real and relatable family relationships at its center. What shouldn't come as a surprise is that the film is anchored by Michelle Yeoh's towering performance. It's legitimately a joy watching her tear into a role with every bit of her skill set, from action to comedy to drama. In a year when so many of the best movies went big, Everything Everywhere went perhaps the biggest while still feeling strangely intimate.
1. Aftersun
Directed by: Charlotte Wells
Nominations: (1) Best Actor
There's a temptation to reduce writer-director Charlotte Wells's debut feature to how much it made you cry and when. ("So much" and "when 'Under Pressure' started.") But there's so much more to Aftersun than the crying, or at least so much more that goes into getting viewers to the place where they're losing all composure. Wells plays with memory and perception so well in this story of a young girl (Frankie Corio) on holiday with her single dad (a deeply deserving Oscar nominee Paul Mescal). We're also looking backward on these events from the perspective of the grown-up girl who's trying to piece together a narrative about her dad from these memories that makes some sense. There's a lot that hangs in the air in Aftersun, from dread to regret to heady pre-adolescent emotions to the hints of something darker lurking around Mescal's character. It's all so delicately realized as the story builds questions on top of questions, all while drawing you into a complicated but clearly loving father-daughter story. The catharsis at the end is far from cheap heartstring-tugging but a full-body realization of the big-picture story that's been playing out this whole time. It's a masterpiece of intimacy, and I cried my face off.