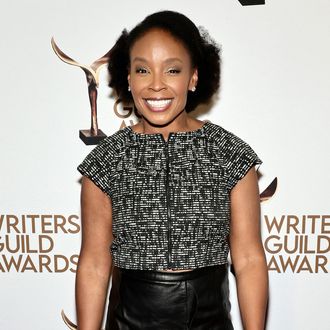 Amber Ruffin,
Los Espookys
and
The Woman King
stan.
Photo: Jamie McCarthy/Getty Images
Ratings for late-night talk shows are tanking, the hosts are overrepresented by white men, networks and streamers are making budget cuts (good-bye, library titles and your favorite show) … and Amber Ruffin is right in the eye of storm. The camp counselor host of Peacock's The Amber Ruffin Show caught up with Vulture at the Writers Guild Awards' red carpet on March 5, where she shared her thoughts on the late-night-TV landscape. "No, I don't see a better future for late night," she said when asked about the genre's failure to put on diverse talent. In the past year, we've lost Full Frontal With Samantha Bee after seven seasons, while Desus & Mero self-destructed over creative differences, leaving the genre more white and male than before. "I do see late night, you know, changing, and I hope it's changing for the better. But it's definitely changing, and that's it. As it should."
Why does it need to change? "Look, people aren't watching it," she said. "As a Black lady, a lot of TV shows I love disappear as soon as they arrive. So, you know, I think times are tough all over. They can't afford to let a show find its legs, which makes people less apt to give TV shows to people who aren't well known." Ruffin believes studios are placing their faith (and cash) with people who come with a built-in audience. "I think things are going in the way of celebrity leading" instead of centering new faces.
The Los Espookys stan thinks a similar phenomenon led to the (highly criticized) Oscars snub of her favorite movie of the year. When asked which 2022 film she would fight to the death for, Ruffin made her opinion clear. "Well, The Woman King," she said, as if it were the most obvious answer in the world (she's real for that). "And then we all know what happened there. The same thing that's happening everywhere."
Watching the Viola Davis–led historical war epic, directed by Gina Prince-Bythewood, was an emotional roller coaster for Ruffin: One moment, she was in pain — "But, goddamn, The Woman King just hurt my feelings" — and another, she was succumbing to everyone's attractiveness: "Everyone was so, like, hot. I was like, What the fuck is this movie about? Why do I have to feel this way in a movie theater?" Maybe an Amber Ruffin Show segment with that energy could've started an awards-season push for the film. It wouldn't have solved the systemic-diversity issue, but we would have at least gotten some crucial footage of Ruffin thirsting on-camera. A win is a win!