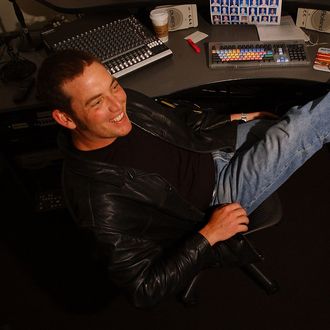 Mike Fleiss.
Photo: George Wilhelmes/Los Angeles Times via Getty Imag
Earlier this week, The Bachelor creator Mike Fleiss appeared to leave the reality-TV franchise under amicable circumstances. In actuality, the reason for Fleiss's departure was an investigation into allegations of racial discrimination, per a Variety report. Sources claim that Fleiss engaged in "bullying" behavior, pushed back when staffers suggested casting a diverse group of contestants, and lashed out against them. "People said he would retaliate against people for having minorities and Black people on the show. He favored certain people over other people," said an individual familiar with the investigation, according to Variety. "He would say, 'Minorities don't get ratings.'" (Other sources said they had positive experiences with Fleiss.) The allegations come as no surprise to those who have followed the show's blatant racism over the years. In a Vulture recap of a 2021 episode, writer Ali Barthwell expressed frustration when a contestant's racist past was exposed and promptly forgiven. Barthwell called The Bachelor a "racist television program" and listed a plethora of examples of "racist stuff" throughout its history:
the casting of racist contestants; the casting of racist contestants on seasons with leads of color; going 24 seasons before having a Black man as the Bachelor; going 12 seasons before having a Black woman as the Bachelorette; casting entire seasons of both shows without contestants of color; casting token contestants of color; pitting contestants of color against racist contestants and encouraging drama between them; sending a racist on a two-on-one date with a Black man in the fucking woods; letting white contestants use racist language to describe contestants of color they didn't like; painting the racist actions of racist contestants as "personality conflicts"; the host of the show saying things like "woke police" on television where people could see him; not protecting or standing behind contestants or leads of color when they were being targeted for racist harassment online; painting the life experiences of contestants of color as exotic, calamitous, or ungraspable; relying on stereotypes about people of color as part of their storytelling.
The problems aren't only with what happens onscreen, critics have argued. Vulture's Kathryn VanArendonk said the show's biggest problems with race happen offscreen after data revealed diverse contestants have far less screen time than their white counterparts. She took issue with producers and editors for ignoring their stories in postproduction, saying the diminished screen time had an opportunity cost for the contestants.
"I am proud of the work we've done over the past five years to make the show substantially more diverse, but I do believe I could have done more," Fleiss said in response to Variety's request for comment on the discrimination investigation. "Hopefully, the franchise will continue to move in the right direction," added the person who allegedly caused the franchise to be racist in the first place.