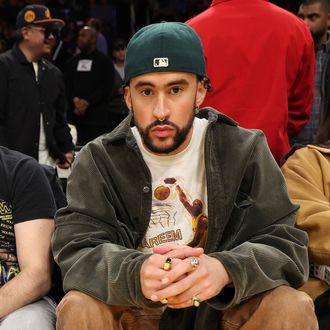 Bad Bunny.
Photo: Jim Poorten/NBAE via Getty Images
Bad Bunny is gonna do Bad Bunny, even if fans don't like it. In an interview with Time, the Grammy-winning artist declined to comment on rumors that he's dating Kendall Jenner and the ensuing backlash from folks who felt betrayed by his choice of partner (he's long said he prefers Latin women and culture. Though he refused to discuss the Kardashian-Jenner of it all, he did walk back his "El Apagón" lyrics, which say non-Latin people lack sazón (flavor). "I was upset," he said, describing his feelings when writing the song. "But now that feeling has passed me. Our culture and music impacts people in other places. They want to try it and feel it. So why am I going to be bothered by that, if they do it with respect?" Jenner's tequila brand, 818, came under fire two years ago after some claimed the brand disrespected Mexican culture in promo images of her on horseback in an agave field.
Bad Bunny isn't worried about fans' music diet if they abandon him, either. (For him, the "only reception" he cares about is from his Puerto Rican stans.) "When I read comments that say, 'Bad Bunny now I'm not going to listen to your music,' that's fine," he told Time. "I'm not going to do something else for you to like it. There are plenty of artists, and perhaps you'll find someone you'll like." He's not wrong!