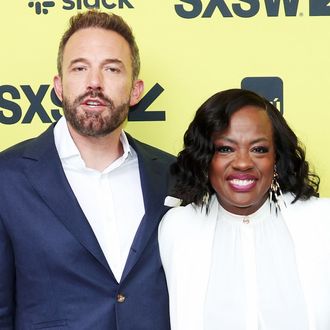 Ben Affleck and the best actor in the world.
Photo: Gary Miller/WireImage
Viola Davis breathes life into damn near every role she's cast in. It's no wonder, then, that Michael Jordan needed her for Air. So he had an ultimatum: no Annalise Keating, no movie. The EGOT winner plays the basketball super-mega-all-star's mom in the Ben Affleck–directed film about how Jordan's mother, Deloris, negotiated a sneaker deal with Nike that led to the wildly successful Air Jordan line. "I had a chance to sit down with Michael Jordan, because I just wasn't going to make this movie without asking him, 'What matters to you?' Interestingly, and tellingly, he had a few things that mattered," Dunkin Donuts Global Brand Ambassador Affleck said at the film's South by Southwest premiere on March 18, per Variety. "He talked about his mother. It was the first time I saw this look cross his face. It was a look of reverence, of awe, of love, and gratitude, and innocence. He said, 'None of this would have ever happened without my mother.' I said, 'Who would you like to play your mom?' He said, 'Well, it has to be Viola Davis.'"
J.Lo's hubby compared snagging Davis for the role to convincing Michael Jordan to join a team. "That's like saying, 'Can I play basketball on your court?' 'Yeah, if you get Michael Jordan,'" he described the tough get. "Viola Davis is the best actor I've ever seen," he gushed, before calling the Air premiere "the best night of my professional life" with "the best actor in the world." We have no notes.