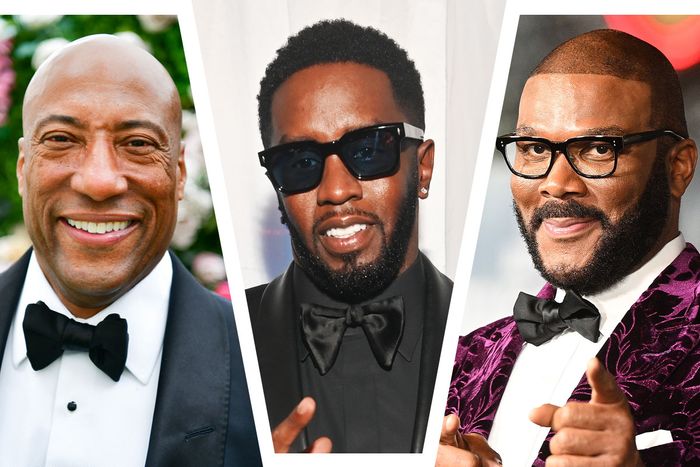 Byron Allen; Sean "Diddy" Combs; Tyler Perry.
Photo-Illustration: Vulture. Photos: Getty Images
Tyler Perry's Black Entertainment Television? It could happen: The prolific producer/director/actor is one of several very famous, very rich businessmen who have signaled an interest in taking control of the iconic entertainment brand now that owner Paramount Global has hinted it might be for sale. The idea of Tyler the BET Owner first emerged earlier this month when the Wall Street Journal reported the conglomerate had begun exploring a sale of its majority stake in the channel. Almost immediately, both comic-turned-entertainment-mogul Byron Allen and hip-hop icon Sean "Diddy" Combs let it be known they were also interested in bidding. While a sale is not yet guaranteed, if it happens, the result will likely mean BET will have Black owners for the first time in over two decades.
Launched in 1980 as a two-hour programming service seen on USA Network — it didn't become a stand-alone channel until July 1983 — BET was owned for its first two decades by its co-founder, Robert Johnson. A lobbyist for the fledgling National Cable TV Association, Johnson saw the young medium's potential to reach viewers largely ignored by the major broadcasters and came up with the idea for a channel dedicated to Black culture. His initial $15,000 investment morphed into an estimated $1.5 billion payday when Paramount (then known as Viacom) officially acquired BET in January 2001. While Viacom's heft allowed BET to grow its distribution footprint and expand into more scripted programming, it also meant the channel was competing with a dozen other networks and brands for resources and attention. That has become more of an issue over the last decade as the cable TV industry went into crisis mode as cord-cutting and collapsing ratings reduced profit margins at most networks.
Still, despite the very real and very serious troubles of the cable business, BET remains a very powerful brand that still makes money and maintains a strong cultural connection to Black audiences. That's no doubt one reason why so many well-known personalities have joined the battle for BET, and why there will likely be a lot of interest in whoever ends up taking control. Let's break down some of the big questions about what's going on.
What, exactly is Paramount considering selling?
While the BET cable network is the most iconic asset potentially being put up for sale, Par is actually looking to divest itself of its entire BET Media Group. In addition to the namesake linear channel, the BET Group includes VH1, a sibling cabler which in recent years has been focused on unscripted content designed for diverse audiences;  fledgling streamer BET+; numerous BET spinoff channels (think BET Her or BET Jams); and production arm BET Studios, which makes shows for the various BET platforms.
BET and VH1 seem to be pretty strong brands. So why is Paramount looking to sell them?
As powerful as BET is as a brand, what Paramount really needs most now is more cash to help build up its most important asset: Paramount+. Selling its majority stake in BET Media Group would offer that financial infusion while at the same time not causing any major harm to P+, since as it is, the streamer currently features very little new content from BET. That's because BET's best offerings — including several Perry-produced series and comedy hit The Ms. Pat Show — actually live digitally on BET+, not P+.  And while there is a BET brand hub on P+, it's filled mostly with library content as well as IP owned by Paramount (like Everybody Hates Chris reruns). Most, if not all, of those titles could continue to live on P+ even if BET Group and its various brands were sold. (The same applies to most VH1 titles.) Bottom line: Par execs think the money they'd get from selling off BET Group's assets would more than offset any potential downside from losing control of its brands.
Why have so many well-known moguls expressed an interest in BET?
We reached out to reps for Perry, Diddy, and Allen, and all declined to comment beyond previous statements to the press or on social media. But people familiar with the thinking of the possible bidders all cited BET's historic importance to the Black community as likely being central to their interest. "BET has always been the place Black people go to find shows made for Black people by Black creators," one insider said. "And it's about more than a brand; it's what it represents to the culture."
Diddy alluded to this in a Twitter thread last week explaining the rationale behind his likely bid. "Media is the most powerful industry in the world but it's the industry where we have the least amount of ownership, influence and control!," he wrote. "It's time for BET to be Black-owned again so we have the power to tell our own stories, control our own narrative! This is not about me, it's about WE!!!!"
What do each of the possible buyers bring to the table? And is anyone a front-runner?
Until actual bids are on the table, there's no way to truly assess which would-be buyer has the best chance of closing a deal. But it's hard not to think that Perry might be an early favorite, if only because he's already a part of the BET Group DNA. Paramount Global CEO Bakish and BET chief Scott Mills helped bring Perry into the Paramount fold back in 2019, when he helped sign the multi-hyphenate to the content library and development deal that led to the creation of BET+. In addition to BET's own library content (from Par), BET+ is populated with Tyler-created movies and TV shows old and new. And as noted, Perry has a minority stake in the streamer. That doesn't mean it can't be sold to someone else — particularly since Perry's deal to produce new shows expires this year — but selling to the man behind Madea would arguably represent the most seamless transition.
Perry also has a long history as an entertainment empire-builder. Rather than work as a hired gun, for decades he has insisted on owning his own content, taking a page from the creator/moguls of the 1970s, such as Norman Lear and Mary Tyler Moore. Controlling the profits from his movies and TV shows allowed Perry to build his own, massive studio complex in Georgia, which itself has become a massive profit center. And of course Perry also brings his own powerful brand equity to the mix: He has a devoted audience that has followed him across platforms. Before his current deal with BET, Oprah Winfrey tapped Perry to help her redefine and expand OWN: The Oprah Winfrey Network, a partnership which gave the then-struggling cabler its earliest hits.
Meanwhile, Diddy comes to a possible BET Group deal having already built his own TV network from the ground up. Along with media vet Andy Schuon, he co-founded digital cable channel Revolt in October 2013, partnering early on with Comcast. Revolt is focused on unscripted projects and music, and skews young, and while it doesn't get a ton of buzz in mainstream press, the fact that it has endured for a decade has allowed it to carve out a solid brand identity and wide distribution. Given BET's somewhat older skew, a combination of Revolt and BET could make sense, since the pairing would be demographically complementary. And like Perry, Diddy is a celebrity with his own brand and deep connections to other artists. "He's a creative genius and a force of nature," says one cable-industry exec who's worked with him before.
As for Allen, he is arguably the most mogul-y of the three big individual prospect bidders. While Gen-Xers and baby-boomers might remember Allen as a stand-up comic and one of the hosts of NBC's smash unscripted hit Real People, in recent decades Allen has managed to assemble an impressive portfolio of media holdings, including the Weather Channel, Local Now, and The Grio, as well as numerous local TV stations and various website holdings. He recently oversaw the purchase and rebranding of digital broadcast network Black News Channel as The Grio TV. Allen is the only potential suitor who would automatically give BET Group a major footprint in traditional broadcasting as well as cable and streaming — not insignificant given the still substantial number of viewers who still watch broadcast channels.
Finally, the New York Times earlier this month reported that Miami-based Group Black — a Black-owned media company — and private-equity firm CVC Capital Partners have thrown their hat into the BET Group acquisition ring. Group Black doesn't have experience running cable or broadcast networks, but per the Times, it does have deep relationships with advertisers who are looking to spend their budgets on Black-owned businesses.
So how successful is BET+ anyway? Isn't Paramount giving up a lot of subscription revenue?
It's hard to say for sure since the company has never disclosed how many people actually pay $10 a month for BET+. But in its most recent earnings update, Par Global said it had 77 million streaming subscribers worldwide, 56 million of which were for P+. That leaves about 21 million for the company's other streaming plays: The direct-to-consumer version of Showtime, Noggin, and BET+. Given how long it's been around and the amount of money Par has spent marketing it, it's likely Showtime accounts for roughly half of that 21 million figure, if not more. One industry analyst guesstimates BET+ has anywhere from 4 to 7 million subscribers. That's not horrible for a very targeted streamer, but it's also not the sort of subscription base a company such as Par is going to worry about losing as a result of a sale — at least not if it gets the price it wants for BET Group.
If BET+ isn't a runaway success, why would so many moguls be interested in buying it (and the BET Group)?
In a word, potential. "Spinning out BET would give the new owners an amazing opportunity to unlock so much value," one industry insider says. Fact is, while the 2019 deal with Perry gave BET (and BET+) a much-needed burst of creative energy and a strong marketing hook, overall, Paramount simply hasn't been able to give BET+ the funding or attention it needs to break out. "When you're under a big umbrella like Paramount or Paramount+, it's hard to fully fund every brand," this source says.
And while cable TV overall is an industry in crises, with subscribers continuing to bail from the bundle at an alarming rate, the BET and VH1 linear networks (along with their various spinoff channels) actually still bring in a substantial amount of money, both from subscriber fees and advertising. That amount of revenue isn't much for a company the size of Paramount, but for new owners, it would provide a good starting point from which to grow a bigger, potentially more profitable business (i.e., a bigger BET+). "Linear is where the profits are now, but streaming is where the growth is," one industry exec tells Vulture, noting that while BET+ currently is relatively small, its growth rate is believed to be quite healthy.
Didn't someone offer Paramount $3 billion for Showtime? Why didn't it take that money?
Yup, former Showtime chief David Nevins did broach the idea of taking over his former network (with the help of private equity), according to the Wall Street Journal. Others have also poked the tires about a possible sale of the premium cable network/streaming platform, per the paper. But Paramount execs apparently decided that Showtime could be a valuable tool in driving consumers to sign-up for the premium tier of P+ in a way BET and VH1 would not. So rather than sell, they decided to essentially fold Showtime into P+ and use its branding to sell its more expensive subscription tier. "We think there's enormous value to unlock with the integration of Showtime and Paramount+," Bakish told investors last month.
Could BET Group actually do better outside the shadow of Paramount mountain?
Possibly! For one thing major companies and brands in recent years have started allocating parts of their advertising and marketing budgets to be spent on Black-owned businesses. And despite Perry's ownership stake, BET Group right now is very much not Black-owned. More than one person Vulture spoke to for this story said having a Black owner would allow BET Group to access many millions in ad revenue and investment support currently unavailable to it because it's part of a giant conglomerate. Add to that ownership which was laser-focused on the success of BET Group — rather than a bigger company — and it's not absurd to think being smaller could end up being an asset, even at a time when so many smaller brands are struggling. Hallmark Channel, for example, continues to thrive despite not being attached to a multi-tentacled entertainment entity. "Spinning the company out gives them a real opportunity," one person familiar with the economics of cable and streaming says. "It's possible BET could have a much brighter future outside Paramount."
Let's say BET Group does get sold. Does that mean everything BET and VH1-branded disappears from Paramount+ and Pluto?
Unlikely. For one thing, as noted earlier, there's a bunch of library content currently associated with both brands which would continue to be owned by Paramount and available for its own streamer and cable nets. (It's why RuPaul's Drag Race, which for years carried VH1 branding, was able to just up and move to MTV recently.) But even stuff Par doesn't own, as well as new shows produced by BET Group, could — in theory — continue to pop up on P+ or Pluto. Paramount has made it clear it intends to keep a sizable ownership stake in a spun-off BET Group, and it's possible the terms of any sale could include guarantees that a certain number of BET- and VH1-produced shows get funneled to Par's streaming plays, most likely after first premiering on BET Group's networks and BET+.
The new company would likely welcome such an arrangement because it would provide another guaranteed source of revenue as it strikes out on its own. And Par would be happy to retain access to the brand equity from BET and, to a lesser degree, VH1. One could even imagine the new BET Group and Par striking a deal similar to the one between Peacock and Hallmark Channel: Peacock has zero ownership in Hallmark, but it does have a Hallmark brand hub filled with content from the company.     
How long until we know what's next?
Despite the flurry of news stories about a possible sale, two sources familiar with the matter say Paramount Global has not officially begun accepting possible bids for BET Group. That likely won't happen for at least a few more weeks. It's possible that once the bids are in, things could move quickly. But it's also possible the process could take several months or longer, particularly as bidders lock in financing.
Is it absolutely a sure thing BET Group will be sold?
Nope. While it's clear Par is keen on shedding these assets, it won't do so if the price isn't right, people familiar with the matter say. "It's still in the very early stages of the process," one source says. "Anything could happen."