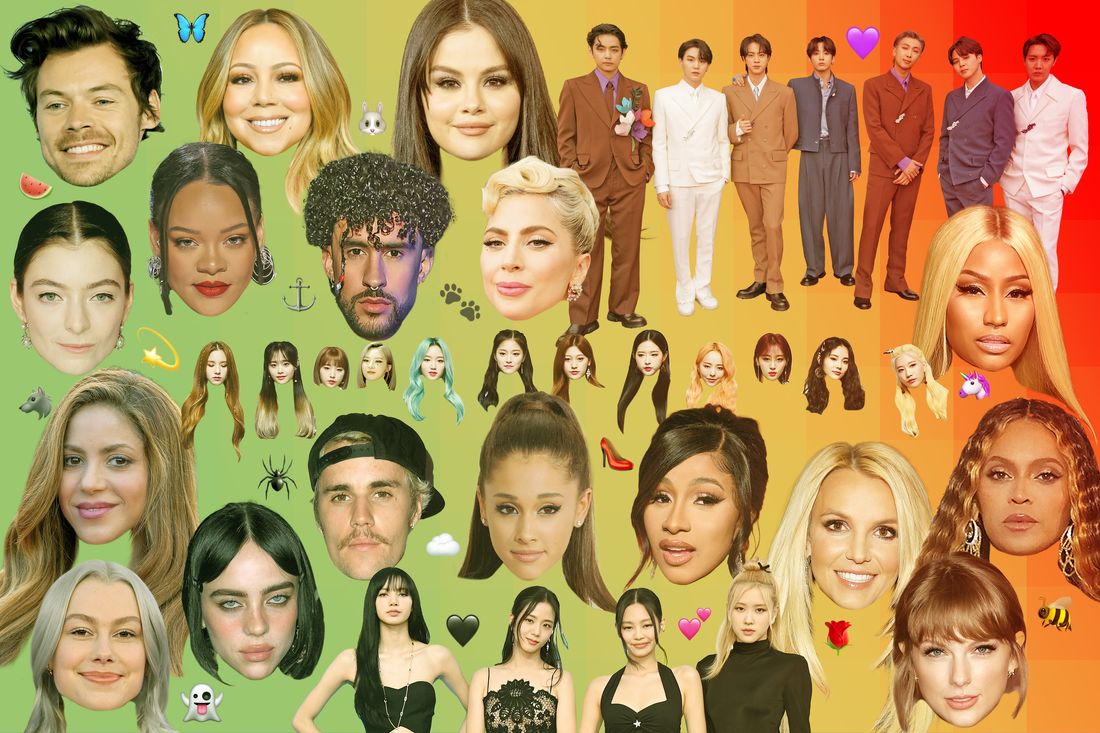 Photo-Illustration: Vulture; Photos Getty Images
Stans aren't exactly known for being chill. These ultradedicated fans are either using their collective power for charity and activism — K-pop devotees once spammed police, who were looking for videos of protesters, with fan-cams — or they're going to impressive (and sometimes unhinged) lengths to defend or promote their favorite artists. It's all or nothing all the time. While it would be impossible to list every single musical standom under the sun, here's a guide to help you better identify some of the major players right now. Proceed with caution.
.

Phoebe Bridgers's Pharbz
The stan name: This play on Nicki Minaj's Barbz is a somewhat ironic nickname given how much Phoebe's music and general vibes contrast with Nicki's.
Calling card(s): 💀or 👻 to match either her favorite costume or her debut-album cover.
What they're up to: Waiting for "Waiting Room," a fan-favorite track, to be put back on Spotify after it was abruptly removed. Also, looking forward to seeing her open on the Eras Tour.
How far they'll go: A criticism of her song "Motion Sickness" inspired at least one Pharb to Venmo-request money as compensation for having to "read that god awful tweet."
Likes: Her supergroup, Boygenius, of which Julien Baker and Lucy Dacus are also members.
Dislikes: People who constantly bring up Aftersun actor Paul Mescal, her ex.
.

Shakira's Shakifans
The stan name: Keeping it simple, Shakira's fans are a combination of the words Shakira and fans.
Calling card(s): 🐺. If you need a refresher on why she refers to herself as a she wolf, or una loba, stream her 2009 album, She Wolf. (Yes, she howls.)
What they're up to: Streaming "Bzrp Music Sessions, Vol. 53," her new name-dropping diss track about her ex Gerard Piqué allegedly cheating on her. One stan who owns a restaurant reportedly asked Piqué and his new girlfriend to leave his establishment.
How far they'll go: A stan once (falsely) claimed that Shakira had given computer lessons to a kid whom she told not to give up on his dreams. "That kid was Bill Gates," the fan wrote in a viral tweet that caused Newsweek to publish a fact-check.
Likes: Her son Milan, who she claims was the one who wanted her to work with Bizarrap.
Dislikes: Piqué, for cheating them out of the music she could've made if she hadn't put her career on the back burner to raise their two children.
.

Lorde Stans
The stan name: If she has it her way, she'll never have one. The singer has said she finds it "grating to lump everyone into a really awkward, pun-centric name" and previously promised on Twitter that she would "NEVER" name her fans, calling the practice "icky."
Calling card(s): They don't seem to have one, which she probably appreciates.
What they're up to: Being shushed by Lorde during her latest tour and looking forward to her summer-festival sets.
How far they'll go: Lorde's fans reportedly won a 2017 ratings war versus Lana Del Rey's fans on Metacritic. They pitted Lorde's Melodrama against Del Rey's Lust for Life in a battle for the lowest user score owing to shade thrown between the artists.
Likes: Her email newsletter; onion rings (or at least Lorde's reviews of them).
Dislikes: Anyone who brings up that unproven theory that she and producer Jack Antonoff had an affair.
.

Harry Styles's Harries
The stan name: Keeping it nice and simple, this is just a plural version of his first name.
Calling card(s): 🍉, in honor of "Watermelon Sugar."
What they're up to: Celebrating his Grammy Album of the Year win for Harry's House. Former Directioners are also recovering from a picture he posted of himself in a One Direction shirt, which he quickly deleted.
How far they'll go: Stans accused internet personality Brittany Broski, who has professed her love for Harry and was invited to meet him, of clout-chasing and taking away opportunities from real fans after he didn't make the top five in her 2022 Spotify "Wrapped."
Likes: The Recording Academy; Anne and Gemma, his mother and sister.
Dislikes: All that drama around Don't Worry Darling, his movie that feels like a movie; the concertgoers who throw things at Harry, including Skittles and a chicken nugget.
.

Billie Eilish Stans
The stan name: Billie's Instagram username used to be @wherearetheavocados, so for a brief moment, her fans were jokingly referred to as Avocados. But that didn't stick, and neither did proposed substitute Eyelashes. For now, they're just Billie stans.
Calling card(s): 🕷. One crawled out of her mouth in a music video.
What they're up to: Making fan edits of her acting debut in Swarm. Some are also expressing concern about the power dynamics between the 21-year-old and her current boyfriend, who is 31.
How far they'll go: Billie has requested restraining orders against multiple stans, in the literal definition by Eminem — she's had stalker fans visit her family home several times.  
Likes: Her brother and close musical collaborator, Finneas.
Dislikes: Anyone who participated in the creepy countdown to her 18th birthday.
.

Justin Bieber's Beliebers
The stan name: A pun on Justin's last name and the word believe, since his fans believe in him. Makes sense that these are the fans of the guy who named an album Justice!
Calling card(s): They can't seem to agree on one.
What they're up to: Grieving the fact that the Justice World Tour was finally canceled after being postponed five times.
How far they'll go: At the height of Bieber Fever in 2010, singer Lily Allen suggested that Justin should sell "kiddie bras" as merch. Beliebers responded by, well, trending the hashtag #LilyAllenFatWhore. In 2013, a stan rushed the stage during a concert and grabbed Justin, knocking a piano offstage in the process.
Likes: That one video of him copying an interviewer's laugh.
Dislikes: Ramsay Hunt syndrome, which is the reason Justin has had to forgo performing.
.

Rihanna's Navy
The stan name: On her 2009 track "G4L," Rihanna sings, "We're an army / Better yet, a navy / Better yet, crazy." She also starred in the 2012 movie Battleship. Now, the Navy fights for Rih.
Calling card(s): ⚓️.
What they're up to: Enjoying her return to performances — courtesy of the Super Bowl halftime show and the Oscars — but also how significantly less messy online she is now.
How far they'll go: The Navy forced the notoriously unapologetic Stephen A. Smith to tweet a three-minute apology this year for suggesting that Rih was not as good as Beyoncé. In 2018, stans deleted Snapchat because Rih was displeased with an ad that appeared to reference her experience with domestic abuse at the hands of Chris Brown; The Wall Street Journal reported that their exodus caused Snap, Inc. to lose $800 million in market value.
Likes: Black Panther: Wakanda Forever, for ending a six-year music drought with "Lift Me Up"; her native country of Barbados, for recognizing her as a national hero.
Dislikes: A$AP Rocky, because they want her to be pregnant with a new album, not another baby. Kidding, kidding! Unless …
.

Mariah Carey's Lambs/Lambily
The stan name: Stans noticed that Mariah Carey would put on an Old Hollywood affectation with friend and collaborator Trey Lorenz, using lamb as a term of endearment. And thus the massive Lamb family (Lambily for short) was born.
Calling card(s): 🦋, a favorite of Mariah's and the name of her 1997 album.
What they're up to: If you see someone praising a "skinny legend" and pretending not to know Jennifer Lopez, you've likely found a Lamb.
How far they'll go: In 2016, Demi Lovato suggested that Mariah is a lower-quality version of Ariana Grande and called her treatment of J.Lo "nasty." The backlash from the Lambs was so bad that, within a week, Demi had temporarily quit both Instagram and Twitter.
Likes: Winter, the season when her fans are at their most powerful; her twins, "Dem Babies"; TikTok, for making "It's a Wrap" go viral and giving them a new EP.
Dislikes: The U.S. Patent and Trademark Office, for denying her application to officially own the "Queen of Christmas" title.
.

Loona's Orbits
The stan name: In Korean, Loona means "girl of the month" — each of the 12 original members was introduced with a solo album one month at a time — but can also roughly be translated as "girl of the moon." Fans revolve around Loona as if in orbit, and the Korean version of the fandom name also suggests they illuminate the group's path.
Calling card(s): 💫. While this may officially be known as the "dizzy" emoji, it's used as a representation of an orbit.
What they're up to: Boycotting Loona's company, Blockberry Creative, due to members allegedly being overworked and not paid. So far, one album release has already been "postponed indefinitely."
How far they'll go: Early on in Loona's career, Orbits aggressively promoted the group on Twitter with the phrase stan Loona. A variation, "Maybe if you stanned Loona …," was also used in response to tweets about any type of misfortune — sometimes even death.
Likes: Dissecting Loona's complex music-video lore with analysis that can involve quantum physics, color theory, and the multiverse.
Dislikes: Loona's future being unclear given that one member was kicked out and all remaining members have now taken legal action to try to leave their company.
.

Selena Gomez's Selenators
The stan name: Keeping it simple, this adds a suffix to Selena's name that calls to mind the Terminator.
Calling card(s): They don't seem to have a collective emoji, but we'd like to nominate 👁️, because they keep an eye out for "Selene-r."
What they're up to: Celebrating that she is now the most-followed woman on Instagram with 402 million followers and counting; hoping that her upcoming album about her private life will become public soon.
How far they'll go: Convinced that Kylie Jenner (whom Selena passed to set her Instagram record) and Hailey Bieber (who is married to Selena's ex, Justin Bieber) were making fun of Selena, Selenators made enough viral TikToks about the alleged beef that both Kylie and Hailey had to publicly deny throwing any shade. After Hailey personally reached out, Selena denounced death threats and "hateful negativity."
Likes: Only Murders in the Building; her close friend Taylor Swift; following the recipes from Selena + Chef (with the help of her line of Our Place cookware).
Dislikes: Selena's longtime BFFs, Raquelle Stevens and Francia Raisa — fans questioned their friendships after her documentary, My Mind & Me.
.

Blackpink's Blinks
The stan name: A portmanteau of the first part of black and the last part of pink suggests these fans are with Blackpink from the beginning till the end.
Calling card(s): 🖤💗.
What they're up to: Preparing to support Jisoo as the fourth and final member to go solo.
How far they'll go: On multiple occasions, Blinks have had protest trucks driven around YG Entertainment's building, blasting Blackpink songs and displaying demands for more music and promotional activities on an LED screen. Like many K-pop standoms, they've also worked to reverse-engineer YouTube's streaming algorithm.
Likes: Coachella, for booking Blackpink to perform in 2019 — and again in 2023 as the first K-pop act to ever headline the festival.
Dislikes: YG Entertainment, for breaking promises about music releases; the Weeknd and Sam Levinson, for allegedly giving Jennie a tiny role in The Idol.
.

Bad Bunny Stans
The stan name: Bad Bunny's fans haven't decided on or been given a collective name yet.
Calling card(s): 🐰.
What they're up to: Jamming along to his recent "Carpool Karaoke" sesh with James Corden.
How far they'll go: Stans have climbed onto cars and rushed the stage to get to Benito, who has sometimes rewarded them with kisses. Ticketmaster also claimed that so many people showed up with counterfeit tickets to one of his shows that scanning systems broke and began identifying legitimate tickets as fake ones.
Likes: The Macy's Thanksgiving Day Parade, for giving the heart from his Un Verano Sin Ti album its very own float; Coachella, since he'll be the first Latin artist to headline.
Dislikes: Kendall Jenner, for allegedly dating Benito and taking him off the market.
.

Ariana Grande's Arianators
The stan name: Ariana's name with a suffix added on. Again with the Terminator connotations.
Calling card(s): ☁️, a favorite of Ariana's.
What they're up to: Streaming the "Die for You" remix, her latest collab with her work husband, the Weeknd.
How far they'll go: In 2019, a stan famously used her Nintendo 3DS, Wii U, and an LG smart refrigerator in a desperate attempt to keep tweeting from her Arianator account after her mother took her phone away. That same year, fans spewed so much vitriol at a writer who criticized Ariana that the singer allegedly apologized on their behalf over DMs.
Likes: The Wicked movie (because stans suspect that it helped her improve her singing enunciation).
Dislikes: The Wicked movie (because stans suspect that it may make her forget she's a pop star).
.

Lady Gaga's Little Monsters
The stan name: Lady Gaga's monster theme dates back to her 2009 album, The Fame Monster. She later adopted the term for fans because of the way they screamed and twisted during her shows, and she became known as Mother Monster.
Calling card(s): 🐾, from her command for the Little Monsters to put their "paws up!" in a claw gesture during concerts.
What they're up to: Awaiting her starring role in the yassified musical movie Joker 2 and her EGOT. 
How far they'll go: Once collectively disguised their accounts and pretended to be "soccer moms" who loved Lady Gaga in hopes of tricking radio hosts into playing her music. They also spread a fake Starbucks promotion to get people to stream "Shallow."
Likes: The one person in the room who believes in her even when 99 people don't (she was talking about Bradley Cooper, but same goes for Tony Bennett).
Dislikes: The people who allegedly tried to get rich by stealing Lady Gaga's dogs and shooting her dog walker.
.

Cardi B's Bardi Gang
The stan name: Dates back to old ties to the Bloods. Now, she has the Bardi Gang.
Calling card(s): 👠, in reference to the "red bottoms" and "bloody shoes" breakthrough single "Bodak Yellow."
What they're up to: Awaiting that sophomore album they've heard so much about.
How far they'll go: In April 2022, her own stans dragged her for skipping the Grammys and not dropping music. After people started mentioning her children, Cardi temporarily deactivated her account.
Likes: Her unlikely friend Penn Badgley and her recent series of community-service selfies.
Dislikes: Bloggers — like the one she successfully sued for more than $4 million — who lie about her or generally portray her in a negative light; Nicki Minaj, because their beef is so bad that Cardi once tried to physically fight the leader of the Barbz.
.

Britney Spears's Britney Army
The stan name: This one's straightforward: Britney Army defends Britney.
Calling card(s): 🌹, a favorite of Britney's. Plus, some stans just believe she deserves her flowers.
What they're up to: Defending her right to post whatever she wants on social media, including pictures from her favorite high angle or naked selfies.
How far they'll go: A stan famously recorded a tearful viral video begging people to "Leave Britney Alone" amid media scrutiny of her mental health in 2007; the Free Britney movement brought national attention to her conservatorship; a worried Britney Army member reportedly called the police to conduct a wellness check after a now-freed Britney temporarily deactivated Instagram.
Likes: Her lawyer, Mathew Rosengart; her longtime friend Paris Hilton; her husband, Sam Asghari (unless they're part of the camp that believes he's controlling her).
Dislikes: Pretty much the entire Spears family. Oh, and Justin Timberlake, for how he handled their breakup.
.

Taylor Swift's Swifties
The stan name: A pretty simple spin on Taylor's last name.
Calling card(s): Adding "(Taylor's Version)" to the end of their display name on Twitter (to indicate that she owns them).
What they're up to: Monitoring the Eras Tour like it's a full-time job. Also, scouring her socials for any of the puzzles, clues, and references to the number 13 that she historically uses to make announcements.
How far they'll go: Upset Swifties who struggled to get tickets to Taylor's latest tour prompted a lawsuit and several federal investigations into Ticketmaster. Music exec Scooter Braun claimed his family received "numerous death threats" in 2019 after Taylor asked her stans to let him "know how you feel" about him allegedly blocking her from performing her own music. And a "negative" review of folklore prompted some Swifties to dox a Pitchfork journalist.
Likes: Her cats, Meredith Grey, Olivia Benson, and Benjamin Button; her muse, Joe Alwyn (though they do often ask if he can fight); Mama Swift; Tree Paine, Tay's publicist.
Dislikes: Ye for infamously cutting her off at the VMAs (and Kim K for calling her a 🐍). Scott Borchetta for his involvement in the Braun deal. Also, anyone who still makes that tired joke that she writes too many songs about exes.
.

Beyoncé's Beyhive
The stan name: This hive of supporters answers to their Queen "Bey." If you come for her, prepare to be stung.
Calling card(s): 🐝, since it sounds like Bey.
What they're up to: Patiently waiting for the Renaissance visuals and tour; living in fear/anticipation of another mysterious or unexpected album drop.
How far they'll go: They reportedly hacked designer Rachel Roy because they believed she was Jay-Z's alleged mistress, a.k.a. "Becky with the good hair" (chef Rachael Ray was swarmed on social media by stans who forgot to check their spelling.) Another woman got death threats after she leaned over Beyoncé to chat with Jay-Z at an NBA game.
Likes: Blue Ivy, Sir, Rumi, because everything Bey makes is art, including her children.
Dislikes: The Grammys, for consistently snubbing her for Album of the Year.
.

BTS's ARMY
The stan name: ARMY, the official fandom name announced in 2013 by BTS, stands for "Adorable Representative MC for Youth." The military connotation of the word army also pairs with the original Korean meaning of the group's name: Bulletproof Boy Scouts.
Calling card(s): 💜, after member V described purple as a symbol of the love between BTS and their fans, and the number 7, to represent support for each member of the group.
What they're up to: Supporting the group's solo careers; keeping up with each of them on the social platform Weverse.
How far they'll go: Angry ARMYs have forced several people to apologize — and even once found someone's workplace and got them fired — for disrespecting the group.
Likes: BT21, a collection of cartoon characters co-created by BTS that has its own lore, merch … and 12.6 million Twitter followers; the monthly #ARMYSelcaDay, when they post selfies and hype their fellow stans up; artists who have collaborated with BTS, including J. Cole, Coldplay, Anderson .Paak, and more.
Dislikes: Mandatory military service in South Korea, because it means that each member will leave to spend 18 months with a very different type of army.
.

Nicki Minaj's Barbz
The stan name: Stans began calling themselves Harajuku Barbiez after one of the rapper's most famous alter egos. The shortened name, Barbz, caught on so much that even Nicki's 2017 attempt to change it to "the Kingdom" failed.
Calling card(s): 🦄, a favorite of Nicki's.
What they're up to: Getting acquainted with her latest alter ego, "Red Ruby Da Sleeze," ahead of her upcoming album.
How far they'll go: After a pop-culture commentator criticized her lyrics, Nicki herself commanded stans in a since-deleted tweet to "Go beat dat n - - - - - like he stole smthn." He claimed that Barbz then leaked his address and phone number, sending so much hate that he started a GoFundMe to fight the "bullying." At least two other times, Nicki's tweets (or her likes) have similarly encouraged Barbz to attack her critics.
Likes: Sachin, the Barb who once did a mock job interview with Nicki on Instagram Live and told her to focus on getting her music done on time; the Nicki Minaj American flag; Ariana Grande, who Nicki famously declared runs pop.
Dislikes: Other rappers whom Nicki has beefed with, including Cardi B, Remy Ma, Latto, Megan Thee Stallion, and many more.