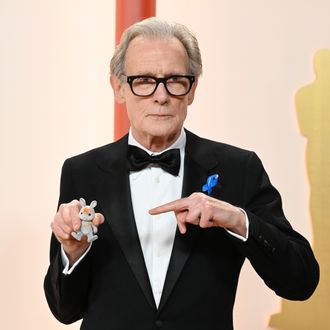 Look.
Photo: Gilbert Flores/Variety via Getty Images
British thespian and first-time Academy Award nominee Bill Nighy used the 2023 Oscars red carpet on Sunday to debut some new arm candy. The Love, Actually legend showed up for the ceremony, where he was nominated for Best Actor for his role in Living, with a tiny Sylvanian bunny in tow, sporting gray furs and artful smears of either ketchup or spaghetti sauce across her forehead and off the shoulder. The two made for a fetching pair, silver fox and gray bunny. Who could she be?
The Guardian's Stuart Heritage identified her as a member of the Babblebrooks, a prominent Sylvanian family dating back to 1985 (the Sylvanian equivalent of your ancestors coming over on the Mayflower). One leading theory is that she was an actress from the popular series Sylvanian Drama on TikTok, in which case the red smears would have probably been blood. But Nighy corrected the record. "My granddaughter's schedule intensified and I was charged with rabbit-sitting responsibilities," he told the U.K.'s Metro. "I wasn't prepared to leave her unattended in a hotel room. The stakes are too high … Where I go, she goes." Very adorable.