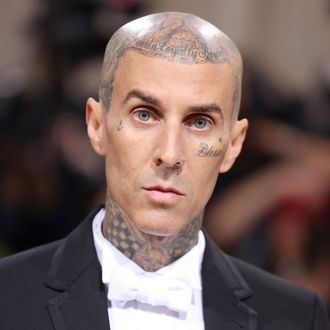 Ow.
Photo: John Shearer/Getty Images
Looks like the Chainsmokers and Halsey will have to put their plans to get closer to their toxic ex at a Blink-182 concert on hold for a bit. The planned Blink-182 reunion tour, with the original lineup of Mark Hoppus, Travis Barker, and Tom DeLonge, has been postponed. The culprit is Barker's finger, which he injured twice in rehearsals last month. The drummer tweeted on March 3 that he had finger surgery and will "heal and come back when I am 100%." He also took to Instagram to post some photographic proof, including a picture of his hand wrapped in a cast and a graphic picture of his finger mid-surgery. "It was a hard decision to make but ultimately I couldn't continue to play the drums without it," Barker wrote in the caption. "It was inevitable that my finger would have dislocated again without fixing the torn ligament surgically. So grateful for Dr. Shin and that my surgery was a success so that I can keep doing what I love and see you guys on tour soon🥁."
Barker previously told fans on February 8 that he "was playing the drums at rehearsals yesterday and I smashed my finger so hard I dislocated it and tore the ligaments." Per TMZ, he posted a photo of his injured ring finger on his Instagram Story on February 21, with a simple caption: "Again." Finally, on February 28, he posted a video of a doctor working with him on his finger on Instagram with the caption, "Surgery tomorrow 🤞."
Blink-182's tour, which was slated to commence later in March, will actually start on May 4 in St. Paul, according to the band's website. The dates that have been canceled in Mexico and Latin America will be rescheduled for a later date. "South America I love you and I'm so sorry I can't make these shows," Barker tweeted on March 3. You know, when we think of the phrase, "He works with his hands," successful musicians aren't the first people that come to mind, but here is Travis Barker, proving us wrong.
This post has been updated.