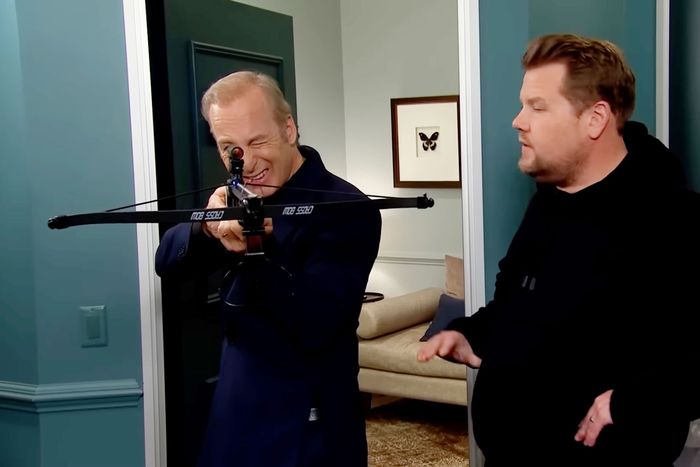 A good chunk of late night was off this week — perhaps because the Oscars are over and fewer celebs need to press the flesh. But Succession, Yellowjackets, and Swarm all have premieres this week, and those who showed up went hard. Vulture darling Jamie Demetriou went on Jimmy Kimmel Live! Jennifer Aniston touched things with Jimmy Fallon. And both she and Molly Shannon doubted recent Mark Twain honoree Adam Sandler's fashion bona fides. We even got comedic opinions on #Scandoval, thanks to Molly Shannon and WWHL. But the top comedic spot this week belongs to someone who has been doing variety-show content since 1988.
5. Tooning Out Takes CPAC
Tooning Out the News took a cartoon to CPAC, which is both ridiculous and explains why it's so much later than everyone else's CPAC content. But once again, Tooning Out's cuntiness serves it well. The cartoons are so mean to this former principal who can't tell an obviously fake "woke" children's book from an obviously fake "right-wing" children's book. They don't want to read Both Sides of the Diary of Anne Frank, because they're worried "both sides" is a reference to bisexuality?! A lot to unpack there! No other late-night show would get that nasty, thus we only know the floor of conservative idiocy thanks to Tooning Out the News.
4. Julie Bowen Lets Loose
Hey, Julie Bowen, are you okay? The former Modern Family mom talked a lot about being into Harry Styles sexually and her son's belief that a Styles concert is a "target-rich environment" as a young straight boy. Is he wrong? No. Should Bowen be blowing up his spot or using her Claire Dunphy privilege to turn her teen son's horniness into content? Also no. Should someone give her a Better Things–style show that she co-runs with some whelp from Harvard? Like, yesterday. Julie, you're a mess, girl. But you're doing it telegenically. Season order now.
3. WWHL Does Some Accent Work
Melanie Lynskey and Matthew Rhys are two of the most likely "Oh, this should be good" ringers currently on late night. So is it any surprise that they both did wonders reenacting Lala and Raquel's fight from last week's Vanderpump Rules? Hell no. If the cast of Vanderpump Rules met someone with the candor of a Welsh or Aotearoan person, I think their brains would explode, Scanners style. As it is, both Rhys and Lynskey got to flex their outstanding American accents. Even Ariana, who takes sketch comedy very seriously, could never.
2. Caroline Polachek Gives a Canonical Performance on The Tonight Show
We don't usually cover musical guests in this column, since we focus hard on the comedy sector of late-night variety. But when Caroline Polachek is in this silly and goofy mood, we have to respond. She got full-body makeup to match her album art and look like she has nü-metal ringworm. That's fucking funny! Polachek has previously bristled at being called this generation's Kate Bush. But if she doesn't want that smoke, she shouldn't do faces at the camera that are so evocative of Bush's special at Efteling amusement park. There are a few truly canonical late-night musical performances. Ariana Grande doing "Imagine" on The Tonight Show within days of being turned away from 30 Rock by Pete Davidson, the cast of Spider-Man: Turn Off the Dark doing "A Freak Like Me Needs Company" on Letterman, and Letterman vibing hard with Future Islands are all iconic in their own way. Caro's performance this week has the opportunity to get to that height.
1. Bob Odenkirk Shoots to Kill on The Late Late Show
When Bob Odenkirk gets his sketch-comedy face on, bitches beware. Odenkirk absolutely popped off last week as the latest villain on Blippi, but he absolutely soared this week while brandishing an "end of show" gift crossbow on The Late Late Show. Two things took this scene to the next level: First, there was the addition of realistic violence, but Odenkirk played an only slightly heightened version of himself. It was chiller yet worse than his normal talk-show persona — evocative of every opening segment of Mr. Show With Bob and David. But second, it reminded us of the time he tried to make his adoptive daughter, Superstar, into a tap-dancing nepo baby. Knees up!