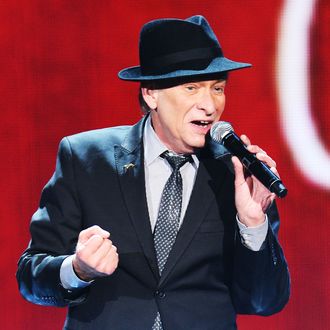 Bobby Caldwell.
Photo: Ethan Miller/Getty Images
Bobby Caldwell, the R&B, smooth jazz, standards, and "blue-eyed soul" singer, is dead at 71. His wife, Mary Caldwell, shared his death on Caldwell's Twitter account on March 15. "Bobby passed away here at home," she wrote. "I held him tight in my arms as he left us. I am forever heartbroken. Thanks to all of you for your many prayers over the years. He had been 'FLOXED,' it took his health over the last 6 years and 2 months. Rest with God, my Love." "Floxed" refers to a negative response to an antibiotic. Caldwell's team first shared his condition with Caldwell's fans in May 2022. "In January of 2017 Bobby was given an antibiotic," they wrote in a letter to fans, according to SoulTracks. "After taking the drug for several days he experienced bilateral Achilles tendon ruptures, and developed peripheral neuropathy. Despite these injuries, Bobby continued to perform with the aid of a wheelchair, cane, and his helpers. Unfortunately, Bobby's condition continues to worsen. He has a great deal of neuropathy pain, and his mobility is limited."
Born in 1951 and raised in Miami, Caldwell's first big break was as a rhythm guitarist for Little Richard, according to a 1991 L.A. Times profile. His biggest hit during his lifetime was his top-ten hit "What You Won't Do for Love" in 1978. The song is also known as the track Tupac Shakur sampled on his posthumous hit "Do for Love," released in 1998. He also wrote songs for other artists, most notably the Peter Cetera and Amy Grant duet "The Next Time I Fall," which hit No. 1 on the Billboard Hot 100 in 1986. Caldwell was regularly recording records through 2015, when he released his final album, Cool Uncle.