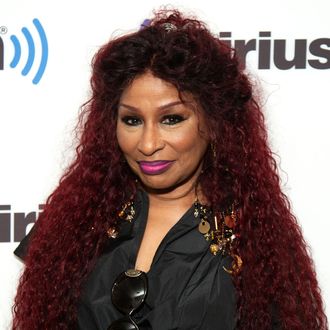 Chaka Khan.
Photo: Santiago Felipe/Getty Images
Update March 5: Chaka Khan must have read that Taylor Swift Madeline Albright quote about women who don't support other women, because she is backtracking. On Instagram, Khan apologized for her comments and for buying into the idea of ranking singers in the first place. "Being an artist or musician is not a competition. It's a gift, for which I am truly grateful," she wrote. "It was not my intention to cause pain or upset anyone. To anyone that felt this way, I sincerely apologize."
Original story follows.
Chaka Khan to Rolling Stone: "Be serious." The vocalist, whose illustrious career spans five decades, didn't say that exactly, but she did have some choice words for the publication after getting briefed on its "200 Greatest Singers of All Time" during the latest episode of The Originals, a podcast from Los Angeles Magazine. After hearing her frenemy Mary J. Blige landed ahead of her at No. 25 ("They are blind as a motherfucking bat! They need hearing aids … These must be the children of Helen Keller!"), she went on to share her thoughts on the rest of the singers. Khan, who sits high on the list at No. 29, found the inclusion of singer-songwriter Joan Baez at No. 189 to be particularly troublesome: "Let's be honest, the bitch cannot sing," she claimed. "Now, she was a good writer." Mariah Carey's No. 5 spot, Khan theorizes, is a result of industry manipulation: "That must be payola or some shit like that." Adele, at No. 22, led Khan to wonder if she should even bother making music: "Okay, I quit," she said. The only thing she truly agreed with was Aretha Franklin's place at No. 1, "as she fucking should be."
Prior to her appearance on the podcast, she didn't hear about the two-month-old list that pissed everybody off when it was published. (Remember when the Celine Dion fans stormed the Rolling Stone offices to protest her snub, lol?) "I didn't even know what the hell you were talking about, so obviously this don't mean a great deal to me," she told host Andrew Goldman. "These people don't quantify or validate me in any way." And, according to her logic, they don't have the range to do so.