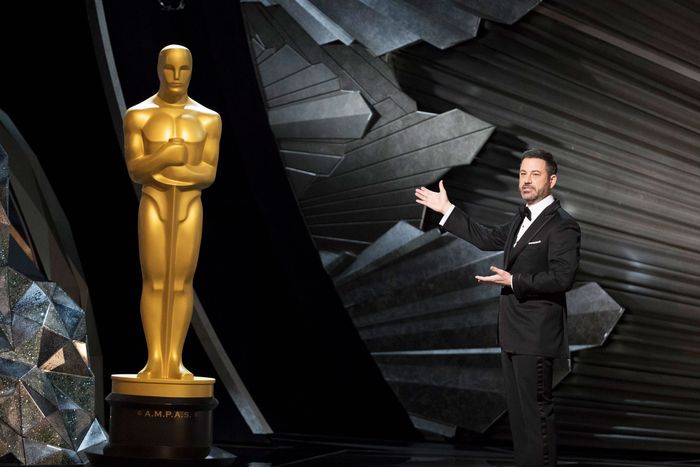 The 2023 Academy Awards are returning to an old formula — one that has worked not
despite
its imperfections but
because
of them.
Photo: Ed Herrera/Disney via Getty Images
Last year, we witnessed one of the worst things ever to happen during the Oscars. Something so embarrassing that the Academy of Motion Picture Arts and Sciences as an institution worried it'd have to spend years living it down. No, I'm not talking about the Slap. The Slap probably saved last year's ceremony, diverting everyone's focus to that one specific incident and its fallout.
No, I'm talking about the catastrophic decision in 2022 to sideline many of the technical awards, presenting them before the broadcast while the red-carpet event went on outside. A decision that went completely against the very idea of the Oscars, it was one the Academy and its producers had flirted with for some time. That year, it made space for a howlingly idiotic attempt at adding two popular-vote non-categories (which went about as well as you might have expected).
Such changes were driven by the producers' constant, failed attempts to "fix" the Oscars over the years. That's why they experimented with not having hosts, then having three hosts. That's why last year's "tributes" looked more like hastily slapped-together TikToks than something you might see during the Oscars. It's why the ceremony has, for some years, seemed to deride the movies it's presumably there to celebrate. And why the whole thing has felt like such a hot, pandering mess.
As I argued last year, the Oscars show itself didn't need fixing. (The Academy as an organization with some ossified attitudes — not to mention Hollywood itself. Now those are different matters.) The declining ratings that the producers are concerned about have little to do with the ceremony and everything to do with the fact that fewer people have been watching live TV in general for the past decade or so.
This year, it seems that the producers have come to their senses and gone back to some of the things that made the Oscars the Oscars. For starters, there will once again be a single host — Jimmy Kimmel, who also hosted in 2017 and 2018. All of the categories will be presented on air. And presumably, given how the last one went, there will not be another fucking #OscarsCheerMoment.
Will people watch it? I'd like to think so, but who knows? Around this time every awards season, at least for the past several years, assorted comedy-adjacent people have whined proudly about the fact that they haven't seen or heard of any of the Best Picture nominees. It's pretty hacky stuff — even when there's some truth to it. But they can't do that this year with a straight face, can they? Two of the biggest movies of all time, Top Gun: Maverick and Avatar: The Way of Water, are up for Best Picture.
"Nominating hits" is something people have claimed the Oscars needed to do for many years. That claim is largely ignorant of history, however, because the Best Picture category has regularly included at least one massive blockbuster — everything from Joker, Black Panther, and Gravity in recent years to Raiders of the Lost Ark, E.T. The Extra-Terrestrial, Fatal Attraction, Ghost, and The Lord of the Rings movies in past decades. What's maybe more telling about these examples is that they highlight the extent to which the megahit has, over the years, migrated entirely to franchise titles. The Oscars have nominated many hits for Best Picture in the past. They have not, aside from several exceptional outliers, nominated sequels. This year, they've nominated two. Is this a sea change? Are John Wick 4 and Mission: Impossible 7 shoo-ins for next year? If they're great movies, then sure, why not?
That said, Maverick and Avatar aren't the only hits up for Best Picture this year. Elvis made $151 million domestic, stunning a lot of box-office pundits who'd assumed that mixed reviews, grown-up subject matter, and a long run time would keep audiences out of theaters. Everything Everywhere All at Once made a substantial amount of money, proving to be the kind of word-of-mouth indie hit that we used to have all the time back in the day but has been relatively scarce of late. (I do wish The Woman King was in the mix as well. It would have been fun to see the historical action genre make a triumphant return to the Oscars.)
There are actual sentimental favorites up for big awards too — whether it's Brendan Fraser and Ke Huy Quan making heartwarming comebacks or the first Oscar nomination of Colin Farrell's and Michelle Yeoh's lengthy careers. Meanwhile, some feel that Andrea Riseborough's To Leslie nomination proves the potential power of under-the-radar, grassroots campaigns, while others feel it represents Hollywood privilege asserting itself at the expense of a more diverse slate of nominees. (For what it's worth, these are not necessarily mutually exclusive phenomena.) But one thing that the Riseborough nomination certainly has done is add some extra drama to awards season.
All of this has resulted in an Oscars ceremony that is, for once, not arriving as a total afterthought following an interminable, life-sucking awards season. Well, awards season is still interminable (we really do need to have the Oscars sometime in February at the latest), but this year, there's some actual suspense, intrigue, and excitement around the ceremony. There are, to be sure, still serious issues of diversity hanging over some of the categories, but at the same time, people seem genuinely interested in who will win these awards and what they might say when they do.
Then, of course, there's the Slap. I'm not here to relitigate that one, but as many noted at the time, the incident, for better or worse, made the Oscars suddenly relevant again, fueling discourse for weeks. It's unlikely that something like that will happen again, and the ultimately inevitable spectacle of Chris Rock and Will Smith jointly presenting an award is probably still a few years off (okay, maybe decades). But it's a safe bet that the legacy of last year's contretemps will fuel additional interest in this year's Oscars. (Even with this silly pre-crime unit the Academy is apparently putting in place to make sure such incidents don't occur again, which seems like exactly the wrong lesson to learn from last year's event.) That's not necessarily a good thing, of course, but it does remind us of one thing that has always been true of the show: Regardless of how many people watch it live, the Oscars regularly provide virtual watercooler fodder for days — a level of engagement that very few live TV events, even sports, achieve these days. And just because people didn't watch the show doesn't mean they won't talk about it the day after.
All of these factors should make this year's show one of the more popular in recent memory. And it will serve as a test case for those of us who've long believed that nothing is all that broken about the Oscars ceremony itself. The Academy, in trying to reinvent the Oscars over the past few years, has kept messing with a formula that was largely working. This year, it is essentially returning to the old one — let's call it Oscars Classic. It's not a formula that works despite its imperfections. It's one that works because of them. The middling monologues, the teary and overearnest speeches, the celebration of cinema through occasionally tacky but still moving montages, the constant sense that someone famous might say or do something idiotic — these are things people like about the Oscars.
The flip side to all of this is that the Oscars won't have anyone to blame if the ceremony's ratings remain in the toilet. Steven Soderbergh, who helped produce the COVID-hobbled 2021 ceremony, echoed this sentiment recently. "You cannot this year say, 'Well, they didn't nominate any popular movies!' You cannot say that," Soderbergh opined to Rolling Stone. "So we'll find out if that's really the issue or if it's a deeper philosophical problem, which is the fact that movies don't occupy the same cultural real estate that they used to … They don't matter in the same way that they did 20 years ago." He's not wrong. But the Oscars were never going to be saved by trying to appeal to an audience that doesn't watch movies. This time, if they fail, they will at least have remained true to themselves.
Consider this: Despite all of those blockbusters, hits, sentimental favorites, and controversies, the Best Picture trophy this year could actually wind up going to All Quiet on the Western Front, a surprise winner at the BAFTAs. Which would mean that after years of desperately trying to win Best Picture with such worthy titles as The Irishman, The Power of the Dog, Marriage Story, Roma, and Mank (shut up, Mank is great), Netflix might find the award landing in its lap for a movie it was certainly not eyeing as an Oscar bonanza a few short months ago. Anyway, like I said, drama.