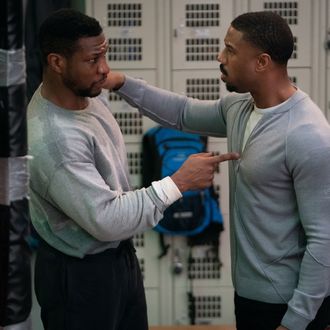 Under one of these grey sweaters is the craziest body you've ever seen.
Photo: Eli Ade/Metro-Goldwyn-Mayer Pictures
One step. One punch. One hundred million dollars. Creed III has shot past box-office expectations on its opening weekend to earn $58.7 million in North America and $41.8 internationally, making it not only the biggest opening for a film in the Creed trilogy, but apparently the biggest domestic opening for a sports movie ever. (The previous record-holder was the 2010 remake of The Karate Kid.) The follow-up to 2018's Creed II is star Michael B. Jordan's directorial debut, and it managed to surpass its $75 million budget in its opening weekend despite this being the first film in the nearly 50-year history of the Rocky and Creed film franchises to not feature Sylvester Stallone.
But Creed III earned a lot more championship belts than just the sports-movie record. As film blogger Erik Davis pointed out on Twitter, Creed III is also the "biggest opening ever for a Black director in their directorial debut." As exciting a milestone as this is for Jordan, there is just as much to celebrate for his co-star, Jonathan "Damian 'Dame' Anderson" Majors. Creed III's performance has unseated Ant-Man and the Wasp: Quantumania from two weeks atop the box office. That Marvel jawn also stars Majors in a leading role, giving the actor back-to-back blockbuster dominance. Screen Rant suspects that this is the first time an actor has done this in the past five years, at least.