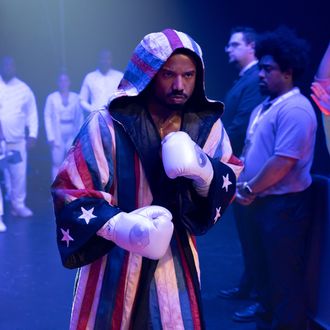 Photo: Eli Ade/Metro Goldwyn Mayer
Sup, Creed weebs. If Creed III's box-office numbers are to be believed, there is a high statistical chance that if you're reading this article, you've already seen the three-quel to Michael B. Jordan's boxing movie. And if you've seen it, you already know that Jordan took his first-time directing gig as an opportunity to basically make a live-action anime. He has spoken about his anime influences in interviews, put posters for things like Lupin the Third in young Adonis's bedroom in a flashback sequence, and added some anime-inspired flair to the fight scenes. Now, we might actually be getting a Creed anime.
Deadline reports that Amazon has held meetings with Jordan in the past year about expanding the Creed franchise into spinoffs — including a variety of TV-series concepts. "The plans for the scope of the universe have gotten bolder in the wake of Creed III's big debut," a source told the outlet. These plans, which are all in their early stages, include an anime series, a live-action series, and a project centering on Adonis's young daughter, Amara (Mila Davis-Kent), whose scenes in Creed III easily could have been a setup to a larger story about her own future boxing journey. Amazon bought MGM for $8.5 billion last year, so you'd best believe it'll milk it for all it's worth.