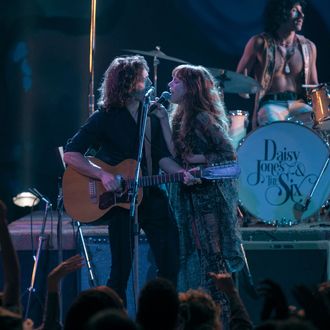 At least give us a Coachella performance.
Photo: Lacey Terrell/Prime Video
All the rumours on the faux-'70s rock band Daisy Jones & the Six going on tour are just that … for now. But that hasn't stopped the cast and crew of the TV show from using their ongoing press run to consistently tease the possibility. From the start, the Daisy Jones cast has candidly spoken about the intensive band camp they all went through during the early days of the pandemic as production was delayed. The process accumulated to two years of the core cast (Riley Keough, Sam Claflin, Sebastian Chacon, Will Harrison, Josh Whitehouse, and Suki Waterhouse) practicing their respective instruments. "That was basically the goal, to be like, We could go on tour," Waterhouse told Insider in November 2022.
When once again asked about a Daisy Jones tour at a SXSW panel this past weekend, executive producer Lauren Neustadter was on the audience's side — the cast can't make TikToks forever, you know. "Well, our Amazon friends are here, so … let's start whatever the equivalent of a petition is," she told the crowd. "We'd love to tour because that would be so fun, but right now the first thing to do is watch all the episodes." It does feel important to note that Claflin did go onstage at the Daisy Jones & the Six SXSW party, but only to quickly introduce Grouplove (another band he may or may not have heard of until that moment) and walk off to a Beatles track (a song he, again, probably did not recognize). While SXSW was not necessarily the surprise stage reunion Daisy Jones fans may have been hoping for, they would never break the chain.
Back in December 2022, Vanity Fair hinted at the showrunner, Scott Neustadter, and the cast's interest in bringing the band beyond the pages of the book and screen. "The cast has all been keeping their musical chops sharp, and before filming started even played a concert to a crowd to get into character and experience the real-time feedback," VF writer Kase Wickman noted. Lauren Neustadter spilled more details on their debut performance to the New York Times earlier this year, explaining that she felt the Daisy Jones & the Six members needed to perform a fully live show at least once before filming. So, in September 2021, the band had played to about 40 crew members on a studio stage — including Reese Witherspoon, founder of the production company behind Daisy Jones, Hello Sunshine, who, after seeing the intimate show, said it firmly: "They need to go on tour." Keough has since said they also "want a comeback show!"
The band/cast haven't done a live performance since. Okay, so that could only mean a tour announcement in lieu of a season two, right? Well, maybe only in our dreams.