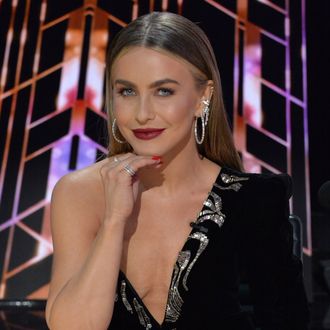 Photo: Eric McCandless/ABC via Getty Images
Hosting the next season of Dancing With the Stars: Julianne Hough and Alfonso Ribeiro! Yes, Hough will be replacing Tyra Banks as co-host on the upcoming season 32 of Dancing With the Stars, per Variety. It's a big return to the ballroom for Hough, who joined as a pro dancer in 2007 and won her first two seasons before leaving in 2009. She then became a judge from 2014 to 2017 and judged a season of America's Got Talent in 2019. "The energy is magnetic every time you step foot in to the ballroom and I can't wait to feel it again — and of course to share it all with the absolute best and most loyal fans — for another exciting season," Hough told Variety.
On Thursday, Banks dropped the news that she was leaving the ballroom … while leaving a Whole Foods. She told TMZ she's "really focused on business, like crazy, crazy, crazy focused on business," and the move came down to wanting to produce more TV and spend more time on her ice-cream brand, Smize & Dream. Banks began hosting in season 29, after ABC ousted longtime co-host Tom Bergeron and Erin Andrews, but she never found her footing on the show.
Bergeron's and Andrews's departures marked the beginning of a wave of change for DWTS, which moved from ABC to Disney+ last season. Ribeiro, the actor and season-19 winner, joined Banks as a co-host last season and will continue with Hough. (Deadline reported that he's expected to announce, while Hough will do dancer interviews.) Also departing at the end of season 31 was original judge and favorite curmudgeon Len Goodman. But Hough will still see a few familiar faces when she gets back to the ballroom — including her brother, Derek, who also did a stint as a pro dancer before becoming a judge in season 29. Let the sibling ribbing begin.