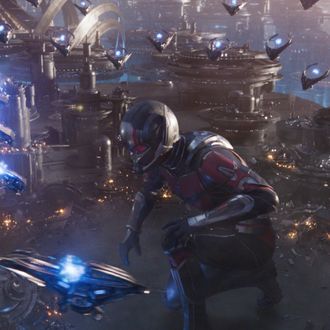 Must Ant-Man carry the weight of all Disney and Marvel's bad decision-making and criticism on its tiny shoulders? Yes. That's sort of the thing ants do. So Ant-Man and the Wasp: Quantumania continues to be the convoluted, ugly scapegoat for all things wrong with Hollywood franchise bloat. On March 9, Disney CEO Bob Iger spoke at the Technology, Media & Telecom Conference presented by Morgan Stanley, in which he laid out some strategies for Disney's streaming, parks, and content branches, and admitted to mistakes regarding all of the above. One such mistake is a glut of sequels that have weakened their "quality" brand reputation. "What we have to look at at Marvel is not necessarily the volume of Marvel storytelling, but how many times we go back to the well on certain characters," Iger said, according to The Hollywood Reporter. "Sequels typically work well for us, but do you need a third or a fourth, for instance? Or is it time to turn to other characters?" This feels pointed, coming after the critical panning of the third Ant-Man film. "I think we just have to look at what characters and stories we are mining." Isn't it great that our major entertainment companies talk about making movies like it's cobalt extraction?
Iger also said that Solo was directly responsible for slowing down the production of Star Wars films. "Solo was a little disappointing to us. It gave us pause just to think maybe the cadence was a little too aggressive. And so we decided to pull back a bit," he said. And Iger's innovative plan for creating high-quality content is … slashing their budgets, "reducing the expense per content, whether it's a TV series or a film, where costs have just skyrocketed in a huge way and not a supportable way, in my opinion."
In other corporate sectors, Iger hinted at price increases for Disney+, saying, "In our zeal to grow global subs, I think we were off in terms of our pricing strategy, and we're now starting to learn more about it and to adjust accordingly." And because he's not an idiot, he admitted that price increases at the Disney theme parks and hotels have been way, way, way too high. Basically repurposing that Disney+ statement but with opposites, he said, "I think that in our zeal to grow profits, we may have been a little bit too aggressive about some of our pricing. And I think there is a way to continue to grow our business but be smarter about how we price so that we maintain that brand value of accessibility." No word on why — when Disney Parks pulled an annual profit in 2022 of $28.7 billion (on operating costs that are a fraction of that) — the parks still pay poverty wages.
Anyway, here's Panda Mei doing a little dance: