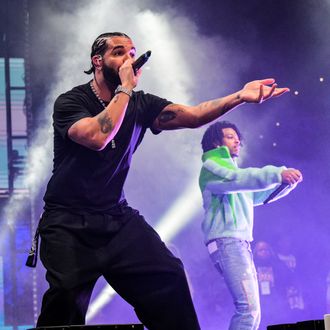 What, no fake
Billboard
cover?
Photo: Prince Williams/WireImage
The interviews and Vogue covers may have been fake, but trust Drake — the tour announcement is real. The rapper is teeing up his It's All a Blur tour, his first outing in five years. And he's getting 21 to do something else for him — join the run, off the success of their joint album, Her Loss. No, "It's All a Blur" doesn't refer to the multiple controversies around Her Loss. Per a press release, "The title, a celebration of the last decade, sums up Drake's sentiment of the unprecedented run as he gets ready to hit the road." (If the past ten years of Drake releases is a blur to you, that stretches back to Nothing Was the Same.) The notoriously nostalgic rapper reflected on the time that's passed in a clip announcing the tour, from some of his past shows to the birth of his son. Call it an era tour, singular.
The 29-date tour kicks off June 16 in New Orleans and runs through September 5 in Glendale (sorry, Swiftdale?), Arizona. It includes multiple dates in Chicago, Atlanta, and Boston — not to mention in Manhattan and Brooklyn, plus Inglewood and Los Angeles. And yes, a press release promises, the Toronto dates are on their way. Drake has played a number of one-off gigs recently, and reflective ones at that, like a two-night stand at New York's Apollo Theater and his October World Weekend, which featured a reunion with Lil Wayne and Nicki Minaj. He also has a gig coming up headlining J. Cole's Dreamville Festival. His last full tour, in 2018, was the Aubrey and the Three Migos tour with Migos. As for 21? He's content to just do his thing and let Jimmy Cook.