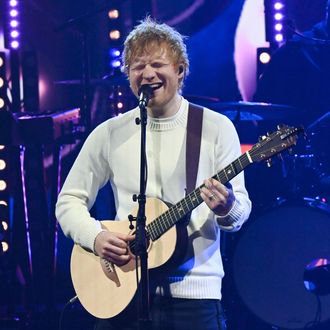 Photo: Scott Kowalchyk/CBS via Getty Images
With his new album, - (Subtract), Ed Sheeran is finally finishing his decade-long project of mathematically named albums. And next up, he already has another set of symbols waiting. Sheeran told Rolling Stone in a new cover that he was planning a series of five more albums, with names he doesn't want to share just yet. He did, however, explain his current plans for the final of those albums. "I want to slowly make this album that is quote-unquote 'perfect' for the rest of my life, adding songs here and there," he said. "And just have it in my will that after I die, it comes out." Our guess? Punctuation marks: Comma, Semicolon, Exclamation, Question, and finally, Period (or, well, Full Stop to Sheeran).
Sheeran is also already onto planning what that next album will sound like. After starting a collaboration with the National musician and producer Aaron Dessner (of folklore and evermore fame) on Subtract, Sheeran said he has another album's worth of Dessner music. Rolling Stone compares one of those songs, a potential single, to Peter Gabriel's "Solsbury Hill," and another to Bruce Springsteen. (Aptly, that one's called "England.") Sheeran has also reportedly finished a collaborative album with reggaeton star J. Balvin, with collaborations with Daddy Yankee, Burna Boy, Pharrell, and Shakira (whom he's also been writing with separately, for her new album). Past that, the prolific collaborator Sheeran has been writing with everyone from EDM giant David Guetta to now-defunct bro-country duo Florida Georgia Line. Country Sheeran may be better left in the vault: "My neck's still red, the sky's still blue, my truck's still big, my girl's still you," the song reportedly goes. He's also been working with the British rapper Devlin, producer Benny Blanco, and his friend Justin Bieber for his new album.
Along with, surely, countless other treasures he didn't bring up to Rolling Stone. "Who's to say at what point creativity stops and you can't write any more songs?" he said, explaining how he writes constantly. "At least there's enough banked up." You think?