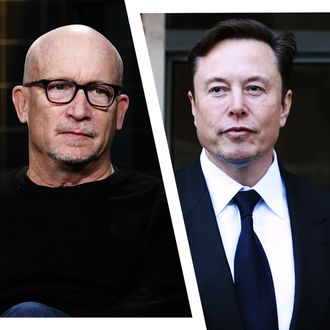 Alex Gibney and Elon Musk.
Photo-Illustration: Vulture. Photos: Getty Images
Alex Gibney's upcoming Elon Musk documentary has the Berghain reject shaking in his boots sight unseen. Gibney announced the project March 6, saying he was "hugely excited" about the film in a statement — a "definitive and unvarnished examination of multi-billionaire tech entrepreneur and CEO of Tesla, SpaceX and Twitter" — that's already months into production. "Now is the moment for a rigorous portrait of Elon Musk, who is undeniably one of the most influential figures of our time," Closer Media founder Zhang Xin said, per Variety. "Closer Media is thrilled to join forces with Alex Gibney, Anonymous Content, and Double Agent to take on the challenge of examining Musk and his impact on the world." Gibney directed the Academy Award–winning documentary Taxi to the Dark Side and Going Clear: Scientology and the Prison of Belief.