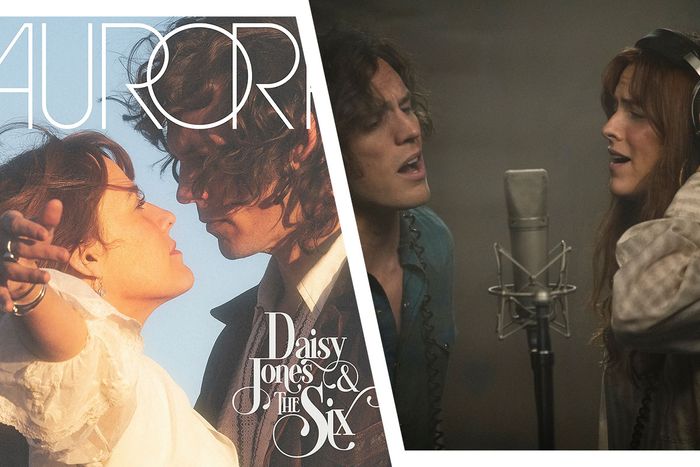 Four years ago, Taylor Jenkins Reid released her best-selling #BookTok sensation Daisy Jones & the Six, and ever since then, fans have been eager to know what the music made by her titular fictional rock band would actually sound like. Finally, we have an answer, thanks to Prime Video's ten-episode adaptation. The series, which stars Riley Keough, tells the story of the titular band, a fictional rock group loosely inspired by Fleetwood Mac and the making of their seminal 1977 album Rumours. Because of the show, Daisy Jones & the Six's fictional record, Aurora, has become a reality, and Atlantic Records released the LP for all to hear, revamping the original lyrics provided by Reid at the end of the novel.
The believability of the band — especially since the book and show make them out to be one of the most legendary music acts in history — was always going to play a crucial role in the success of Daisy Jones & the Six. And, for the most part, the committed ensemble and music team have succeeded in crafting a group that could realistically have reached wild levels of fame. In fact, Daisy Jones & the Six has actually become a successful band in real life, becoming the first fictional band to hit No. 1 on iTunes. Produced by Grammy winner Blake Mills, the album boasts an impressive roster of songwriters, including Marcus Mumford, Phoebe Bridgers, Jackson Browne, and Madison Cunningham, and the cast recorded it at the legendary Sound City Studios. Daisy Jones & the Six's entire ensemble spent several years learning to sing and play their respective instruments in order to fully inhabit the shoes of their musical characters and become a rock band that went beyond fiction.
Of course, Daisy Jones & the Six are, naturally, unable to re-create the magic of Fleetwood Mac. But they sure as hell try their best at making some memorable tunes. Not only is Aurora filled with bops (and a few misses), it serves as a vehicle for mirroring the narrative that develops between co-lead singers Billy Dunne (Sam Claflin) and Daisy Jones (Keough) throughout the series. Since we've been listening to Aurora on repeat from the moment it dropped, we've ranked all 11 tracks featured on the album.
11. "Aurora"
Although Aurora is intended to be one of the best albums of all time, it has some huge flops. One such miss is "Aurora," the title track that serves as an entry point to the record and the roller-coaster ride of emotions it takes us on. The song starts off on an upbeat and groovy note with Billy's tribute to Camila, but the bulk of it is Daisy and Billy going back and forth with each other. While the pair sound lovely together, their voices get lost in the overpowering yet uninteresting instrumentals at certain points. It's easily the weakest and most forgettable of the songs featured on the record because it lacks any flow and leaves more to be desired.
10. "You Were Gone"
Marking a shift away from the fiery and passionate tone of more superior tracks like "Regret Me" and "Let Me Down Easy," "You Were Gone" feels like an underdeveloped filler rather than a song that has reached its full potential. The song, which attempts to capture the stage of acceptance that occurs toward the end of a relationship and the acknowledgment that there were likely valid reasons for it to reach that point, feels as though it would have worked better if it were positioned as the album's footnote. While it isn't awful, it ends up getting lost in a sea of more memorable offerings.
9. "No Words"
The final song on Aurora is a fitting one, representing the calm after the storm of the band's downfall. "No Words," an intimate duet between Daisy and Billy, expresses their shared feeling of running out of things to say and eventually having to let go of each other. With their vocals overlaying and instrumentals fading out until we're left with just the acoustic guitar, "No Words" is a somber and meditative song that encapsulates the band's tumultuous journey. With repetitive lyrics blended with an odd combination of instrumentals that don't complement the song's slow tone nor spotlight Keough's and Claflin's vocals in the strongest ways, it ultimately just doesn't have any qualities that make it shine when compared to the rest of the track list.
8. "Please"
One of the two solos featured on the record, "Please" is a ballad from Claflin's Billy in which he begs himself to resist acting on overwhelming temptations that may come his way. The song could easily be interpreted as Billy's way of reflecting on his experience with substance abuse, but we also can't ignore the dual meaning of it being about romantic temptations, since he cheated on his wife and eventually finds himself developing feelings for Daisy. Backed by a stellar piano accompaniment akin to Elton John's "Bennie and the Jets" that elevates the catchy song, "Please" gives Claflin the opportunity to show off his musical chops, even if it confirms that he isn't the greatest of the two album's vocalists.
7. "Regret Me"
The majority of the songs featured on Aurora communicate the fraught dynamics and intense chemistry between Daisy and Billy, but the angst levels of "Regret Me" are especially off the charts. In this fiery duet, the pair unleash all their pent-up rage as their vocals gradually collide. The badass bridge, incredible guitar solo, and electric vocals craft a strikingly catchy song that has already reached over 4 million streams on Spotify at the time of writing. Taylor Jenkins Reid's lyrics from the book were mostly amateurish in comparison, existing more in service of the overall narrative rather than as actual, listenable words to songs that somebody could actually put to melody and perform. Nonetheless, we're disappointed that the song's most iconic line from the book, "And, baby, when you think of me, I hope it ruins rock and roll," didn't make it on to TV or the LP.
6. "More Fun to Miss"
Throughout the album, there are some poor mixing issues (regardless of whether it was an intentional creative choice, it's still distracting), and it's especially noticeable here, where the instrumentals cause Daisy/Keough's vocals to feel overshadowed as a result. Another rage-fueled song on the record that leans into a punk sound similar to the Runaways, it's a powerful and passionate track that highlights Daisy's abilities as a bona fide rock star capable of delivering top-tier music, with Keough belting lines like her life depends on it. Any song that spotlights Daisy is an instant classic, and "More Fun to Miss" is undeniably a hit if we can overlook the mixing problem.
5. "Look at Us Now (Honeycomb)"
The one that started it all, "Look at Us Now (Honeycomb)" is the song on Aurora that most closely resembles Fleetwood Mac's sound, going so far as to sample the iconic guitar riff from "The Chain." In the fiction of Daisy Jones & the Six, "Look at Us Now" was a cut from the Six's debut record, SevenEightNine, prior to making its way onto Aurora. It was originally written by Billy for Camila as a promise to do better for their marriage and family. It's the song that sets everything in motion when music producer Teddy Price (Tom Wright) brings Daisy onboard to spruce up the initially sappy track.
The final product begins as an acoustic-heavy ballad where Claflin's and Keough's magnificently harmonious vocals take center stage, before it picks up speed and gains momentum through a drum beat, eventually kicking into full rock territory with the pair belting. As it evolves through their collaboration and Daisy's refreshing input, "Look at Us Now (Honeycomb)" reflects the growing passion and tension between the pair, while giving us the perfect taste of just how powerful they sound together.
4. "Kill You to Try"
Despite the aforementioned poor mixing issues that make Keough's voice feel lost at times, "Kill You to Try" is a damn good song. The contrasting vocals in the song capture the shift of Aurora's tone as it moves toward angrier and more emotionally expressive territory. With Billy making promises he can't meet, and Daisy in turn crying out for the other person to put in more effort, the song represents the layers of their relationship as well as the conflicting feelings that exist in their love triangle with Camila. Keough's and Claflin's deliciously harmonious voices and the song's stellar instrumentals make "Kill You to Try" a killer track.
3. "Two Against Three"
We first hear Daisy perform this song at the iconic Los Angeles venue the Troubadour before joining forces with the Six, yet it still feels like a perfect fit for Aurora, since it ends up communicating a lot about her and Billy's relationship. A stripped-down ballad backed by an acoustic guitar, "Two Against Three" is a beautiful chance for Keough to fully showcase her strong folksy vocals as she channels a hint of Joni Mitchell. Being an artist and not a muse has played a crucial role in Daisy's characterization, and this tender and vulnerable song about Daisy's struggle with having fallen for someone who has a difficult decision to make makes it perfectly clear that she has what it takes to make anything sound amazing.
2. "Let Me Down Easy"
The beauty of Aurora is that it's a record orbiting around the complicated emotions tied to love, and every song is ultimately communicating something about the evolution of Daisy and Billy's messy love-hate relationship as we see it unfold onscreen. "Let Me Down Easy" is an angsty Fleetwood Mac–esque song about the frustrations coming from both sides and the moral dilemma of wanting something you can't have. Beautifully capturing the nuances of the characters' dynamics and feelings for each other, "Let Me Down Easy" is an intoxicatingly stellar bop that would have easily gone platinum in 1977, and we'd do absolutely anything to see it live in concert. Daisy Jones & the Six tour when??
1. "The River"
There isn't a single song featured throughout the entirety of the series that encapsulates the classic rock sound that Daisy Jones & the Six was aiming to emulate better than "The River." While many of Aurora's songs are fantastic, very few of them actually succeed at capturing the music era the show is set within and typically lean toward being modernized interpretations of '70s rock that feels as if they were made specifically for the purpose of catering to an audience and algorithm that would make the sounds go viral rather than understanding the distinct mystique that made bands like Fleetwood Mac so legendary. But "The River" feels like one that could have realistically emerged from that period and been an absolute hit that you'd hear on the radio. Several members of the show's cast have highlighted it as their favorite, and we fully agree that "The River" is the best track that Aurora — and the entire series — has to offer. It's a certified banger!